BE or Bachelor of Engineering is the most common bachelor degree offered by many engineering colleges/universities across the world. A bachelor degree of engineering provides the students the fundamental engineering training which helps them to start exciting careers in the field of engineering. In this article, who are providing you the information of Bachelor of Engineering Course details, scope, duration, eligibility, careers etc.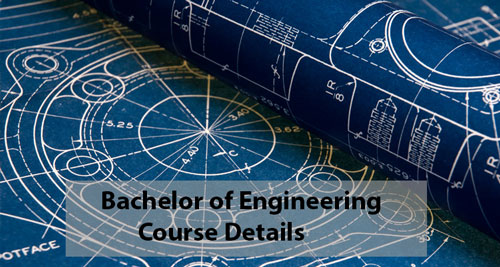 About Bachelor of Engineering Course
The bachelor of engineering is the traditional engineering degree which prepares the students as working professional engineers. This course is offered by a large number of government and private colleges and universities in India. It is similar or equal to Bachelor of Technology course. It is a professional degree course which involves undertaking some engineering work. This bachelor of engineering course is awarded by many universities and colleges over the world.
Nature and Importance of BE Course
Holding a bachelor degree of engineering lead to more job options and higher earning potential ability etc. The BE course covers the planning, design, construction and management and developing techniques, programming languages,  and many more other types of areas. The bachelor of engineering course emphasize on depth concept clarification of facts. The nature of BE course is knowledge oriented and treated as plain engineering.
Apart from theoretical part, practical lab sessions are also conducted in this bachelor degree program. There are various combinations of subjects, which one can opt for depending upon the availability of choices in various institutions. The engineering students work involves with the planning, construction, designing, testing, maintenance and implementation etc. Typically they work on scientific theories to get the practical solutions.
Specializations of BE Course
Engineering field extend its branches catering to technology, business and various types of industries. Here we mention some specializations of Bachelor of Engineering Course.
Architecture Engineering
Automobile Engineering
Automotive Engineering
Environmental Engineering
Nuclear Engineering
Course Duration
Bachelor of Engineering is four years academic course and divided into eight semesters. There is one project at the end of the final year.
Eligibility
The basic qualification to pursue the bachelor of engineering courses is one should complete their 10+2 from a recognized board in science stream subjects like mathematics, physics and chemistry.
And the candidate must qualify in the either state level or national level entrance exams for admission process.
List of Entrance Exams of BE Course
Let's view some entrance examinations for Bachelor of Engineering course both at state and national level.
Andhra Pradesh Engineering, Agricultural and Medical Common Entrance Test (EAMCET)
Engineering Entrance Test of Different States
Chandigarh Common Entrance Test (CET)
Tamil Nadu Engineering Admission (TNEA)
Indian Institute of Technology Joint Entrance Examination
All India Engineering/Pharmacy/ Architecture (AIEEE)
North East State Engineering Entrance (NERIST)
Puducherry Joint Entrance Test (PJET)
Delhi University Combined Entrance Examination (DUCEE)
Rajasthan Pre Entrance Test (RPET)
West Bengal Joint Entrance Examination (JEM)
Punjab Technical University Combined Entrance Test (PTU CET)
Maharashtra Common Entrance Test (MHT CET)
Jammu and Kashmir Common Entrance Test
Top Bachelor of Engineering Colleges in India
Indian Institute of Technology, New Delhi
National Institute of Technology, Thiruchirapalli
S.G College of Technology, Coimbatore
Birla Institute of Technology and Science, South Goa
Vellore Institute of Technology, Vellore
Career Path
Graduates of Bachelor of Engineering degree programs have multiple opportunities. Manufacturing units, Electronics Industries, Robotics and Automation sector are the prime recruit areas of BE candidates. These candidates can start their own venture and develop control systems for Industries. Working as an Independent consultant is another option available in front of them.
Job Profiles:
Chief Engineer
Engineering Technologist
Lecturer
Product Development Engineers
Verification Engineer
Development and Test Engineers
Independent Consultants
Junior Engineers
Researcher
Registered Engineering Technician
Executive Engineers