EamcetExamDetails: EAMCET Full form is Engineering And Medical Common Entrance Test (EAMCET) which is conducted by Government of Andhra Pradesh and Telangana separately for admissions to courses into Universities and private colleges in their respective states. You can see the list of engineering colleges in andhra padesh in our previous post. If you want to download the information about Eamcet Exam Details pdf file see the instructions at the end of this post.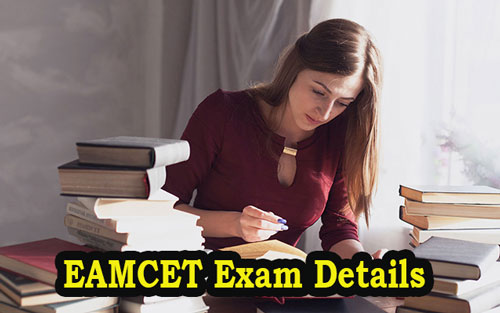 JNTU Kakinada is the organizer for AP state and JNTU Hyderabad is the organizer for TS State and conducts the exam on behalf of APSCHE (Andhra Pradesh State Council of Higher education).
EAMCET ELIGIBILITY CRITERIA:
The candidates who are willing to apply for EAMCET should meet the eligibility criteria which are stated below. Also see: AMIE Course Details, Top 50 Engineering Colleges in India, Engineering Colleges in Andhra Pradesh and Telangana.
General eligibility: Candidates must belong to Andhra Pradesh or Telangana states.
For B.Tech, B.Sc, Pharmacy courses:  Candidates should be passed or appearing 12th or its equivalent with mathematics, physics and chemistry subjects.
Final year diploma Candidates are also eligible to apply.
For BAMS / BHMS / BNYS Courses: Candidates must have passed or appearing 12th or its equivalent with chemistry, physics, zoology and botany subjects.
Age limit: Minimum: 17 years as on 31st December.
Courses offered:
EAMCET offers many courses for the eligible and qualified students. The list of courses offered by EAMCET is mentioned here.
B.E
B.Tech
B.Tech (Bio-Technology)
B.Tech (Agricultural Engineering)
Pharmacy
B.Tech (Food Science & Technology (FST))
B.Sc. (Commercial Agricultural & Business Management (CA and BM))
B.Sc. (Agriculture)/(Horticulture)
B.V.Sc. & Animal Husbandry (A.H.)
B.F.Sc.
BAMS
BHMS
BNYS
Eamcet Application Form:
Eamcet application form will be available in the official website from February. Applying for the exam can be done only through Online. For Online Application Candidates have to fill the application form and then the exam fee through AP Online / TS Online / Credit Card / Debit card.
EAMCET EXAM FEE:
The Application Fee for Engineering and medical is 250/-
Candidates willing to appear both can pay 500/-
Important Dates OF EAMCET EXAMINATION:
The Important dates of EAMCET are.
Online Application will be available from: March first week.
Last date for submission of online application: April Second week.
Final date for acceptance of EAMCET Application with late fee.
Late fee details:
500/-:  Third week of April
1000/-:  Fourth week of April
5000/-: First week of May
10,000/-:  First week of May
Application form downloads starts from: First week of May
Exam Date: Second week of May
Result date: First week of June
Counselling date: third week of June
Eamcet Exam Admit Card Download: Admit card for EAMCET will be available in the official website from first week of May. Candidates who have applied can download Application form and Admit card. Carrying Admit card is mandatory to attend the exam.
Results:  Results will be announced in the website on first week of June.
Eamcet Counselling Details: Those who are qualified in EAMCET are eligible to attend counselling. EAMCET Counselling is an online process which is conducted in 3 stages which  includes certificate verification, options entry and allotment of seats.
You can save this information about eamcet exam details in pdf format by pressing ctrl+p on your keyboard and select the save as pdf file option. Also share this valuable information with your friends and help them to know the E.A.M.C.E.T Examination details.