About English Language: English is the Universal Language. It was first spoken in England and now became the Universal Language. Taking some English language courses is very useful because this is the third most common Native language in the world. It is the best means to communicate with any people across the world. So learning English has become essential for everyone. It had become the curriculum even from school level. It is the Basic English we get from our curriculum but fluency and perfection is important.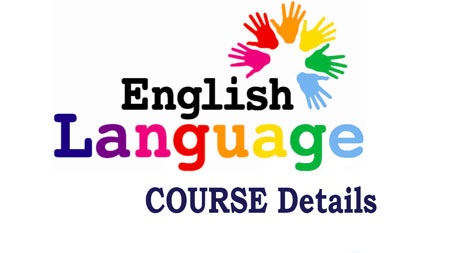 English Language Courses:
Many courses are available for English language. They are
Degree courses.
Diploma courses.
Certification courses.
Foreign courses.
Job Prospectus:
Once the candidates have got fluency in the language, then they can think of becoming specialist in foreign language or translators.
Departments like tourism, publishing houses and public relation firms recruit experts. The fluency in language brings many golden opportunities.
Many public sector organizations like Embassies, Reserve Bank of India and Ministry of external affairs recruit candidates specialized in these foreign languages.
Eligibility Criteria:
Bachelor's Degree: In order to pursue bachelor's degree in any foreign language, the candidate must have passed class12 or its equivalent from the recognized board.
Master's degree:  In order to pursue Master's Degree in any foreign language, the candidate should be the graduate in the same language.
Free English Online Courses:
English language courses are also available for free in Online. These online courses also provide certifications, diploma and degree.
We in this article provide you best websites to learn English:
The list of best websites to learn English
Talk English.
Let's talk in English.
BBC learning English.
English club.
Voki etc.
For the best language the topics to be covered are
Vocabulary.
Spellings.
Grammar.
Verbal.
Conversation.
Debates.
etc.
Some of the English language Certification Courses:
CELTA (Certificate in English to speakers of other language )
TEFL:  TEFL stands for Teaching English as Foreign Language
Diploma in English language:
There are some colleges and also some online sites which provides Diploma in English Language. Alison is one among them.
There are categories in Diploma courses:
Diploma in Basic English grammar
Diploma in English language and Literature.
List of Some Best Universities for English Language:
JNU.
Delhi University.
EFLU.
Jadhavpur University.
University of Hyderabad.
Pondicherry University.
Christ University, Bengaluru.
Top Books for English Language Courses
Oxford New English File.
Cambridge English.
Oxford English Result.
Pearson Longman Language Leader.
Cambridge Touchstone.
English Conversation Courses
Conversational English courses are nothing the course which teaches the way to do conversation when we meet the people.  The online teaching classes available will help you to practice conversational techniques. Certifications are also provided for these courses.
English language courses institutes: we will provide the list of English language courses later. Meanwhile select the required course and refer the books mentioned. Speaking will improve the language skill a lot. Try to converse with people. There are many online sites which provide audio files which will be helpful for better learning.
The video which will be helpful to improve your vocabulary.