JNTUH Updates: Jawaharlal Nehru Technological University Hyderabad (JNTUH) has been invited applications for B.Tech in various branches, M.Tech, Master of Business Administration (MBA), Master of Computer Applications (MCA) and PhD programs. JNTU Hyderabad is the famous technical university in India offering variety of courses. Keep visiting for current and upcoming JNTUH Updates from here. Candidates are suggested to read the JNTUH Exam Notifications before the admission process. In the below section of this page, aspirants can get information about JNTUH Exam Notifications and also get updated details regarding latest exam etc.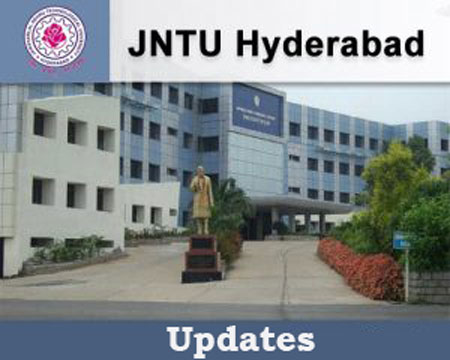 About JNTU Hyderabad:
JNTUH is also called as Jawaharlal Nehru Technological University Hyderabad. It was established in the year 1965. JNTUH is a public university located in Hyderabad, Telangana, India. The university is situated at Kukatpally. The official website of JNTU Hyderabad is www.jntuh.ac.in. The affiliated college offers the following programmes such as M.Tech, MSIT, MBA, MCA and MSc., in different branches. Admissions to regular programmes in constituent colleges /Units of the University are based on GATE or PGECET/GPAT /ICET Scores conducted by Telangana State Council of Higher Education, Hyderabad.
JNTUH Exam Notifications
There are also many exams conducted under JNTU Hyderabad. You can check the complete JNTUH Exam Notifications details on the official website of Jawaharlal Nehru Technological University Hyderabad i.e. www.jntuh.ac.in. Also you may stay tuned with us for getting latest JNTUH Updates. You can scroll down the page for latest news about JNTU Hyderabad OD Registration.
JNTUH Syllabus
The syllabus is a critical resource for any examination. It plays a significant role in helping students to develop knowledge and skills. Syllabus includes topics/subjects, books with author names you will need.  So, check your semester syllabus from official website of Jawaharlal Nehru Technical University Hyderabad (JNTUH). Download the JNTUH Syllabus pdf from the links provided.
JNTU Hyderabad Results
All JNTU Hyderabad Results available here. JNTU Hyderabad B.Tech Sem wise Regular and Supply Exam Results released at www.jntuh.ac.in. Whenever the officials release the results we provide direct links as per your Semester.  Candidates can also download the JNTUH Result pdf file by going through the links given below.
| | | | |
| --- | --- | --- | --- |
| R13 Results |  R09 Results | R07 Results | R05 Results |
| 1-1 | 1-1 | 1-1 | 1-1 |
| 1-2 | 1-2 | 1-2 | 1-2 |
| 2-1 | 2-1 | 2-1 | 2-1 |
| 2-2 | 2-2 | 2-2 | 2-2 |
| 3-1 | 3-1 | 3-1 | 3-1 |
| 3-2 | 3-2 | 3-2 | 3-2 |
| 4-1 | 4-1 | 4-1 | 4-1 |
| 4-2 | 4-2 | 4-2 | 4-2 |