JNTUA Updates: Jawaharlal Nehru Technological University, Anantapur (JNTUA) is a state university in Anantapur, Andhra Pradesh, India. JNTUA Official Website is www.jntua.ac.in. This University has been conducting the annual/semester examination in every academic year. Here we will update JNTUA Notification, Syllabus, Results, question papers, books, academic calendars and time table etc. Check Official JNTU Anantapur B.Tech Examinations, JNTUA OD information from the below download link.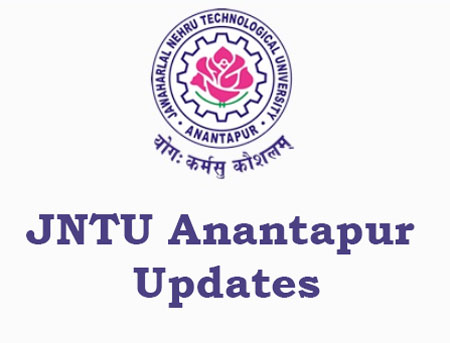 About JNTU Anantapur
The full form of JNTUA is Jawaharlal Nehru Technological University, Anantapur. The JNTUA University offered Undergraduate (UG) & Postgraduate (PG) level courses those are B.Tech, B.Pharm, M.Tech, M.Pharm, MBA, MCA, Pharm.D, etc for the students. JNTUA has affiliate with many colleges in Rayalaseema, A.P. Every year it conducts the even and odd sems examination as per academic calendar. JNTU Anantapur conduct the even semester exams in the month of March /April and the odd semester examinations in the month of November/December. In The Technical Courses many Regulations is there they are R15, R13, R10, R09, R07, R05.  R13. If you want accurate information about JNTU Anantapur please stay this web portal.
JNTUA Notification
JNTUA Notification is changed according to the regulation wise. All students have to be aware on their newly released time tables, notifications, academic calendar and get prepared for the examinations accordingly. All JNTU Students who are going to write the UG & PG level exams need to plan their preparation according to JNTU Anantapur Syllabus.
JNTU Anantapur Syllabus
 Syllabus is provided with the official JNTUA Notification. Below we have provided the latest info and JNTUA Updates regarding Notification-Syllabus and Application form-registration for the examinations etc for all branches. So, here you find or download JNTU Anantapur Syllabus books of 1st year, 2nd year, 3rd year and 4th year students of jntua university.
JNTUA Anantapur Results
JNTUA B.Tech R07 R09 R13 2-1 2-2 3-1 3-2 4-1 4-2 Results announced by Jawaharlal Nehru Technological University, Anantapur. The Students can check their official notification about their JNTUA Anantapur Results in our site as well as official website. JNTU Anantapur Exam Portal is jntuaresults.azurewebsites.net. All students of JNTUA can check the B.Tech 1st 2nd 3rd 4th Year (R13, R09, R07) Regular/Supply Results from the below provided links. Bookmark our site and whenever you need to check latest JNTUA Results of 1st Sem 2nd 3rd 4th 5th 6th 7th 8th Semester Updates!!