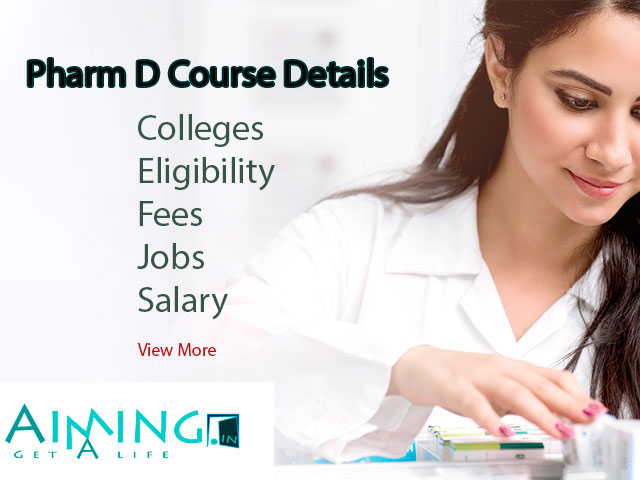 Pharm D Course Details: Do you belong to medical field? Have you ever had a clear knowledge regarding the course available for a B.pharm / Intermediate  student? If you answer is no then let me take the opportunity to explain a specialized course. It is none other than a Pharm.D certification program. Doctor of pharmacy is a hospital oriented globally accepted pharmacy program. This is a six-year course. The course is approved by the pharmacy council of India.
More About Pharm D Course Details
This course is designed to shine up the students competent in managing/dealing with a patient, his Medication therapy and how to improve patient outcomes. The student will acquire their clinical knowledge and skills to manage patients with chronic or acute illness, collaborate other health care providers to provide cost-effective care, find and correct drug related issues, educate patients and family members on correct usage of medicines etc. The students undergo one-year internship/residency during the final year (6th year) in various major departments of the course.
Pharm D Course ELIGIBILITY:
Any student who satisfies any one of the below-stated conditions is said to be eligible for this course.
Intermediate or its equivalent examination with physics and chemistry as compulsory subjects along with one of the following subjects: mathematics (or) biology.
Student qualified in D.pharm course from an institution approved by the pharmacy council of India under section 12 of the pharmacy act.
Any other qualification approved by the pharmacy council of India as equivalent to any of the above examinations.
A student aged 17 years on or before 31st December of the year of admission to the course are seemed to be eligible.
Seat allotment may be done according to the reservation of seats for students belonging to scheduled castes, scheduled tribes, and other backward classes in accordance with the instructions issued by the central government/state government/union territory administration as the case may be from time to time.
Pharm d Course Fee Structure
Fee for this Pharm.D course may vary from university to university hence interested students are requested to get an idea about the fee structure of the university/college in which you are interested in joining in.
Also see: MBBS Course Details, Medical Transcription Course Details.
Pharm D Syllabus
The core pharm D subjects are listed below.
YEAR-I
YEAR-II
YEAR-III
YEAR-IV
YEAR-V
YEAR-VI
Human Anatomy& Physiology
Pathophysiology
Pharmacology-II
Pharmacotherapeutics-III
Clinical Research
Internship training includes postings in speciality units.
Pharmaceutics
Pharmaceutical Microbiology
Pharmaceutical Analysis
Hospital Pharmacy
Pharmacoepidemiology&Pharmacoecenomisc
Medical Biochemistry
Pharmacognosy & Phytopharmaceuticals
Pharmacotherapeutics-II
Clinical pharmacy
Clinical Pharmacokinetics & pharmacotherapeutics Drug Monitoring
Pharmaceutical Organic Chemistry
Pharmacology-I
Pharmaceutical Jurisprudence
Biostatistics &Research Methodology
Clerkship
Pharmaceutical Inorganic chemistry
Community Pharmacy
Medicinal chemistry
Biopharmaceutics & Pharmacokinetics
Project work(6months)
Remedial Mathematics/Biology
Pharmacotherapeutics-I
Pharmaceutical formulations
Clinical Toxicology
NOTE: Internship is a phase of training wherein a student is expected to conduct the actual practice of pharmacy and health care and thereby HE/SHE acquires skill under the supervision so that they may become capable of functioning independently.
6months in General Medicine Department.
2 months each in other speciality departments.
PRACTICAL TRAINING:
HOSPITAL POSTING:
Every student shall be posted in hospitals for a period of not less than fifty hours which is to be covered in not less than 200 working days in each of second, third and fourth-year course.
Each student shall submit report duly certified by the preceptor and duly attested by the Head of the Department or Institution as prescribed. In the fifth year, every student shall spend half a day in the morning hours for attending ward rounds on daily basis as a part of the clerkship. Theory teaching may be scheduled in the afternoon.
PROJECT WORK:
To allow the student develop data collection and reporting skills in the area of community, hospital and clinical pharmacy, a project work shall be carried out under the supervision of a teacher.
The project topic must be approved by the Head of the Department/Institution. The same shall be announced to students within one month of commencement of the fifth year classes.
Project work shall be presented in a written report and a seminar at the end of the year. External and internal examiners shall do the assessment of the project work.
Project work shall comprise of objectives of the work, methodology, results, discussions and conclusions.
EXAMINATION PROCESS:
Every year there shall be an examination to examine the students.
Each examination may be held twice a year. The first examination in a year shall be the annual examination and the second examination shall be a supplementary examination.
The examinations shall be in Witten and practical (including oral nature) carrying maximum marks for each part of the subject.
MODE OF EXAMINATION:
Theory examination shall be of 3 hours and practical examination sheet of 4 hours.
A student who fails in the theory of practical emanation of a subject shall re-appear in both of the same .
Practical examination shall also consist of viva (ora0 examination.
Clerkship examination-Oral examination shall be conducted after the completion of the clerkship of the student. An external and internal examiner will evaluate the student.
Student's capabilities in delivering clinical pharmacy services, pharmaceutical care planning and knowledge of therapeutics shall be assessed .
PHARM D SCOPE:
Pharm d enables one to prefix the title of 'Dr' for the purpose of practising.
Pharm D is a registrable qualification for practising this profession under the Pharmacy Act.
After completing pharm D candidates are eligible to undertake Ph.D. programme.
PHARM.D COLLEGES:
This professional course can be learnt anywhere in India as a number of colleges are providing this course to encourage a student who is interested in the pharmacy field.
Pharm D Jobs and PharmD Salary
The students who completed the course can seek job opportunities in the following fields. The salary of Pharm D Jobs varies based on the companies and candidates talent.
Health centres.
Colleges.
Drug control Administration.
Food and Drug Administration.
University.
Foundation/Trust.
Franchise.
Medical Dispensing store.
Research Agencies.