MBBS Course Details: Hello viewers, we have provided something important for the 12th passed students. Are you Bi.P.C 2nd year student? Are you planning to do MBBS? Here we are providing the M.B.B.S course details in this article. As we are here to help the students to know more info regarding the course study of MBBS and MBBS seat allotment process along with its fee structure.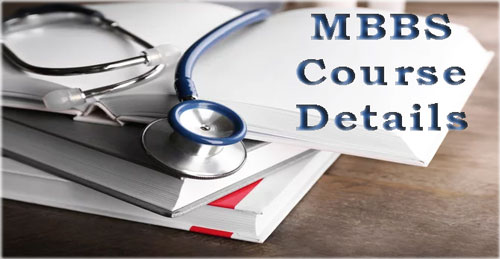 The Indian state government had provided the eligibility to join the MBBS course along with the specified fee structure for the SC/ST/BC/OC students. So as per the fee structure here we are providing the complete details.
MBBS Course Details
What is the full form of MBBS? Bachelor of Medicine, Bachelor of Surgery, in Latin language it is called Medicinae Baccalaureus, Baccalaureus Chirurgiae. The Bachelor of Medicine and Bachelor of Surgery along with various groups are provided in them. Some of the courses are dental, orthopedics, dermatology, surgeon, psychiatrist, Community medicine, physiology, venereology, communicable diseases, anatomy, plastic surgery, nephrology, urology, endocrinology, hematology, etc.
MBBS is having lot of courses in medical field. Students who completed +12 education in BIPC (Biology, physics, chemistry) are eligible to have course study of MBBS.
MBBS Course Eligibility
Candidates who passed 10+2 in Bi.P.C group have to write EAMCET exam. Those who qualified in EAMCET exam with good marks have to go to the process of counseling. NEET- UG exams is also conducted for the students to join in MBBS course. Counselling is the process conducted for the students to select the college based on their obtained ranks in EAMCET or in NEET-UG exam. After counseling candidates have to pay the fee for the course and registration process.
MBBS Course Fees
Generally, there are many categories of seats. The fee structure of the course varies based on the category of seat allotment. The fees of category-A seats are less than B and C category seats. For Example the tuition fee in Andhra Pradesh is fixed at Rs.10, 000 for category-A seats and Rs.11, 00000 for category-B seats. The fee in the private institutions is very high and it's very tough for a common man to pay the fee. That's why many students are willing to study MBBS Course in china and Philippines countries.
Also see: Medical Transcription Course Details, Pharm D Course Details.
MBBS Courses List
General Medicine:  they play the role as Family Doctor, they diagnose every fault in the patient body and recommend doctors who can cure their illness.
Qualification: MBBS degree with a 3 year M.D course in General Medicine or PG diploma course in General Medicine.
Anesthesiologists: They give anesthesia at the time of surgery
General Surgery: They do surgery for all parts of the body.
Qualification: MBBS with a 3 years MS Course.
Pediatrics:  One who learnt the course treats children and stomach illness.
Qualification: MBBS +3 year course in Pediatrics
Cardiology: This course is related to heart and its related diseases.
Qualification: MBBS +3, years course in cardio-thoracic surgery.
Obstetrics:  Gynecology: Course on female reproductive system.
Qualification: MBBS + MS in Obstetrics & Gynecology
Neurology: course on diseases and disorder related to the brain and nervous system in human body.
Qualification: MBBS + MS in Neurosurgey.
Dermatology: course gives study over the skin and the diseases.
Qualification: MBBS + MD in Dermatology.
Ophthalmology: treatment of diseases or infections in eyes
Qualification: MBBS + MD / MD in Ophthalmology.
ENT / Ear Nose Throat Specialist: study to rectify infections in Ear, nose and throat.
Qualification: MBBS + MD in psychiatry.
Psychiatry: course study to diagnosis and treat mental disorders.
Qualification: MBBS + MD in Psychiatry.
Colleges Offering M.B.B.S Course
National level institutions in India:
All India Institute of Medical Science, Ansari Nagar, New Delhi – 110 029.
Armed Forces Medical College, Pune – 411 040, Maharashtra.
Banaras Hindu University, Institute of Medical Sciences, Varanasi – 221 005, Uttar Pradesh.
Christian Medical College, Ludhiana – 141 008, Punjab.
Christian Medical College, Vellore – 632 002.
Jawaharlal Institute of Post Graduate Medical Education and Research (JIPMER), Pondicherry.
Jawaharlal Nehru Medical College, Aligarh Muslim University, Aligarh – 202 002. Uttar Pradesh
Many of the colleges all over India provide best education regarding the MBBS course. JIPMER,AIIMS are some of the best universities provide best quality of education for the students to learn MBBS course.