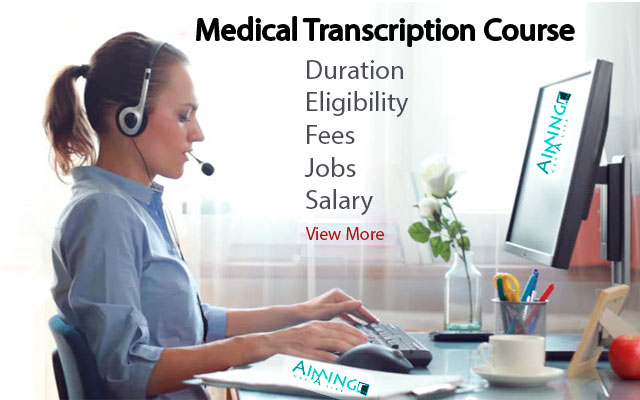 Medical Transcription Course Details: Do you belong to a Medical field? Do you have any knowledge regarding different certificate courses available in your field? If not, I take this privilege to explain you one of the best certification courses in Medical field. It is nothing else than a Medical transcription course.
Medical transcription (MT) is an allied health profession, which deals in the process of transcription, or converting voice-recorded reports as dictated by the physicians or other healthcare professionals into a text format. The word Transcription means to listen to a recorded voice and to write down whatever is said. The profession of Medical transcriptionist is the same as mentioned. Any specialized IT skills aren't required for this course but it requires primary skill like good listening and knowledge & command in the language of medical terms. Fluency in English, especially understanding of American way of speech and accent is a must to be in this field.
What is Medical Transcription Course?
As doctors and nurses help the patients in curing the disease, the details regarding patient health his cure is to be recorded that which cannot be done by both of them. Hence a person is selected to perform this task and he is so named as a Medical Transcriptionist. People who do this course normally work in hospitals, old age homes and other places where doctors and nurses work.
ELIGIBILITY
The minimum educational requirement for a medical transcriptionist is intermediate or its equivalent/Graduation from a certificate program in medical transcription. Graduates from certificate program typically qualify for most entry-level medical transcription work. However, some employers prefer to hire candidates that have graduated with an associate degree in medical transcription. There isn't any specific university teaching this medical transcription course hence any student who is well performed in English seems to be eligible for this job.
Duration
6 Months
The Courses are provided in 2 ways. They are offline and Online. Offline is more suggestible as it provides the way to directly interact with those who teach us. Online is beneficial for House wives those who can't go somewhere to learn and wanted to work from home.
FEE STRUCTURE:
This course isn't taught everywhere in India hence students should toughly get into the details of the colleges/Institutes where in this course is available and check in the fee details.
HOW TO BECOMING A MEDICAL TRANSCRIPTIONIST
Step 1: High school preparation:
It is essential to take as much as English classes as you can while in High school as a big part of this work will be writing reports based on recordings so you need to have command in spellings and grammar really well. It is also recommended to take science courses like Biology and chemistry as later when you attend a training program you will have courses like anatomy and physiology. As you will be working with computer systems it is a good idea to take some technology and computer classes when in your education.
Step2: complete a Medical Transcriptionist Accredited Program:
Medical transcriptionist certification program varies from 6 months-1year.
Associate of science in Medical Transcription Degree Program-2years.
Medical Transcriptionist certificate programs are 18 to 45 semester credit hour programs and can be completed either online or on campus.
The admission requirements are a high school diploma or something equivalent like a GED
Step3: Get certified:
while certification is not required for medical transcriptionists most employers prefer employees how are certified. The major organization issuing this certification is The ASSOCIATION FOR HEALTHCARE DOCUMENTATION INTEGRITY. There are 2 different certifications you can pursue: RHDS- Registered Healthcare documentation Specialist and CHDS- Certified Healthcare Documentation Specialist
RHDS certificate can be applicable if the candidate is a recent graduate of the medical transcriptionist education program and   has 2 years of working experience in medical transcription. An examination is conducted with 130 marks both multiple choice and fill in the blanks transcription against audio recording. If the candidate gets qualified in this exam and has work experience then HE/SHE seems to be eligible
CHDS: an RHDS with a minimum of work experience is eligible where after qualifying an examination of 120 marks which have the same pattern like fill in the blanks and multiple choice questionnaires.
Also see: MBBS Course Details, Pharm D Course Details.
Medical Transcription Courses in India:
In India there is huge demand for the course Medical Transcription. People who are interested will be in search of Best institutes to take the admission. Here in this section we are providing the list of Top 10 Institutes for MT in India.
Medical Transcription Training India, Delhi
HQMT Medical Transcription & Coding Training Institute, Bangalore
Azimuth Academy, Pondicherry
Medical Transcription Training, Hyderabad
Academy Of Medical Transcription, Delhi
Ascent Business Solutions – Medical Transcription Nagpur, India, Nagpur
Medical Transcription & Billing Services India -Prexus Health India, Gurgaon
Renaissance School Of Medical Transcription, Punjab
Acusis Software India Pvt Ltd – Bangalore
Millennium Business Solutions India, Kolkatha
Indian Healthcare BPO, Bangalore
Online Courses:
As we have discussed above Online Courses are beneficial for House wives. We now provide the details of Courses Online that are available which are providing by various websites. Here is the list of various Online Courses. Have a look.
Medical Terminology
Pharmacology
Anatomy and Physiology
Pathology
Medical Theories and Techniques
Basic Transcription
Medical Grammar and Style
Keyboarding
Computer Information Systems
Speech Recognition Editing
Career:
After the completion of Course there will be many Job offers. In the field of MT there is golden chance of Working from home. One can get Jobs at home with high Salary.
Medical Transcription Salary and Jobs:
Medical transcription is becoming a popular career choice because of the flexibility it offers. Although many medical transcriptionists work in doctor's offices', some are able to work flexibly at work. At least on an average, a candidate possessing the certificate needs to work 40 hours a work. As explained earlier Medical Transcriptionist may work in Hospital, Old age homes etc.
The person who joined in the Medical Transcription Job can expect minimum of Rs.8000 in tire two cities. In metro cities the salary may vary. There are many companies in India offering the jobs with minimum pay and stipend.
 Skills Required:
There are some Skills required to become a MT. They are:
Work in Shortcuts: Understanding Short cut Keys in Windows : This is Part of training also in course material there is some pages on this also where is written about cut , copy , paste command of windows which are CTR+X ( Cut ) , CTR+C ( Copy ) , CTR+C ( Paste ).
Excellent listening comprehension: Try to listen voices with background sound & make the sense of the lines.
Word Processing software like Microsoft word: We can make macros to automate all the same writing lines.
Medical terminology: In this section candidates must be able to understand human body and associated components related disease, Drugs to cure them, Treatment to take.