Pharm.D. stands for Doctor of Pharmacy. It is a 6-year doctorate degree program. It is a prior and first professional degree to exercise the occupation of a pharmacist. Pharmacy is the art of science of developing and dispensing drugs and medicines. This Pharmacy Course is approved by the PCI (Pharmacy Council of India).
This course is available in the colleges which are approved by the PCI. Here in this article, we provide Pharm.D course details like types of Pharm.D. program, eligibility, mode of examination, practical training, internship and career opportunities and jobs.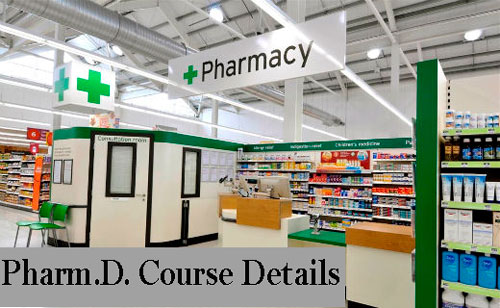 Types of Pharm.D course
There are 2 types of Pharm.D. Program:
Pharm.D.
Pharm.D(Post Baccalaureate)
Pharm.D.
It is a 6-year academic program (5years of study and 1year of internship or residency).it consists of two phases.
Phase 1 – It consists of 1st, 2nd, 3rd, 4th and 5th academic years.
Phase2 – It is a 1year internship program during the 6th year. In this phase, student gains practice in clinical pharmacy services.
Pharm.D. (post baccalaureate)
It is a 3-year academic program (2years of classroom study and 1year internship). It is divided into 2phases.
Phase1 – It consists of first and second academic years.
Phase2 – it consists of 1year internship or residency during 3rd year which involves training in clinical pharmacy services.
Eligibility Criteria
Pharm.D. (6year course)
Students qualifying 10+2 exam with main streams of physics and chemistry and mathematics or biology.
The age of the candidates should be minimum 17years.
A candidate who completed D.Pharm from a recognised institute.
The government has reserved seats for scheduled castes, scheduled tribes and other backwards classes.
Pharm.D (post baccalaureate)
Students who cleared their B.Pharm from a recognised institute.
The government has reserved seats for scheduled castes, scheduled tribes and other backwards classes.
Admission Process
The admission of this course takes place through state wise/central medical admission authority. Marks secured by a student in state wise/all India level entrance test. Admission is allocated to the students based on merit list. In some reputed universities and institutions, a separate entrance test is conducted. The student will be placed in that esteemed universities only if they qualified in their respective entrance tests.
Important Subjects in Pharm.D.
Remedial mathematics/biology
Pharmaceutics
Medicinal biochemistry
Community Pharmacy
Pathophysiology
Pharmacotherapeutics I
Medicinal chemistry
Pharmaceutical analysis
Hospital Pharmacy
Clinical Toxology
Biostatistics and research methodology
Clerkship
Project work(6 months)
Doctor of Pharmacy Examination Mode
Theory examination: It is of three hours duration. This exam is conducted offline.
Practical examination: It is of four hours duration. The practical exam is followed by viva-voce(oral) examination.
If students fail in any of the theory or practical exam of a subject then the candidate need to apply for both theory and practical exam of the respective subject.
The student is eligible for next academic year only if the candidate clears all the subjects in the first year and the same process is applicable to all the years.
If a student who fails in more than 2subjects in an academic year then he/she shall be not allowed to go for next academic year.
Internship
      It is a process of working in an organisation with the students during their academic year to gain work experience. In some organisations, they pay the students and in some cases, students work without pay.
Practical Training
     This practical training of Doctor of Pharmacy involves two steps
Hospital posting
All the students are posted in a hospital for a period of not less than fifty-hours which to be covered in not less than 200 working days in each of the second, third and fourth academic years.
Each student should submit the report on time certified by the preceptor and duly attested by the head of the department. In the 5th academic year, the student should spend the morning session in hospital practising and theory classes will be conducted in afternoon session.
Project work
The project topic must be accepted by the head of the department. The project work is supervised by the teacher. The project allows the student to develop data collection and reporting skills in the area of hospital, community and clinical pharmacy. The project should be submitted in a written report and seminar at the end of the fifth academic year.
Career opportunities and jobs of Pharm.D.
After completion of Doctor of Pharmacy one can complete MBA which helps one to acquire key management skills and helps to grab administrative jobs in the health sector and pharmaceutical industries.
For the purpose of practicing Pharmacy one can prefix a title 'Dr'.
After completing Pharm.D. Students are eligible to pursue Ph.D. program.
The employment areas of Pharm.D are research agencies, health centres, Govt. /Pvt. Hospitals, food and drug administration, medical dispensing stores, a non-profit organisation, pharmaceutical sectors etc.
The job types of Pharm.D. candidates are drug inspector, researcher, retail pharmacist, clinical pharmacist etc.
Pharm.D. Colleges in India
Sri Ramachandra University located in Chennai.
Deccan school of pharmacy in Hyderabad.
JSS College of Pharmacy located in Ooty.
Vijaya Institute of pharmaceutical sciences for women in Vijayawada.
AU College of pharmaceutical sciences in Vizag.