D.Pharm. stands for Diploma in Pharmacy. Pharmacy is a medical field and it involved in the preparation and appropriate use of medicine in a therapeutic way. It is the minimum qualification for becoming a pharmacist. You can get good employment after the completion of this course. For more information read this article, in this we are providing you with the details like D.pharma Course details, fee, syllabus, eligibility criteria, duration, top colleges list, etc.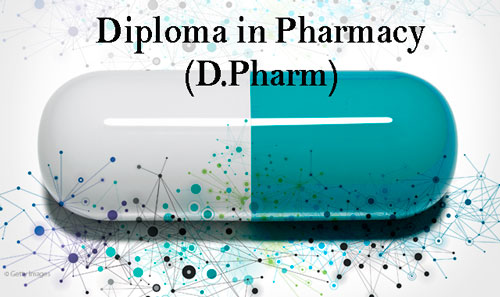 What is D.Pharmacy?   
D.Pharm (Diploma in Pharmacy) is an undergraduate medical course. This course links both the chemical science and health science. Pharmacy is the branch of health sciences which deals with the preparation and distribution of drugs. The main goal of the Pharmacy course is to prepare the effective and safe pharmaceutical drugs. Medicines are made in pharmaceutical companies, drugs manufacturing units etc. It enables the students to know the basis of the pharmaceutical science.
Diploma in Pharmacy Course Details:
The duration of the course is 2 academic years and with each academic year spread over a period of time not less than 180 days as working days. And spread over a period of time not less 500 hours of practical training and the period is equal to 3 months.
Eligibility Criteria:
The Eligibility of the applied candidates is must be passed 10+2 with science stream.
The students have 75 percent marks in the intermediate examination with science subjects only.
Syllabus of the Course:
The syllabus of this course is divided two parts, Part I and Part II types. Part I syllabus include first-year subjects and part II syllabus include second-year subjects. The following are the subjects of both Part I and Part II.
Part I:  Subjects
Biochemistry & Clinical Pathology
Health Education & Community Pharmacy
Pharmaceutical Chemistry – I
Human Anatomy & Physiology
Pharmaceutics – I
Pharmacognosy
Part II:  Subjects
Pharmaceutics – II
Drug Store and Business Management
Pharmacology & Toxicology
Drug Store and Business Management
Hospital and Clinical Pharmacy.
Pharmaceutical Chemistry – II
Fee Structure:
Mostly the fee structure is varied from one college to another college. The fee depends on candidates category. Some colleges charge high range fee approximately Rs 76,000/- per annum and some colleges charge a fee with the instructions of their management.
Top Colleges or Universities of D.Pharmacy:
SRM University, Kanchi puram, Tamilnadu
Maharishi Markandeshwar University Mullana campus, Ambala, Haryana
Andhra University, Vishakhapatnam, Andhra Pradesh
Osmania University, Hyderabad, Telangana
Nitte University, Mangalore, Karnataka
Integral University, Lucknow, Uttar pradesh
Manipal University, Manipal, Karnataka
Nehru College of Pharmacy, Thrissur, Kerala
Parul University, Vadodara, Gujarat
Bharati Vidyapeeths Group of Institutes Technical campus, Pune, Maharashtra
JSS College of Pharmacy, Mysore, Karnataka
ISF College of Pharmacy, Moga, Punjab
Jawaharlal Nehru Technological University, Anantapur, Andhra Pradesh
Chitkara University, Patiala, Punjab