Pharmacy Course Guide: The Science and techniques of related to preparing and dispensing drugs is called as the pharmacy. This is one of the best and evergreen carriers with good Opportunities any time. So many students who are interested in the Medical field will choose this as their career. The demand for the course has risen. So Here is the article which provides the complete Information about Pharmacy Course Details such as Courses, Syllabus, Admission Process, Duration etc.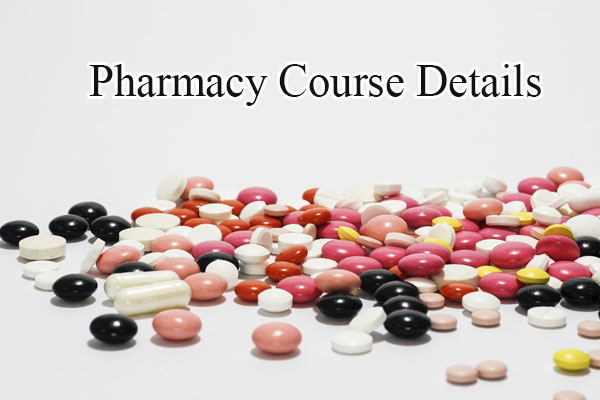 About Pharmacy Course
Pharmacy is a health profession that links with health Sciences. It also ensures the safe and effective use Pharmaceutical Drugs.  It is one of the best career options for the students after the completion of 12th.
Read Complete Pharmacy Course Details Here
Below information can answer many questions of the students.
Type of Courses Available
 There are various types of courses in Pharmacy. Here is the list with complete details.
Diploma In pharmacy:
This is shortly termed as Diploma.
Duration: 3 years.
Bachelor of pharmacy
This is termed as B. pharmacy. Or those who completed Pharma.D course. In the states like Andhra Pradesh and Telangana students can join in B.Pharmacy course by qualifying the Eamcet Examination. Other states in India also conducting their own entrance examinations.
Duration: 4 years.
Eligibility: 12th with 50% marks.
Job: After completion of Bachelors degree one can become Pharmacist or chemist.
Subjects
Human Anatomy & Physiology,
Biochemistry,
Pharmaceutical Maths & Biostatistics,
Pharmaceutical Biotechnology.
Also see – Diploma in Medical Laboratory, Radiology Course Details and General Nursing & Midwifery.
Master of pharmacy: This is shortly termed as Master of pharmacy.
Type: post Graduate course.
Doctorate in Pharmacy
Courses Online:
Taking Online courses is the best option for those students who can't afford fees or go somewhere. These Online courses help in various aspects such as Time, Fee, Flexible learning, free Materials, CDS online etc. There are many websites that provide Online Courses. Choose the best and utilize the chance.
Also see – Medical Transcription Course, MBBS Course, Neet Exam Details.
Career Opportunities:
After the completion of a particular course, the students can then work in a Pharmaceutical company or can practice as a Pharmacist. Huge opportunities are there in both public and private sectors.
After completing the graduation degree, the students can work at government hospitals, private medical shops & private hospitals/clinics. One can also start their own consultancies & medical shop.
Jobs For Pharmacy Students:
These are the various job profiles after the completion of courses They are as below:
Chemical/Drug Technician
Drug Therapist
Pharmacist
Health Inspector
Scientist
Bio-Technology Industries
Drug Inspector
Research & Development
Making Prescription to Patients
Research Officer
Hospital Drug Coordinator
Pathological Lab
Salary:
For fresher's the salary starts from Rs.10,000- 18000 per month in India. For experienced the package would be around 9-12lakhs.
Top 15 Institutes for Pharmacy Courses:
Manipal College of Pharmaceutical Sciences, Manipal.
University Institute of Pharmaceutical Sciences, Chandigarh.
Jamia Hamdard, New Delhi.
Poona College of Pharmacy, Pune.
Institute of Pharmacy, Nirma University, Ahmedabad.
Bombay College of Pharmacy, Mumbai.
Birla Institute of Technology, Mesra.
Amrita School of Pharmacy, Kochi.
JSS College of Pharmacy, Ootacamund.
PSG College of Pharmacy, Coimbatore.
M. College of Pharmacy, Ahmedabad.
Al Ameen College of Pharmacy, Bengaluru.
K. E. S S Matoshree Taradevi Rampure Institute of Pharmaceutical Sciences, Gulbarga.
University College of Pharmaceutical Sciences, Warangal.
Chitkara College of Pharmacy, Rajpura.
We suggest you go through the complete article, choose the best course and Institute and be successful in your life. All the best.