DMLT Course Details: Are you interested in medical field? Do you like to diagnose the cause of the diseases? Then here is the course suitable for you. DMLT full form is Diploma in Medical Laboratory. Here is a detailed description about dmlt course and its duration, eligibility etc, let's get started.
Diploma in Medical Laboratory Technology (DMLT) is one of the fast growing fields across the globe in health care area. It is a two-year diplomatic course. The technologist is a professional who analyzes the body fluids like blood, urine analysis, drug level testing, cerebrospinal fluid etc. They also assist doctors in the treatment of diseases and play a vital role in the prevention of diseases. The job involves detecting presence or absence of microorganisms in the samples of the patients. They help physicians to detect, diagnose and in treating the various diseases of patients.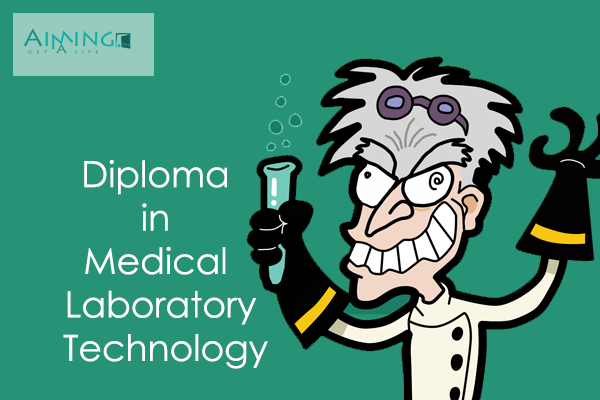 The trained technologist has to handle complex electronic equipment like computer, different types of microscopes for the documentation of the reports. The students would be trained laboratory management, practical and internal assessment and vice-versa. The technologist also carries out complex tests for deadly diseases like HIV/AIDS, diabetics, cancer etc.
DMLT COURSE DETAILS ABOUT ELIGIBILITY:
Intermediate or its equivalent with science subjects (Physics, chemistry, biology) with a minimum of 45%
Intermediate with Medical Laboratory Technology (vocational background) with a minimum of 45%
NOTE: An internship training program for a period of 6 months is given for candidates who are willing to continue in the bachelor's degree course.
DMLT SYLLABUS:
DMLT is a 2-year course and below stated list examples some of the Basic core structure approved by various colleges/universities.
Also see: MBBS Course Details, Pharm D Course Details, Medical Transcription Course Details.
YEAR-1
| | |
| --- | --- |
| Sl.no | Core subject's |
| 1 | Basics in laboratory equipment and chemistry |
| 2 | Basic Haematology |
| 3 | Blood banking & Immune Haematology |
| 4 | Clinical Pathology (body fluids) and Parasitological |
YEAR-II
| | |
| --- | --- |
| Sl.no | Core subjects |
| 1 | Clinical Biochemistry |
| 2 | Microbiology |
| 3 | Immunology |
| 4 | Histopathology and cytology |
DMLT COURSE FEE STRUCTURE:
Fee structure may vary from universities/colleges hence students are requested to have a detailed review of the course and its fee structure before selecting the university/college.
Check This – How to Make Demand Draft Online / Offline
VARIOUS COLLEGES PROVIDING DMLT COURSE
Listed below are some of the colleges wherein DMLT course is approved and taught as one of its curriculum.
Delhi Institute of Technology & Paramedical Sciences, New Delhi
Saifia Hamidia Unani Medical College, Berhampur
NRI Academy of Sciences/NRI medical college, Guntur
Yashvir Memorial Technical Institute, Jind
Manvar Bharathi University, Solan
National Institute of Medical and Management Studies, Bhubaneswar
DMLT COURSE SUITABILITY
Candidate needs to have the capability to solve problems as they have to perform multi-tasks at a time like performing tests and need to be able to assess if further tests are required, or occasionally if a test must be done.
Applicants also need to explore good communication skills as they need to communicate well either with patients and other departments employees who are a part of your health care team.
Candidate needs to have the ability to be a team player and a part of lab department as they have to be in close contact with others, need to be able to facilitate good relation with them, need to smile, keep an orderly workspace, and attend staff meetings, conferences, and employee activities.
They need to possess the ability to work under pressure because people's lives often depend on test results, and your ability to conduct the test and read its results in a fast manner is essential in this setting.
HOW DMLT COURSE IS BENEFICIAL: (DMLT SCOPE)
Students become skilled in performing tests that help in the diagnosis and treatment of disease as the program teaches candidate with the necessary skills required to handle lab equipment's and perform accurate pathological tests.
After becoming qualified in the course candidates can help/advice doctors in taking samples, centrifuging, making slides using specified stains etc. under proper guidance.
They have many scopes available in molecular diagnostics, molecular biotechnology companies and in vitro fertilization labs as well in research labs.
They can also assume administrative functions such as reporting and recording results of test and conduct in the lab, maintain accurate clinical records, select and evaluating lab equipment's and new test methodologies and perform other duties as may be assigned by the lab supervisor.
DMLT HOLDER CAN WORK IN THE FOLLOWING AREAS: Blood Banking, Clinical Chemist (chemical analysis of blood fluids), Urine analysis, Coagulation, Parasitological, Blood sample matching, Drug efficiency tests, Serology, Haematology, and Immunology.