What is Pharmacy?: A Pharmacy is a place where medicines are bought and sold i.e, either in hospitals or clinics. Pharmacy is a combination of medical, chemical and health sciences. The medicines or medical drugs are prepared using various chemicals which are useful for getting speed relief from the health problems. The people who involve in this profession of Pharmacy are called pharmacists.
The major role of pharmacists is to prepare necessary medicinal drugs for the patients who suffer from various health problems and comfort them by manufacturing and providing appropriate medicines. Let us see more about Masters in Pharmacy (M.Pharm) Course Details from here.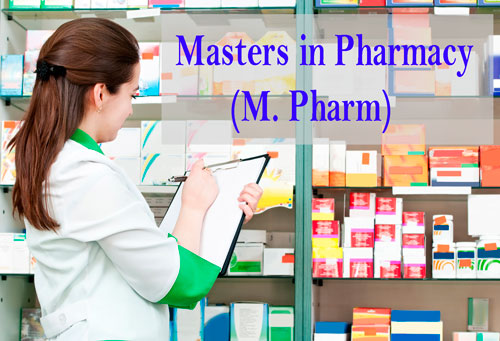 Scope of Pharmacy:
The course of Pharmacy mainly deals with the preparation and dispensing of medicines. The course itself provides the information relation to the preparation of drug to the students and makes aware it. At the end of the course, the aspirants themselves be able to give tips for the health care as they will be more aware of the medicines/drugs prescribed by the doctors in the prescriptions. They may be capable of evaluating drugs and their usage. Now let's go through various branches of Pharmacy.
Branches of Pharmacy:
There are various branches dealing with the pharmacy. Some of them are as follows:
Nuclear Pharmacy
Veterinary Pharmacy
Clinical Pharmacy
Compounding Pharmacy
Internet Pharmacy
Military Pharmacy
Pharmacy Informatics etc.
Bachelor of Pharmacy:
The course Bachelor of Pharmacy (B. Pharm), an undergraduate course deals with the field of Pharmacy. This bachelor degree provides a way for the practice as a pharmacist in many countries. This is one of the medical degree having a high demand in and around India. This course of pharmacy deals with an understanding of the characteristics, properties and impacts of medicines by providing counsel to the patients about the use of medicines.
Masters in Pharmacy (M. Pharm):
The Masters in Pharmacy (M. Pharm) is the post-graduation course introduced for the field of Pharmacy. The course includes various concepts regarding the course like research methodologies, instrumental techniques, practical elements of various pharma-based operations etc. The aspirants who are interested in this field of Pharmacy can opt for M. Pharm as there are many institutes in and across India. Now let's look out for the course details of M. Pharmacy (M. Pharm).
Course details of M.Pharmacy:
The course details regarding M. Pharm consists of details like course details, eligibility, fee structure, colleges for M. Pharmacy (M. Pharm) etc.
Course Duration:
The duration of this post-graduation course is two consecutive years and will have four semesters during the two years.
Eligibility Criteria:
The students who are interested in doing their Master Degree in Pharmacy (M. Pharm) would be eligible if he obtains the following qualifications:
One should have passed a Bachelor degree in Pharmacy (B. Pharm) with the aggregate of 50%.
One should obtain the bachelor degree from a recognised University or any educational institution which is equivalent to the University.
One should attend the entrance exam, Graduate Pharmacy Aptitude Test (GPAT) and qualify the test and interview as it is conducted all over India.
Minimum pass in the B. Pharmacy is the requirement for SC / ST candidates.
Fee Allocation:
The fee allotted for M. Pharmacy (M. Pharm) may vary according to the educational institutions i.e, either Government colleges or Private colleges. The fee for the course in Government colleges may range between Rs.50, 000 to Rs.2, 00, 000/- and Private colleges may hire Rs.2, 00, 000 to Rs.4, 00, 000/- for two years.
Syllabus for M. Pharmacy (M. Pharm):
Let's see some of the subjects covered in the course during two years and four semesters.
Pharmaceutical Formulation, Design & Development
Pharmaceutical Quality Assurance
Cellular & Molecular Pharmacology
Modern Analytical Techniques in Pharmaceutical Sciences
Advance Systemic Pharmacology & Organic Chemistry ( I, II )
Pharmaceutical Chemistry ( I, II ) & Special Technique in Drug Analysis
Standardisation & Stabilisation Method of Drugs
Seminars on Dissertation & Subjects in Pharmaceutical Sciences etc.
Colleges hiring M. Pharmacy (M. Pharm):
There are various colleges hiring M. Pharmacy course in and around India. Let's see some of them.
Birla Institute of Technology & Science, Rajasthan
Hari Singh Gaur Viswavidyalaya, Madhya Pradesh
Delhi Institute of Pharmaceutical Sciences, New Delhi
Andhra University, Andhra University
Goa College of Pharmacy, Goa
MVP Samaj's College of Pharmacy, Maharashtra
KLE Academy of Higher Education & Research, Karnataka
Related Master Courses in M. Pharmacy (M. Pharm):
There are some other diploma & post – graduate courses related to M. Pharmacy. They are:
M.Sc. Industrial Pharmaceuticals
M.Sc. Pharmaceutical Biotechnology
M.Tech. Biomedical Engineering
M.B.A. Pharmaceutical Chemistry
M.B.A. Hospital Administration
P.G. Diploma in Clinical Research Development
P.G. Diploma in Clinical Drug Design etc.
Masters in Pharmacy Career:
Masters in Pharmacy Career leads to a bright future. It is one of the demanding courses in a medical field next to the doctor. Career for the course M. Pharm includes various employment areas & companies that hire for the employees of respective course, salary package etc.
Employment Areas for M. Pharmacy:
The M. Pharm students can avail various job opportunities. Let's us go through.
Professor of Pharma courses
Quality Control Manager
Scientist
Drug Analyst
Pharmacist
Hospital Pharmacist
Sales Representative Etc.
Top Companies for M. Pharmacy (M. Pharm):
The companies that offer employment opportunities to M. Pharmacy (M. Pharm) students are:
VEE Technologies, Bengaluru
HTC Global Services
Ratnamani Chemicals & Technologies, Gandhinagar
Pharma Company, Ahmedabad
Internet Global Services, Chennai
Harman Finochem Ltd., Mumbai
Sance Laboratories Pvt. Ltd., Kottayam etc.
 Salary Package:
The salary package for Masters in Pharmacy (M.Pharm) may be high and may vary according to employee skills, designation experience, and according to the company rules. The minimum salary may be Rs.20, 000/- for a fresh candidate and Rs.50, 000/- to an experienced.
Also See: Pharmacy.D, D.Pharmacy Course Details