Biotechnology Course Details: Hi viewers!! I can post one question for you people. When most people think of opportunities for Career in Biotechnology? Read the complete paragraphs for answering of this question. If you want to join a Biotechnology Course you must have a background in science that is Physics or agriculture, chemistry and biology at the intermediate level.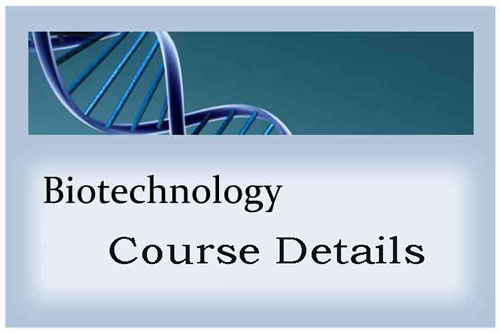 The large number of students for this course to be admitted every year. Biotechnology Course Syllabus available for students seeking admission in Biotechnology Course. The Minimum Eligibility Criteria for Biotechnology Admissions, duration, job options check here.
About Biotechnology
Biotechnology is technology based on biology – biotechnology harnesses cellular and biomolecular processes to develop technologies and products that help improve our lives and the health of our planet.
Biotechnology is the use of living systems and organisms to develop or make products or any technological application that uses biological systems, living organisms or derivatives thereof, to make or modify products or process.
In India, some universities offer the B.Sc biotechnology which one can join intermediate (12th) or equivalent qualification with physics, chemistry and mathematics.
Programme in Biotechnology P.G. courses available are M.Sc. Biotechnology, M.Sc. (Agriculture) Biotechnology, M.V.Sc. (Animal) Biotechnology, M.Tech Biotechnology, M.Sc./M.V.Sc in Veterinary Biotechnology, M.Sc.(Marine) Biotechnology, Medical Biotechnology, M.Tech.in Biomedical Engineering/Biotechnology. Depending upon the aptitude and necessity, more advanced courses such PH.D and Post-Doctoral Research in Biotechnology can also be pursued.
The field of Biotechnology is vast and covers the following domains
Healthcare.
Biodegradable industry.
Mining.
Bio-informatics.
Career in Biotechnology
Following are the career opportunities knocked in Biotechnology field.
Research in industrial biotechnology, biofuels, environmental biotechnology, process industries etc.
Biotechnology based industries such as Nicolas Pirimal Ltd, Philips Health Care, Biocon etc.
Software organization such as TCS, Infosys, Wipro, etc.
Biotechnology Admissions
General Category: Admissions are done on the basis of rank in the All India Manipal University Online Entrance Test (MU-OET).
Foreign/NRI Category: Admissions are done on the basis of marks obtained in the qualifying examination.
Biotechnology Course Syllabus
Biotechnology Course Syllabus covers the Physics, Chemistry, Mathematics and General English include questions based on the 10+2 syllabus followed by major Boards or Universities.
Eligibility Criteria for Biotechnology Admissions
Educational Qualification:
Pass in 10+2 or equivalent with Physics, Mathematics and English as compulsory subjects along with Chemistry or Biotechnology or Biology or any technical vocational subjects as optional with a minimum of 50% marks taken together in Physics, Mathematics and any one of the optional subjects.
Duration for Biotechnology Course is 4 years.
Biotechnology Course Fee Structure
COURSE
Course Fee
Indian(Rs)
International(USD)
BTech Biotechnology
1,050,000
36,400
Biotechnology Salaries in India
Salary of a Biotechnology engineers/graduates in India depends upon individual knowledge, skills and years of experience.
Salary Range per Month
Bachelor of Science (B.Sc) in Biotechnology – Rs.25, 000 – 28,000.
Bachelor of Science (B.Sc) in Biology – Rs.20, 000 – 24,000.
Bachelor of Technology Biotechnology – Rs.28, 000 – 31,000.
Bachelor of Science in Biochemistry – Rs.25, 000 – 28,000.
B.Sc Biological Sciences – Rs.20, 000 -22,000.
M.Tech in Biotechnology – Rs.30, 000 – 33,000.
M.Sc Biotechnology – Rs. 28,000 – 31,000.
Top Companies in India employing Biotechnology Graduates
Ranbaxy, Dr. Reddy's Laboratories, AstraZeneca, Aurigene Discovery Technologies Limited, Aventis Pharmaceuticals, Avesthagen Technologies Pvt Ltd, Bharath Biotechnology, Orchid Chemicals and Pharmaceuticals Ltd.