BAMS COURSE DETAILS: Do you have any interest in the field of Ayurveda?   Are you willing to learn the ways how to cure your health through Ayurveda medicines? Would you like to be a professional in Ayurveda curing of health disorders? Then let me clearly explain you the different ways of getting qualified as an Ayurveda professional.  Let us get into the detailed knowledge regarding the benefits and ways how to cure health problems.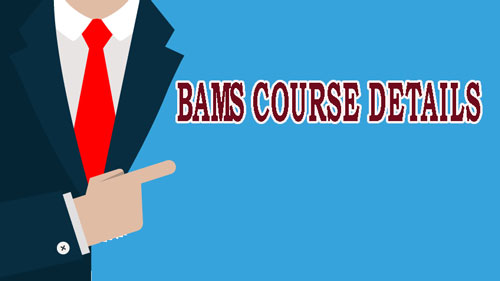 WHAT IS BAMS COURSE?
The full form of BAMS is Bachelor of Ayurvedic Medicine and Surgery. BAMS would be one of your best choices in the Ayurveda field. BAMS is an integrated bachelor's degree in the Fields of medicine. This program is very much suitable to those who studied modern medicine and traditionalism Ayurveda.
                Ayurveda is one of the ancient health curing systems of the world in the field of medicine. It traces its roots to the Vedic period. It not only provides cure for the problem but also prevents the recurrence of disease. The course aims at providing basic education in Ayurveda leading to the degree at BAMS. It prepares students of profound scholarship in the science of Ayurveda having basic and fundamental knowledge in different subjects.
                According to Ayurvedic mechanism, there are only three kinds of dis functions/disorders in human body Kapha, Pitta and Vata. These disorders are commonly called as Dosha in Ayurvedic terminology. Kapha indicates water and earth, Pita indicates Fire and Vata indicate   air and space. Ayurveda says that person may feel sick if he gets out of the harmony of all the three Dosha.
Also See Career in BAMS
BAMS COURSE ELIGIBILITY:
The basic eligibility criteria for pursing BAMS is qualifying 10+2 or its equivalent examination with physics, chemistry, Biology and preferably Sanskrit as subjects studied along with a reasonably high percentage of marks (50%) and clearing the different national and state level entrance exams.
Student must a 17 years aged at the time of admission or would complete the age on or before 31st December of the year of admission.
Also see: BMS Course Details
BAMS SYLLABUS AND COURSE STRUCTURE:
It is a five and half year course which includes one year internship. The basic syllabus of BAMS is as follows:
First professional (one and half year):
History of Ayurveda.
Sanskrit and samhitha.
Padartha vigyana.
Rachana sharira.
Kriya sharira.
Second professional (one and half year)
Rasa shastra avam bhaisajya kalpana.
Dravyaguna.
Agadtantra, vyavahar ayurveda and vidhi vaidyaka.
Nidhan/vikrithi vigyana.
Svasthavritta & yoga.
Charaka samhitha.
Final professional:
Kaya chikitsa.
Shalya tantra.
Prasuti tantra avam stri roga.
Kaumara bhritya.
Medical Ethics.
Health regulations.
Yoga.
Dissertation.
BAMS COURSE FEE STRUCTURE:
as this course isn't taught everywhere in India students are kindly requested to check the respective collages where in this course is available and also the fee structure as it may vary from university to university.
Benefits of BAMS
A person having BAMS degree can practice anywhere in India. They are eligible for registration in the government sector.
Herbal medicine is generally considered harmless as they are considered to have no side effects. This makes the general public to go for Ayurvedic medicine.
There is no death for Ayurvedic jobs. One can work in various roles of medical set ups
Ayurveda products are gained a lot of importance in foreign countries. Patients who haven't got relief from their ailments from other fields are drawn to India seeking to get rid of their aliments through Ayurveda
Employment areas;
Health centers.
Herbal product manufactures.
Hospitals.
Educational institutes.
Medical tourism.
Pancha karma centres.
BAMS JOB TYPES
Ayurveda supervisor.
Consultant.
Kaya chikithya.
Medical officer.
Nurse.
Nutrition expert.
Production manager.
BAMS Scope in Abroad:
However Ayurveda started gaining popularity in foreign countries as well including USA, Australia etc but BAMS degree is not yet recognized outside India.
Some countries (especially Australia) may evaluate your skill on the basis of alternative medicine or complementary health therapist. After skill assessment you also require state nomination which is less likely to open for health therapist