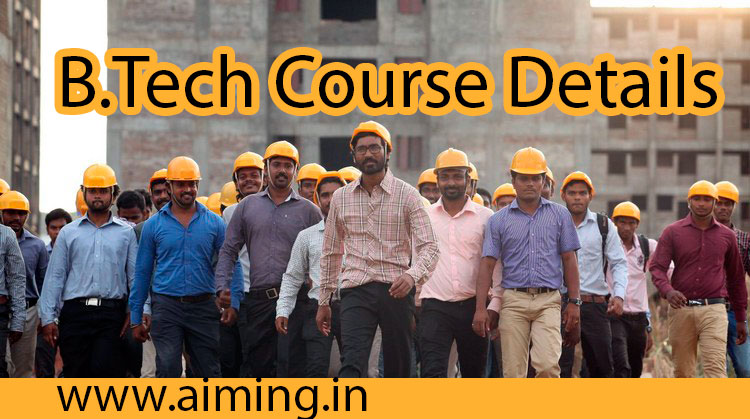 B.Tech Course Details: Are you searching for B.Tech Course Details? Are you willing to register Bachelor of Technology Admission? Check the info regarding Btech Branches and BE Fees Structure along with eligibility norms.  These are the best courses of engineering which provides a bright future. The subject choosing is totally depends on the students interest & the purpose of choosing the subject. Most of the B.Tech Degree Course Colleges follow a selection procedure. Different colleges conduct different entrance examinations. Students have the opportunity to select from a good range of engineering disciplines like Civil, Mechanical, Computer, Electronics, Electrical, Biochemical or Chemical.
About Bachelor of Technology Course:
The Bachelor of Technology commonly abbreviated as B.Tech. It is a graduate academic degree conferred after completion of a 3 or 4 year program of studies at an accredited university or accredited university-level institution.
In India, the B.Tech programs are of four years' duration. IITs, NITs and BHU are among the most renowned institutes of Bachelor of Technology in India.
Question: The common question among engineering students and usually a question of argument between friends is what is the difference between BE (Bachelor of engineering) and B.Tech (Bachelor of Technology).
Answer: The only difference is "B.Tech course is somewhat more practically intensive than the BE course which is more theoretical". Both B.E. & B.Tech courses offered by various engineering colleges/ institutes have similar curriculum. Both degrees are valued equally by prospective employers.
The B.Tech Courses List are as follows
Aerospace Engineering.
Bioinformatics.
Biotechnology.
Civil Engineering.
Computer Science and Engineering.
Electrical and Electronics Engineering.
Electronics and Communication Engineering.
Electronics and Instrumentation Engineering.
Electronics and Media Technology.
Food Processing and Engineering.
Information Technology.
Mechanical Engineering.
Also see: AMIE Course Details
B.Tech Course Eligibility Criteria for Admission
In order to get admission for any of the course it is a must that the candidates should satisfy certain criteria's. These will vary based on the course applied for and also institute in which the candidate has applied.
Educational Qualification:
Candidate pass in 10+2 (class 12) or its equivalent securing an aggregate of 60% marks in Mathematics, Physics and Chemistry with not less than 55% marks in each of these three subjects. (OR) 3 year Diploma in Engineering with minimum 60% marks, awarded by any State Board of Technical Education or its equivalent.
Age Limit:
The candidate minimum age limit should be 18 years or above.
The maximum age should not exceed 23 years on the date of the examination
Duration of B.Tech Course: 4 years
Bachelor of Technology Admission
Bachelor of Technology Admissions is done on the basis of rank in the Entrance Test. There are state level and national level entrance exams to join this course. for example in Andhra Pradesh students write EAMCET exam to join in Engineering Colleges in Andhra Pradesh. If you want join in Top 50 Engineering Colleges in India then see their admission process and required entrance exam.
There are many Btech Branches. Some of the branches listed below on this spot.
Civil Engineering.
Electrical Engineering.
Automobile Engineering.
Aeronautical Engineering.
Computer Science Engineering.
Mechanical Engineering.
Electronics Engineering.
Marine Engineering and so on.
BE Fees Structure
| | |
| --- | --- |
| Tuition Fees (per semester) | 20000.00 |
| Development Fees (per semester) | 5000.00 |
| Semester Examination & Evaluation Fee (per semester) | 1500.00 |
| Caution Money (one time for entire course) | 2000.00 |
| Admission Fee (one time) | 6000.00 |
| Student welfare fund (per semester) | 50.00 |
| Cultural & Sports fees (per semester) | 500.00 |
The amount of 42,450/-(with hostel) or 35,050/- (without hostel) is to be deposited by Bank Draft drawn in favor of "University Institute of Technology" payable at Burdwan at the time of admission.
The cost of Admission Brochure and Syllabus will be charged as extra i.e. 250/- + 150/- = 400/-
The total fees for the remaining semesters: Per Semester: 27,050.00 Additional Hostel charges (optional) per semester: 5,400.00
B.Tech Course Details of Syllabus and Subjects

The syllabus of B Tech course varies for every branch. for example the syllabus of ECE branch is completely different with CSE branch. Every year for each regulation the course syllabus and subjects will change. You can find some details in the link provided here.
https://drive.google.com/file/d/0By5qPgbHdghOb2JJOHptTHdyRFk/view?usp=sharing
Career Options after B.Tech
There are mainly 5 Career Options after B.Tech that you can consider
Campus Placement.
Go for an M.Tech degree.
Do an MBA.
Prepare for Civil Services.
Entrepreneurship-Start your venture.
B.tech Graduates Salary in India
Salaries of B tech graduates differ in accordance with their field of operation and their experience. In private organizations, the salary varies from industry to industry. They get the salaries according to the company and designation. But generally, in private sector the salaries are higher than government sector. In government sector, the salary of B.Tech graduate does not vary much.