Mining Engineering is one of the disciplines in engineering. The Ancient Romans were the innovators of mining engineering. The extraction of minerals like coal, petroleum, natural gas, metallic and non-metallic minerals can be known by learning mining engineering course. Here in this post, we have provided complete information on mining engineering course details like types of courses, eligibility, durations, jobs, career and more.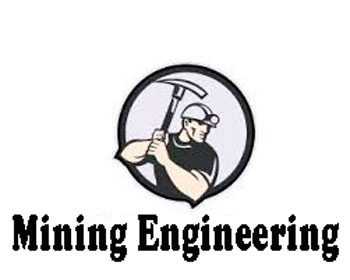 About Mining Engineering
Mining Engineering is the branch of engineering that applies science and technology to extract minerals from the earth. The role of mining engineer deals with identification, extraction, production and processing of valuable minerals from the naturally occurring environment. Mining engineering is associated with many types of disciplines like geology, geotechnical engineering, metallurgy, surveying and mineral processing.
List of Courses
Mining engineering courses list is provided below.
Bachelor's Degree Course
Master's Degree Course
Phil. Course
Diploma in Mining Engineering
      It is a diploma level course. This academic program includes grounding in basic engineering concepts and some aspects of metallurgy, geology, planning, design, construction, operation and maintenance of mines etc. This course is suitable for candidates, who have the ability to think analytically, the ability to work as a part of a team.
Eligibility
The eligibility criterion to pursue this course is passing 10th/equivalent exam from a recognised school
Duration
The time period to complete this course is 3years.
Important subjects
The course consists of theory and practical subjects
 Theory subjects
Surveying
Mining geology
U/G metalliferous mining
Surface mining
Mine environmental engineering
Coal mining
Mine blasting techniques
Rock mechanics and ground control
Practical labs
Applied science lab
Computer application in mining lab
Mine machinery lab
Mining geology lab
Project work
Bachelor's Degree Program
B.Tech/ B.E in mining engineering come under bachelor's degree program. This course involves processing minerals for additional value, need for mineral extraction and production is an essential activity is undertaken during this course. The candidates should have good communication skills, needs strong management skills.
Eligibility
The eligibility to pursue this course is having a diploma or passing a 12th standard examination from a recognised university or college. The students must qualify in the IIT-JEE exam which was conducted in different places every year.
Duration
The duration of this bachelor's degree program is 4years.
Important subjects
 The course involves both theory and practical knowledge.
Theory subjects
Mine development
Underground mine environment
Rock mechanics
Numerical methods
Ground control
Mine surveying
Underground coal mining
Mine management
Mine legislation
Practical labs
Mining geology lab
Rock mechanics lab
Ground control lab
Mineral processing lab
Project work
Master's Degree Program
It is a post-graduation program in mining engineering. The duty of mining engineers is responsible for locating natural reserves of minerals, petroleum, and other useful natural substances. The candidate should have mining knowledge, people skills, and good communication skills and should have sound understanding of financial and business skills.
Eligibility
The student should have bachelor's degree of streams EEE/ECE/CSE/civil/mining/ agricultural engineering.
Duration
The time period to complete this course is 2years.
Important subjects
This course involves both theory and practical knowledge
Theory subjects
Operations research
Systems engineering
Rock slope engineering
Waste management of mines
Mine environment planning
Practical labs
Operations research lab
Mine planning lab
Seminar
Rock mechanics lab
Mine environment lab
M.Phil. Course
M.Phil. (mining engineering) stands for master of philosophy in mining engineering. It is a degree course. The eligibility to pursue this course is having a graduate degree. The duration to complete this course is 2years.
Colleges for Mining Engineering
Abdul Kalam Institute of technical sciences, Khammam
IIT, Kharagpur
IT BHU Varanasi
Anna University, Tamilnadu
Government engineering college, Bilaspur
MBM Engineering College, Jodhpur
NIT, Raipur
Godavari Institute of Engineering and Technology, Rajahmundry
Jawaharlal Technical University, Hyderabad
Kakatiya University, Warangal
Mining Engineering Employment Areas
The employment areas of mining engineer are national Institute of rock mechanics, colleges and universities, Conzerv, TATA power, oil and natural gas Corporation, reliance industries limited, Hindustan zinc limited, manganese ore India Ltd. coal India Ltd.  Gulf countries (Saudi Arabia, UK, Kuwait, Qatar), Bharat forge limited etc.
Job Roles of Mining Engineers
Assistant mining engineers
Research engineers- data mining
Research scientist
Technical consultant
Scientific assistant
Quality technician
R&D engineer
Deputy chief mechanical
Also See Various Engineering Career Options