This article is provided for you information about Production Engineering. Production Engineering involves the manufacturing technology, engineering sciences with the management science. The main goal of Production engineering is to achieve the smoothest ways of every process of production. In this, we are providing more details like production engineering Scope, salary, job profiles, career etc.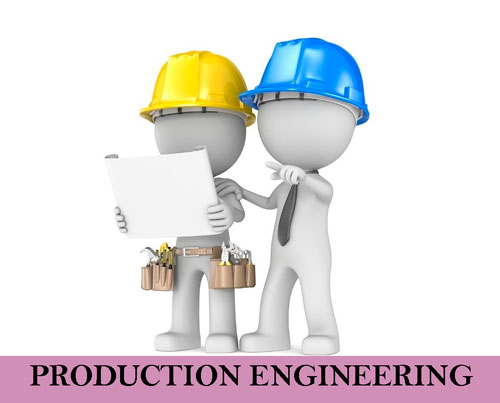 About Production Engineering
Production engineering is one of the disciplines in engineering streams. Production engineering is the subset of mechanical engineering. Production engineering is the primary part of every manufacturing industry. In this article, we have provided production engineering course list and career in production engineering.
Production engineering is a combination of manufacturing technology, engineering sciences with management sciences. The main objective of production engineer is planning and controlling the design, development and operation of manufacturing system
Production Engineering Courses List
There are many colleges which offer courses regarding production eng
Diploma in production engineering
PGDPM post graduate diploma in production management
B.E/B.Tech in production engineering
M.E/M.Tech, M.Sc. in production engineering, MBA (production management)
Ph.D. in production engineering
Career of Production Engineering
       There are plenty of jobs in the field of ProductionEngineering. The job roles of production engineer are production engineer, process engineer, senior manager, professor, chemical production engineer, planning manager, email marketing specialist, industrial managers, manufacturing engineer, utility production engineer trainee, engineering plant production manager, database management analyst, quality engineering manager and many more.
The employment areas of production engineer are steel plants, research labs, thermal plants, production department, banking, metal fabrication, aerospace industry, aviation companies, automobile and auto part manufacturing companies, government sectors, colleges and universities, shipping industry, food and Drink Company, hardware manufacturing companies etc
Scope of Production Engineering:
In this competitive world, there is huge scope for Production Engineering career, it is proved a number of times. Generally, Production Engineer can control the manufacturing department of the multinational companies. Mechanical Engineers will be worked under the control of the Production Engineers. Without the help of Production Engineer, the companies can't run smoothly why because the engineer must deal with every transaction like starting procedure from the use of raw materials to till the product reached the market.
Production Engineers includes the application of castings, metal cutting& tool design, machining processing, machine tools, machines& fixtures, material science, a design of automobile parts and machine designing and manufacturing of machines etc. There are a lot of job opportunities available for Production Engineers in all countries.
Job Profiles:
The Production Engineers can be engaged not only in the production or manufacturing processes they can be engaged in many sectors. The following are some of them.
Industrial Engineering
Manufacturing Engineering
Process Engineering
Mechanical Engineering
Management Engineering
Employment Areas:
        The Production Engineer plays a vital role in the field of production management in different processes of manufacturing.
Automobile companies
Railways
Manufacturing Industries
IT companies
Food processing Industries
Space and other research organisations
Government and Private Companies
Process Industries
Defense
Multinational Companies
Salary Packages:
     The salary for the fresher Production Engineers is 2, 70,000-4, 00,000 per annum. And the experienced Production engineer can earn 3, 50,000-6, 00,000 per annum. The skills and knowledge help the engineers for getting a high range of salary.
In India salary of production engineer is around 2.5lakhs per year.
In government sectors salary offered as per government guidelines.
In the U.S the salary of production engineers is around $70K per year.
Job Description:
If you are Production engineers then you have to make the processes as efficient as possible. You will achieve this by using various principles engineering, technology, manufacturing and management science. The production engineer could be work in any manufacturing industries like clothing, cars, commercial products, food and development of aeroplanes etc. Every engineer dreamed that the persons want to work where they will develop, install and maintain his efficient work uses in the manufacturing process.
Also See Various Engineering Courses Details