Do you want to know about Thermal Engineering? If yes, please read out our article. Thermal engineering is the study of the of energy transport, particularly in Nano scale structure to obtain knowledge in industrial energy applications. The thermal engineering includes heat transfer, energy conversion and HVAC applications. Thermal Engineering is a sub-discipline of Mechanical Engineering. And it deals with the heat energy and transfer between different mediums.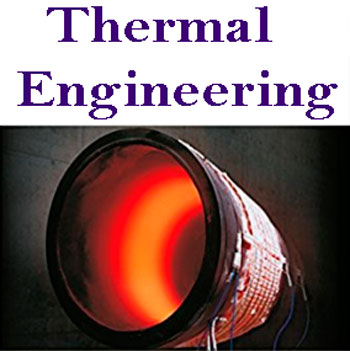 What is Thermal Engineering?
Thermal Engineering is controlling cooling or heating processes in an open environment using various equipment. It involves the science of thermodynamics, heat and mass transfer. One of the best example for this is air conditioning. Thermal engineering has applications outside industrial plants also. The principles of thermal engineering are also important to the vehicles and other machines operations.
Thermodynamics- Basics
Temperature and Thermometry
Energy and entropy
Equations of State
Variables: state properties, process functions
Phase Change
Applied Mixtures:
Humid air ( air condition)
Refrigeration( cold generation)
Heat engines ( power)
Thermochemistry (combustion)
For more details of Thermal Engineering, you can refer the pdf document of Thermal engineering.
ThermalEngineering Courses Details:
Courses offered in ThermalEngineering are given below.
Bachelor of Technology in Thermal Engineering
Master of Technology in Thermal engineering
Post-graduation Diploma in Thermal Power plant Engineering
Doctor of Philosophy in Thermal Engineering
Duration of the Courses:
The duration of the B.Tech ThermalEngineeringCourse is 4 years. There are eight semesters conducted in the B.tech course. The duration of M.tech Thermal enginering is 2 years. 4 semesters conducted in this course. And the duration of Thermal power plant engineering is 1 year and duration of Doctor of Philosophy in ThermalEngineering is 3 years.
Eligibility Criteria:
The candidates who have passed 10+2 with science stream are eligible for Bachelor of technology in Thermal engg.  Many colleges are conducted entrance exams like JEE mains, Eamcet for the admission of candidates for B.tech. After the completion of this course the students can pursue higher studies like M.tech Thermal engineerng and Doctor of Philosophy in Thermal Engineering.
List of Top Colleges:
You can see here the top colleges of ThermalEngineering courses.
Indian Institute of Technology, Kharagpur
RVS College of Engineering, Dindigul
Rohini college of Engineering and Technology, Kanyakumari
College of Engineering, Adoor
Nalanda Institute of Technology, Bhubaneswar
TRP Engineering College, Tiruchirapalli
Books and Study Materials:
In this article, we provide you with the famous books of ThermalEngineering.
Thermal Engineering, R.K Rajput.
Thermal Engineering Studies with Excel, Mathcad and the Internet, Valery Ochkov
Thermal Engineering Data Handbook, B.Srinivasa Reddy
Optimum control in Thermal Engineering, Marius Paulescu
Fundamentals of Thermal- Fluid Sciences, Yunus A.cengel