In present days most of the students who have completed their schooling are planning to pursue their further studies from reputed universities which are located in out of state. Here in this write-up we have provided complete details of one of the famous Universities i.e. Singhania University and the list of courses available in its university, fee structure, admissions and placements, etc.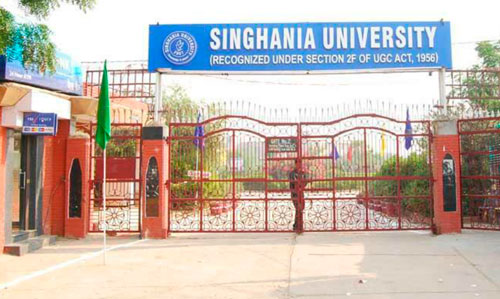 About Singhania University
Singhania University is one of the top universities located in Rajasthan state, under ordinance 6 of 2007. It ranks 37th place in 2017 Rajasthan universities ranking. The university is situated at Pacheri Bari, distt. Jhunjhunuu (Rajasthan) on the Delhi- narnual singhana-pilani road.  The university is a UGC registered as per Sec. 2f of the UGC act 1956.
Singhania University was inaugurated on october21st, 2007 by a great visionary and philanthropist Shri D.C. singhania. The university can reached either road or by rail. The main motto to inaugurate this university is to impart quality education of world class facilities, following the latest advances in the field of education and research.
Singhania university campus covers an area of about 30acres land which gives visual attraction and stayed away from unpleasant metropolis. The university provides excellent environment for academic and intellectual growth, world class infrastructure and highly qualified and dedicated faculties.
Singhania University Facilities
Well-equipped labs
Well stocked and furnished library
Cool hostels separate for boys and girls
Fine furnished cottages for faculties
A host of indoor and outdoor games and sports
Broad open spaces
Dense green lawns
Well-kept garden
University Aims and Objectives
      The objective of the university is to bring higher education to rural India and to provide object-oriented education, keeping in view the emerging industrial and business opportunities globally.
The aim of the university is working towards making an educated India and employment for all.
University Courses
      The university is providing more than 200 academic programs in 50 disciplines. It provides courses in both arts and sciences streams.
List of Courses available in Singhania University
Diploma courses
Bachelor's degree programs
Master's degree programs
Research programs like Ph.D., M.Phil. and D.Litt.
Note: Singhania University Also Provide B.Ed Admission check B.Ed Eligibility, Bed Admission from here.
For more information regarding full list of courses in each disciplines click the below link
https://drive.google.com/file/d/0B0azb9EhSFaYcnBaVEJxNTNYWnc/view?usp=sharin
Eligibility and Duration of Courses
For Diploma Courses
The eligibility to pursue this course is matriculation and the minimum duration of this course is 6months and maximum duration of this course is 3years based on the discipline you have chosen.
For Bachelor's Degree Programs
        The eligibility to pursue this course is passing 10+2 and the time period of this course may be 2 or 4.5 years based on the stream we have chosen.
For Master's Degree Programs
       The eligibility to pursue this program is having bachelor's degree in the respective filed and the time duration to complete this course is 2years.
For Research Programs
For Ph.D. programs the eligibility to pursue this course is completion of master's degree and the time period to complete this course is 2years.
For M.Phil. program the eligibility is to have PG and the duration to complete this research program is 1.5year.
For D.Litt. program the eligibility to pursue this course is having Ph.D. and the duration is 1year.
Admission Process
The mode of admission to this university is an online mode. Here are the steps to complete online admission form:
First, you have to register yourself by reading and understanding the eligibility criteria for the discipline/program you want to pursue.
Next fill the basic details like your name, DOB, address, contact number etc. The details you entered should match the details in your matriculation certificate and discipline/course.
Before the final submission, you have to read the declaration carefully. You have to upload a recent passport size photograph in JPG format the digital size of the photograph should not exceed 50KB. Check your details and finally submit the application form.
The last step is to pay fees online. The mode of payment is bank challan/credit/debit cards.
For more info please visit the official site of the University
https://www.singhaniauniversity.co.in/#
If you want any more info please Contact: 8955515516