HVAC Course Details: The full form of H.V.A.C is Heating Ventilation & Air Conditioning. For Happy life/Comfortable being, many industries need Heating, Ventilation & Air – Conditioning (HVAC) Systems. In this HVAC Course, we will discover the fundamentals H V A C and its scope. Along with you can heck the Complete HVAC Course Details like Training Institutes, Duration, Fees, HVAC technician Jobs, Salaries, etc on this web page.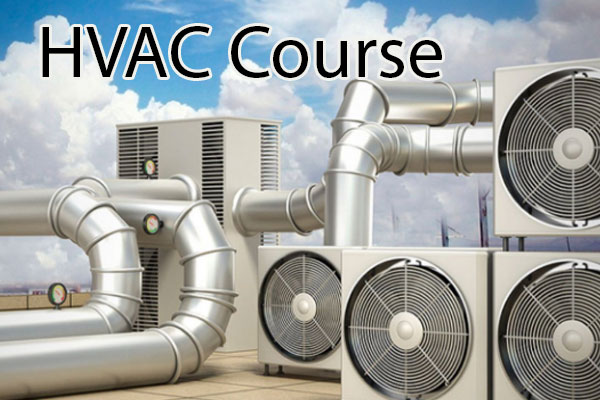 HVAC Course Scope in India:
As per the HVAC Course Details, Heating Ventilation & Air Conditioning HVAC Course is a highly booming industry with huge demand oriented career in it. All Chemical, Process LPG (Liquefied Petroleum Gas), CNG (Compressed Natural Gas), Oil & Gas Pharmaceutical Industries are dependent on HVAC engineering for the comfort LIFE. It consumes more than 60 to 70 percent of energy load in all viable building.
Eligibility Criteria for HVAC:
Certificate or associate's degree in HVAC Technology.
List of HVAC Course Details:
HVAC is a part of MEP courses. The MEP courses are classified as
Electrical Design
Plumbing (PHE)
HVAC Design
Process Piping
Electrical Building Services
HVAC Course Fees:
HVAC Course Fees: Rs 50,000/-
HVAC Course Fees (NRI): $ 1875
The cost of the course depending on the payment plan you choose or depends on training institute.
HVAC Course Syllabus
HVAC Course Syllabus covers the Introduction to HVAC i.e. Scope of HVAC Industry with overview of Consulting & Construction industry, Concepts of Air conditioning systems, Principles of air conditioning, Refrigerant cycle, Chilling system, Cooling, Heating, Humidification Methods, Dehumidification Methods, Filtration, Air-conditioning systems, Local cooling comfort System, Window Air conditioning, Split Air conditioning, VRV- Air conditioning, Chilled water Fan coil unit, Central Air Conditioning System, Chilled water system, Psychometric chart, Properties of Air (DBT, %RH, WBT, , DPT, ENTHALPY.), Refrigerant, Types of Refrigerant, Evaporating & Condensing properties of refrigerant, Refrigerant Pipe sizing methods
Also See: B.Tech Course Details, AMIE Course Details.
Texts
F.C. McQuiston and J.D. Parker, Heating, Ventilating, and Air Conditioning Analysis and Design, John Wiley & Sons, Inc. 5th Edition, 2000.
Top Training Institutes for HVAC Course:
Institute of Piping Engineering & Building Services-Hyderabad
Ambay HVAC Training Centre-Ahmedabad
PACE institute of piping engineering and BMS
NOFA MEP Training Centre-Trichy
ATIMG-Delhi
IDC Technoogies-ahmedabad, Chennai, Pune
C B Training Institute-Bengaluru
Cool Care-jamshedpur
Sanjary Educational Academy-Hyderabad
DCS pvt ltd-Hyderabad
Gemstech international institute-Hyderabad
Radical Technologies Pune – Aundh
Sannihitha technologies Hyderabad – Ameerpet
S-IT Computer Mumbai – Navi Mumbai
EDS Technologies Pvt. Ltd. Bangalore – Jaya Nagar
Zonal Tech Solutions Bangalore – Vijaya Nagar
SKYLAB Bangalore – Indira Nagar
HVAC technician Jobs and Salaries Details
The Top Recruiters hiring for HVAC as
Air Conditioning Jobs
Refrigeration Jobs
Chillers Jobs
Mechanical Jobs
Bms Jobs
Ventilation Jobs
Maintenance Jobs
Utility Jobs
Salary: HVAC Technician earns an average wage of $18.78 per hour.  And it can be defined based on skills and working conditions of employees.