Generally every one said that Engineering is the man's field, but in reality, a woman can also work in this field. The Engineering courses involve solving problems by using special technical and practical skills. This course is all about maths, science, research, design, maintenance and production.
Every industry depends on mainly the work of engineers. Technological activities will not happen without the engineers. Engineers are the problem solvers who can solve the problems by using maths and science. For more info about Engineering Career please read complete article.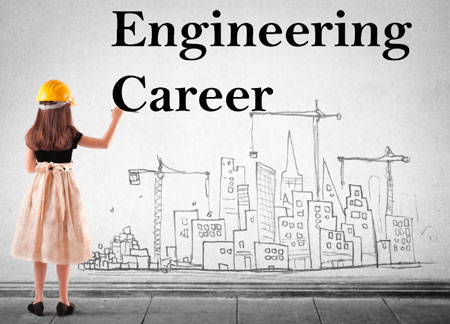 Scope of Engineering Career:
Those who are looking for Engineering Career let us see complete guide about Engineering Course. The job opportunities for the Engineering graduates have always been good. The engineers can held many jobs both in public and private sectors. There are many branches in engineering field but the students choose only one special branch like Civil, Mechanical, Automotive and Robotics etc. All the engineers need to have strong logical and mathematical skills to solving the technical problems. Due to Infrastructure development of the society the demand for engineers is increased. All the massive industries need professional engineers. As an engineer you can in many places like in an office, in a laboratory, in a factory and even in outer places.
Specialisations/Branches of Engineering:
Here the specialisation courses of Engineering given.
Aeronautical Engineering
Chemical Engineering
Biomedical Engineering
Civil Engineering
Architecture Engineering
Automobiles Engineering
Robotics Engineering
Marine Engineering
Mining Engineering
Also See: Chemical Engineering, Sound Engineering Course Details
Higher Education of Engineering:
Master of Technology and Master of Science in Engineering are the master courses of Engineering. There are various branches available in master courses of engineering.
Top Colleges or Universities of Engineering Course:   
IIT Madras – Chennai
IIT Bombay – Mumbai
NIT – Kurukshetra
Netaji Subhas Institute of Technology – New Delhi
Dhirubhai Ambani IICT – Gandhinagar
PSG College of Technology – Coimbatore
College of Engineering, Anna University – Guindy
NIT – Warangal
Indian Institute of Technology – Delhi
Jadavpur University – Calcutta
Presidency University – Bangalore
Punjab Engineering College – Chandigarh
MANIT – Bhopal
Osmania Univ. Engineering of Technology – Hyderabad
Jawaharlal Nehru Technological University – Kakinada ……(more)
Job Profiles:                  
The following are the some of the job profiles of Engineers:
Mechanical Engineers job profiles:
Engineering, transport, manufacturing
Consultancies
The Civil Service
Civil Engineer Job Profiles:
Buildings
Construction dams and canals
Geotechnical Engineering
Highway Construction
Computer Science Engineer Job Profiles:
Aerospace Engineer
Computer or Information Research Scientist
Computer Programmer
Electrical Engineer Job Profiles:
Heating and Ventilation
Transportation Networks
Production and Distribution Power
Salary Details:  
In this article, we provide you with the salary information of the Engineers. Here we provide only a few engineers salary list:
Mechanical Engineer Starter: 20,000-28,000
Experienced: 25,000-35,000
Civil Engineer Starter: 22,000-30,000
Experienced: 28,000-38,000
Electrical Engineer Starter: 20,000 -25,000
Experienced: 28,000- 40,000
Computer Science Engineer Starter: 30,000-40,000
Experienced: 35,000-50,000
Employment Areas: 
The Engineers can work in various fields like the construction of dams and buildings, manufacturing units, coastal areas, factories, software companies, power units, medical manufacturing units etc.