Mechanical Engineering is the oldest engineering course and use principles of energy and materials. It is useful to design the machines and manufactures the devices of all types. The role of the MechanicalEngineering reflects the progress made during this 20th century. Mechanical engineering field requires the knowledge of the core areas like mechanics, thermodynamics and electricity etc. Mechanical engineer plays a key role in various kinds engineering fields like biomedical engineering and construction engineering etc.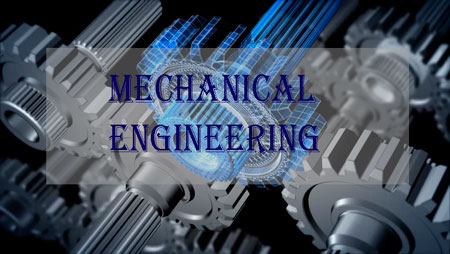 What is Mechanical Engineering?
There are number of colleges and universities offers this mechanical course both in India and throughout the world also. It's a four years of course. To become an engineer any one needs to complete the course in Bachelor of Technology (B.Tech) or in diploma etc. There are 8 semesters are conducted in b.tech and diploma is a three years course. Mechanical engineers are expected to understand and to be able to apply in chemical engineering, civil engineering, and electrical engineering.
List of Colleges offers Mechanical Engineering
Indian Institute of Technology, Bombay
Delhi Technological University, Delhi
Indian Institute of Technology, Varanasi
National Institute of Technology, Surathkal
National Institute of Technology, Warangal
VIT University, Vellore
College of Engineering, Pune
Manipal Institute of Technology, MIT Manipal
Jawaharlal Nehru Technological University, Kakinada
Amrita School of Engineering, Bangalore
Thiagarajar College of Engineering, TCE Madurai
GITAM University, Visakhapatnam
Koneru Lakshmaiah University, Vijayawada.
 Fee Structure:
Sometimes the fee structure is based on the category of candidate and location of the College. Generally, the fee is collected from students approximately in lakhs for 4 years course. For example 47,000 for 1st semester and 43,000 for the second semester and nearly 4 to 5 lakhs for 4 years of Mechanical Engineering Course. And the top colleges or universities collect the high range of fees. If general colleges collect normal range fee from the students.
Job Profiles:
The Mechanical engineers can work for other engineer fields like Aerospace engineering, manufacturing engineering, automotive engineering and Civil engineering why because these fields are grouped with this Mechanical engineering. Mechanical engineers can create solutions and solve problems. The engineers can be got jobs in various engineering fields like as
Aerospace and Automotive Industries
The Defense Engineering and Science Group
Construction and building services
Engineering Consultancies
Government agencies
Manufacturing units
Employment Areas:
Many companies recruit the Mechanical Engineers as their employees. Both Government and Private Organizations which provide more employment opportunities for Mechanical Engineers. Some of the employment areas are
Maruti Suzuki
Tata Motors/Tata groups
Mahindra groups
Reliance groups
Adani groups
BHEL
Bajaj Automobiles
ISRO
NTPC
DRDO
HYUNDAI India Private limited
Sundaram – Clayton Limited
Steel Authority of India Ltd
Salary Ranges:
The average salary of the Mechanical Engineers is approximately Rs 60,000/- and it is increased after gaining experience. The Mechanical engineer can earn more salary based on their experience and technical knowledge. The senior engineers can earn around Rs 8, 00,000/- to Rs 9, 00,000/- per annum.
Also Read Scope of Mechanical-Engineering