How to choose right Engineering Branch (BA/B.Tech)?: While posting the question of How to choose right Engineering Branch (BA/B.Tech)? First, you should have knowledge regarding what is Mechanical Engineering/Civil Engineering/Electrical Engineering & Chemical Engineering? After that, it's Scope of Mechanical Engineering and Career Opportunities etc.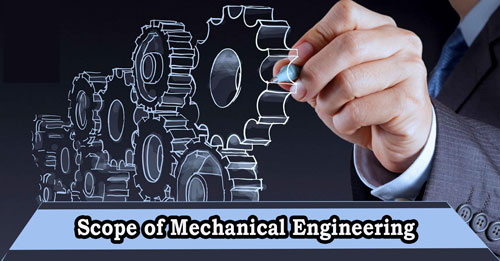 Mechanical Engineering is a branch of engineering that involves the design, production, and operation of machinery. The field of mechanical engineering has seen continuous development incorporating advancements in technology. Mechanical Engineers can also hold high managerial positions in govt sector as well as private organizations according to their field of expertise & educational qualifications.
Scope of Mechanical Engineering
There are many factors that need to be considered and while many of the engineering streams are rewarding. So before taking admissions into an engineering college, choose the options to include mechanical, electrical, civil, computer, industrial etc.
When you choose a Mechanical Engineering has a very wide job opening as mechanical engineers and also a very wide scope in future. Mechanical engineers can work in industries like thermal power, gas turbines, oil, refining, agriculture, education, automobiles, armed forces, pharmaceutical and other. And salary ranges in between INR 10,000/- to INR 25,000/-.
When compared to Mechanical Engineer, Civil Engineer Scope is less. But you have got a job, but the thing is you cannot go for any other job than a Civil Engineering job. Civil Engineering holds huge potential opportunities in healthcare, education, retail, and social infrastructure etc.
If you are selecting Chemical Engineering may not be a good because job opportunities are less when compared to Mechanical & Civil Engineering. Chemical Engineers typically do the research to develop new manufacturing processes, develop safety procedures for those working with dangerous chemicals, design and plan the layout of equipment, troubleshoot problems with manufacturing processes and estimate production costs for management.
Electrical & Electronic Engineering is the right branch to choose because career opportunities are more along with that salaries is also high ranges. Electrical Engineering Students thinking skills to solve problems and design, construct and maintain electrical and electronics products.
For more info about Scope of Mechanical Engineering please stay connect with us. we will update news every day for all students.
List of Government jobs based on the B.E qualification are
Indian Oil Corporation Limited (IOCL)
Bharat Sanchar Nigam Limited (BSNL)
Bharat Electronics Limited (BEL)
Bharat Heavy Electricals Limited (BHEL)
Indian space research organization (ISRO)
DRDO
L & T, etc
List of Top Engineering Branches in India:
Applied Electronics & Instrumentation
Automobile Engg
Bio-Chemical Engineering
Bioinformatics
Bio-Technology
Chemical & Alcohol Technology
Computer Science
Electrical & Electronics Engineering
Electrical Engineering
Electronics & Instrumentation Engineering
Electronics & Telecomm Engineering
Electronics Engineering
Electronics Instrumentation & Control
Environmental Engineering
Energy Technology
Fire & Safety Engineering
Food Technology
Geo-Informatics Engineering
Geo-Science Engineering
Genetic Engineering
Industrial Production Engineering
Information Technology
Instrumentation & Control
Instrumentation Engineering
Leather Technology
Man Made Fibre Technology
Material Science
Mechanical & Industrial Engineering
Mechanical Engineering
Metallurgical Engineering
Mining Engineering
Mechatronics Engineering
Naval Architecture
Oil Technology
Ocean Engineering
Paint Technology
Plastic Technology
Production & Industrial Engineering
Pharmaceutical Technology/B-pharma
Software Engineering
Textile Chemistry
Textile Technology
Transportation Engineering