If you want to choose a different career in engineering field then there is a unique course in engineering stream that is Textile Engineering Course. It is a unique course opted by less number of candidates. It is a big research field of technology. In this post, we have given entire Textile Engineering Course details regarding eligibility, duration, courses, jobs, colleges etc.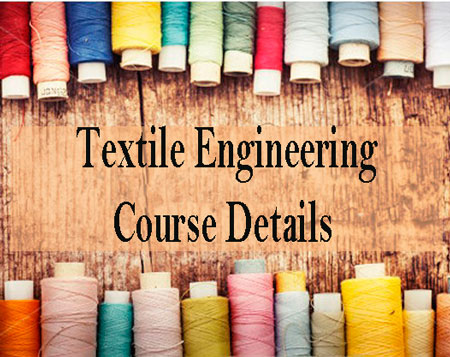 About Textile Engineering Course 
Textile engineering is the science that involves in the process of textile manufacturing which deals with all activities and methods. Textile engineering spins around the garment, colour and fabric lines in industries. This engineering stream mainly focuses on textile manufacturing from the production and processing of raw materials to printing and merchandising.
Specialisation Fields in Textile Engineering
Technical textiles
Computer application in textile
Yarn and non-woven technology
Fiber science technology
Coloration technology
Knitting and knit CAD
Textile materials and performance evaluation
Weaving and weave CAD
Textile Engineering Course List
Here you can check the list of Textile Engineering Ccourse details.
Diploma courses
Under graduation courses
Post-graduation courses
Ph.D. courses
Diploma Courses
It is a diploma course in textile engineering. This diploma course covers all aspects of fiber, textile, process, apparels and machinery using the applications of scientific and engineering principles.
Eligibility
The eligibility to pursue this course is the completion of 10th standard from a recognised school.
 Duration
The time period to complete this diploma course is 3years.
Important subjects
The course involves both theory and practical knowledge
Theory subjects
English communication I&II
Engineering drawing
Organic chemistry
Elements of textile technology
Bleaching technology
Printing and dyeing technology
Mechanical engineering for textiles
Practical labs
Physics Lab
Chemistry Lab
Workshop Practice
Communications Lab
Under Graduation Courses
B.E/B.Tech in textile engineering comes under UG courses in textile engineering. This course also draws the background of some engineering disciplines. In this course natural and man-made materials, energy conservation etc. are included. The candidates who want to pursue this course should have skills like logical thinking, flexibility to understand, creativity, patience, organising ability etc.
Eligibility
 The candidate must pass the 10+2 exam with minimum 60% of the total marks with science subjects in their intermediate field.
To admission in IITs an entrance exam JEE is conducted and the seat is allocated to the candidate based on merit list.
In some reputed colleges and universities, an entrance test is conducted by the respective colleges.
Duration
The duration to complete this course is 4years which consists of eight semesters.
Important subjects
The course consists of both theory and practical session.
Theory subjects
Textile fiber
Yarn manufacture
Polymer and fiber science
Fabric structure and analysis
Elements of instrumentation and control engineering
Elements of computer graphics
Textile chemical processing
Textile testing
Post spinning operation
Clothing science
Practical labs
Textile fiber lab
Yarn manufacture lab
Knitting technology lab
Industrial training
Post-graduation Courses
M.Tech in textile engineering comes under post-graduation course in textile engineering. This engineering degree offers unique education and research opportunities within the domain of textile materials, technologies and structures.
Eligibility
The candidate should have a B.Tech degree with an average of 55% marks from their UG course.
Some reputed colleges and universities conduct a separate entrance test.
Duration
The duration to complete this master's degree program is 2years.
Important subjects
Unconventional weaving
Modern yarn production
Engineering properties of textile materials
High speed computation
Theory and design of weaving machinery
Theory and design of spinning machinery
Ph.D. Courses
It is a doctorate course in textile engineering. The duration of this course is 5years. Students who have completed their master's degree in textile engineering can pursue this doctorate program. After completion of this program, a student can prefix "dr" title to their name.
Job Types of Textile Engineer
Medical textile engineers
Textile designer
Researchers
Process engineer
Operations Trainee
Marketing professional
Plant supervisor
Quality control supervisor
Laboratory assistant
Lecturers
Employment Areas
As it is a unique course there is a huge demand in employment areas for this course. The employment areas include textile industries, Mysore silk, Raymond group, JCT mills, Bombay dyeing, fabindia, arvind mills ltd., mafatlal denim etc.
Also, See Various Engineering Courses Details from here. For more updates please stay connects with us.