Introduction: We all say that everything in our world is covered with various branches of sciences. Even the universe is completely filled with science. But actually what is science? – Science, in general, is defined as "an art of dealing with a specialized organized body to acquire knowledge in various aspects". We've various branches of science covering with various aspects. Some of the branches of sciences are Physical sciences, Life sciences, Organizational Sciences, Political Science, etc.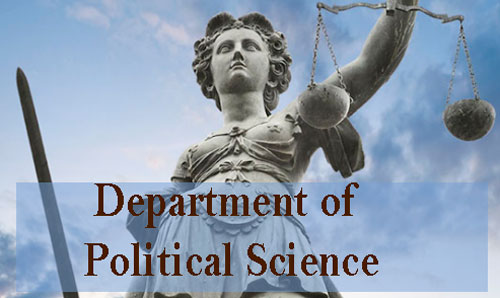 About Political Science
Politics is a social science which deals with the Governments of various levels such as state, national and international. This science mainly deals with the practical systems of politics, analyses various systems in politics, examines and implements various political systems. The Political Science is not an independent system. It deals with various branches like history, economics, sociology and many other branches with a view to change the landscape of politics across the world. And the public, who are the important part in the society are seeking to know the information regarding the changes that are going to take place in the political system. They need someone to explain the nuances of the political systems in and around the world and understand them and act accordingly.
Scope of Political Science
The scope of Political Science is very vast and have been divided into five different fields. They are explained as follows:
International Relations: This deals with maintaining relations between governments of various countries and states.
Political Theory: The theory is concerned with contributions of political communities and political scientists which influences on the moral purposes of human nature.
Public Administration: This is to implement various policies to provide social justice to the public and for the development of public relations.
Comparative Politics: It makes comparisons between various states, nations, politicians and legislatures of various associated fields.
Public Law: It is a methodological law concerned with states and citizens of the respective countries.
Bachelor of Political Science (B.A. Politics)
There is only one bachelor course in Political Science in India which comes under Bachelor of Arts. The candidate who has excellent leadership qualities and interested in politics may opt for this course. This course deals with the topics like public administration, political theories and laws, modern politics, constitutional policies etc. There are various courses relating to Political Sciences. Some of them are hereunder:
B.A. Political Studies
B.A. Work & Labour Studies
B.A. International Political Economy
B.A. Global & International Studies
B.A. Public Affairs & Policy Management etc.
Advanced Courses in Political Sciences:
There are advanced courses related to the Science of Politics after the undergraduate course related to Political Science. Some of them are as follows:
Master of Strategic Studies
Master of Professional Politics
Master of International Relations & Counter Terrorism
Master of Joint Public Administration
M.A. Political Science
M.A. Global Governance etc.
Course Duration
The duration of the course of Political Sciences of a bachelor degree is three years and for the master's course is two years.
Eligibility Criteria
The eligibility criteria for the Political Science course is as follows.
For an under-graduation course, the eligibility is 10 + 2.
For post-graduation course, the eligibility is that the candidate should complete his B.A. Politics from any recognised University.
The candidate should attain the score 60%.
In case of SC/ST, the candidate should get an aggregate of 50%.
Fee Structure
The fee structure of the course may be as follows:
For B.A. Politics, the fee may be Rs.30, 000/- for each year.
For Master's degree, the fee may be Rs.80, 000/- for each year.
Career with Political Science
The scope for the career with Political Science courses will be very high. There are numerous employment opportunities for the candidates who possess the course. The candidates who aspires to do the course may / should have leadership qualities. The career information contains the following categories:
List of Jobs 
The jobs for Political Science course are as follows:
Professors for Law
Politicians
Journalists
Lawyers
Social Media Managers
Political Analyst
Public Relations Officers etc.
Employment Areas
The employment areas for Political Sciences are hereunder:
Research Organizations
Educational firms
Law houses
Business Firms
Banking Sector
Social Media etc.