What is Petro-Chemical Engineering?: Petrochemical Engineering is one among the branches of Chemical Engineering dealing with the process of refining petroleum and crude oil using advanced technology. It also involves in the process of locating and accessing natural gas reserves.
This course is useful to learn the mechanism of exploring and producing crude oil and natural gases. It is also called as Petroleum Engineering as it deals with locating and exploring of liquefied hydrocarbons under the earth which is called petrol. Now, let's make a look over the details of Petrochemical Engineering Course.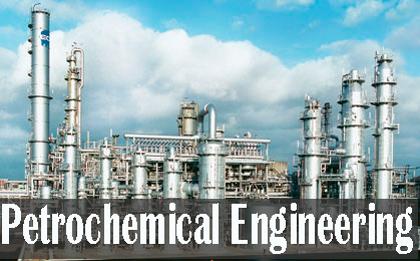 Petro-Chemical Engineering Course (PCE)
This is an undergraduate or bachelor degree course dealing with the process of exploring, producing and refining of petrol, crude oil and natural gas from the core of the earth. In PCE, we can learn the methods and techniques for the process of exploration and production of crude oil and natural gas. There are some other courses in the bachelor and diploma courses dealing with Petro-Chemical Engineering. Let's look over the course details of Petro-Chemical Engineering (PCE). Just look down for getting a clear idea about Petro-Chemical Engineering (PCE).
Petrochemical Engineering Course Details
Before admitting into PCE, let's know the Petrochemical Engineering Course Details like its PCE eligibility requirements, fee, duration, syllabus, top colleges, etc..
Eligibility Criteria
The eligibility requirements for Petrochemical Engineering Course are as follows:
One should complete 10 + 2 or any equivalent degree of any stream.
PCE Course Duration
The duration of PCE can be as follows:
For B.E. or B. Tech, it is obviously 4 consecutive years including internship program.
For diploma after 10 + 2, it takes 3 years for completion including internship program
Fee Structure
The fee structure for PCE may be Rs.3,00,000/- to Rs.3,50,000/- per year.
Colleges for PCE Course:
The colleges having specializations in Petro-Chemical Engineering in various states. Some of the famous colleges of various states dealing with PCE are as follows:
Colleges for PCE in Andhra Pradesh:
Vignan's University, Guntur
Aditya Engineering College, Surampalem
JNTU, Kakinada
Colleges for PCE in Tamil Nadu:
JCT College of Engineering & Technology, Coimbatore
Rajiv Gandhi College of Engineering Administration, Chennai
Dhaanish Ahmed College of Engineering, Kancheepuram
Colleges for PCE in Maharashtra:
Maharashtra Institute of Technology (MIT), Pune
Babusaheb Ambedkar Technological University, Rajgad
Andrews University of Technology & Management, Haryana etc.
Syllabus in PCE
Though B.E & B. Tech are two bachelor degrees in PCE. The syllabus for PCE differs. So let's go through the syllabus for PCE in B. E. & B.E.
Syllabus for PCE in B. Tech:
Mathematics, Physics and Chemistry
Basic Electrical & Electronic Engineering
Petroleum Engineering, Introduction to Transport Phenomena
Chemical Engineering Thermodynamics, Heat Transfer Operation
Petrochemical Process, Chemistry of Petroleum Hydrocarbon
Process Instrumentation & Control Lab, Modelling & Simulation
Mass Transfer Operation, Process Equipment Design Lab
Advanced Petroleum Refining, Pollution Control Lab etc.
Syllabus for PCE in B.E.:
Mathematics, Physics and Chemistry; Programming Language with DBMS
Material & Energy Flow Computation, Environmental Studies
Mechanics of Solids, Thermodynamics & Heat Engines
Applied Numerical Methods, Chemical Reaction Engineering
Heat Transfer Processes, Particulate Technology
Polymer Engineering & Natural Gas Engineering
Petrochemical Refining Equipment Design, Catalyst Design
Healthy, Safety and Environment Management etc.
Career with Petro-Chemical Engineering (PCE)
The career with PCE is very bright. There are various job roles and opportunities for leading a successful career. Let's see the career scope with PCE:
Job Roles under PCE
A person who completed his PCE, can attain job under various key roles. Some of them are:
Research & Development Engineer
Lead Process Development Managers
Production Process Engineer
Fixed Equipment Engineer
Quality Product Manager
Plant Managers Etc.
Employment Areas
The petrochemical engineers can attain jobs in government and private sectors. Mostly government sectors provide good opportunities comparative to private sectors. Some of the employment areas that hire PCE students are as follows:
Oil and Natural Gas Corporation Limited (ONGC)
Hindustan Petroleum Corporation Limited (HPCL)
Chennai Petroleum Corporation Limited (CPCL)
Hindustan Oil Exploration Company Ltd (HOEC)
Hindustan Oil Exploration Company Ltd (HOEC)
Bharat Petroleum Corporation Limited (BPCL)
Hindustan Oil Exploration Company Ltd (HOEC) etc.
Salary Packages
The salary packages for PCE graduates may vary according to employee role and organizational structure. The salary package for a petrochemical engineer may have Rs.30, 000/- per month.
Advanced Petrochemical Engineering Course
There are various advanced courses related to PCE which are helpful to acquire knowledge in-depth of the exploring and producing of petrochemicals, natural gases and crude oil through various techniques like M. E. Petro-Chemical Engineering and M. Tech. Petro-Chemical Engineering and so on.