Biomedical Engineering is one of the highly demanded field in India. The biomedical professionals or engineers affect the research in biology and medical fields to improve health care delivery and quality of life. Want to know more information about Biomedical Engineering Course like scope, list of courses, duration, eligibility, career and jobs etc, then read this article.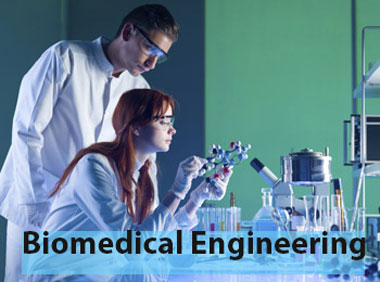 About Biomedical Engineering
Biomedical Engineering (BME) is the application of engineering principles and design concepts which deals with the fields of biology and healthcare. This bio engineering includes the advancements in science and technology. The practice of this engineering has a good and long history also. It applies modern methodologies along with theoretical and computational methods.
BME have developed a number of life enhancing and life-saving technologies. They analyze and solve problems in biology and medicine for developing health care. In other side they also work with, nurses, physicians and technicians by using their technical knowledge to design instruments, devices and software for developing new procedures and research to solve medical and clinical problems.
Scope of Biomedical Engineering in India
In India the scope of bio engineering is vast. The health care sector opens huge opportunities for biomedical engineering discipline. Biomedical Engineering is like bridge between engineering and medicine field. It is very important for you to understand that most of the jobs are in research field only. Anyone can utilize their knowledge of engineering in healthcare to perfection in this engineering discipline. Biomedical Engineering offers growth opportunities easily for interested candidates. Number of opportunities will available in bio-engineering and in the fields of biology, medicine, and health care.
Some specialization areas of biomedical engineering are as follows.
Clinical Engineering
Rehabilitation Engineering
Systems Philosophy
Biomechanics
Biomaterials
Medical Imaging
Neural Engineering
Cell and Issue Engineering
Courses Available in BME
Diploma Courses
Bachelor Courses
Master Courses
Diploma in Biomedical Engineering Course
This course is diploma level biomedical engineering course. The course introduces the students about fundamental principles of operation format of medical diagnostic and therapeutic devices.
Duration
The duration of this course is three years.
Eligibility Criteria
One should complete their 10th standard from a recognized board.
Bachelor Courses
B.E in BiomedicalEngineering
B.Tech in BiomedicalEngineering
B.Tech in Biomedical Instrumentation
B.Tech in Biotechnology and Biomedical Engineering
B.E in Biotechnology
Duration
The duration to complete the bachelor courses is four years and divided into eight semesters.
Eligibility Criteria
The minimum qualification to pursue the bachelor courses is 10+2 in science stream form a recognized board.
Master Courses
M.E in Biomedical Engineering
M.Tech in Biomedical Engineering
M.Tech in Biomedical Instrumentation
M.S in Biomedical Engineering
M.E in Biotechnology and Biomedical Engineering
M.Tech in Bio-Medical Signal Processing & Instrumentation
Duration
The duration of master courses is two years.
Eligibility Criteria
The candidate should complete their bachelor degree in its related engineering discipline.
Doctor of Philosophy in Bio Engineering
After completion of master courses the candidate can go for Ph.D. in BiomedicalEngineering course to pursue.
List of top BME Colleges in India
SRM University, Chennai
Netaji Subhash Engineering College, Calcutta
Indian Institute of Technology, Bombay
RVS Educational Trusts Group of Institutions, Dindigul
N.G.P. Institute of Technology, Coimbatore
North-Eastern Hill University: The School of Technology, Shillong
Visvesvaraya Technological University, Belgaum
Bundelkhand University, Jhansi
Mahamaya Technical University , Noida
Employment Areas
Colleges/Universities
Hospitals
Medical Centers
Healthcare Departments
Biomedical Application Software Companies
Research Centers
Medical Institutions
Job Types of Biomedical Engineering
The bio engineers are employed in universities, industry, hospitals, education and medical institutions, teaching and government regulatory agencies. Some types of jobs are listed below.
Clinical Engineers
Professors
Technical Writers
Patent Attorneys
Biomechanics Engineers
Physical Therapists
Research Scientists
Systems Philosophy Engineers
Scientific Support Specialist
Research Associate
Service Engineer
Sales Engineer
Salary Package
A fresh biomedical engineer can earn approximately Rs. 15k-17k per month.
After gaining experience the candidate can get around Rs. 30k-45k per month.