Information About Robotics Engineering Course: If you are interested in robots and how they work then there is a unique stream in engineering that is robotics engineering. If you want to become a robotic engineer then this article is very useful to you. This article provides you complete details of robotics engineering course details like skills required, list of courses, eligibility, duration, jobs, and employment areas. In our previous post, we wrote about electrical engineering course, check that post.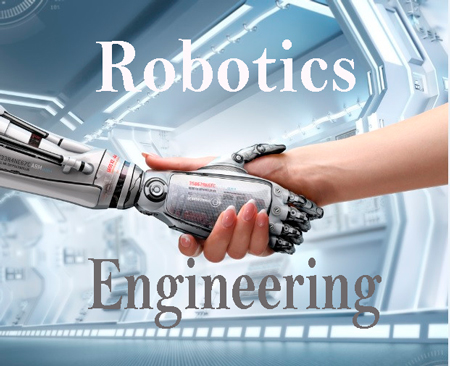 About Robotics Engineering
Robotics engineering is a branch of engineering that deals with design, construction, operation and use of robots. Robotics engineering includes other engineering disciplines of mechanical engineering, electrical engineering and computer science engineering. A robot is a machine which works on computer programs. Robotics engineers use computer-aided design and drafting () and computer-aided manufacturing (CAM) systems to perform their tasks.
Skills required for Robotics Engineering Course
Mathematics
Programming mindset
Technology design
Good communication
Active learning
Critical thinking
Equipment Maintenance
Judgment and decision making
Trouble shooting
Monitoring
Specialization fields of Robotics Engineering
          The specialized fields of robotics engineer are artificial intelligence, micro-robotics, robot motion planning, automation, medical robotics, design and control, robot manipulations, air traffic management systems, digital electronics and microprocessors, bio-cybernetics, computer integrated manufacturing system, signal processing.
List of courses
The courses of robotics engineering are listed below
Diploma in robotics engineering (Also see other diploma courses)
Bachelor's in robotics engineering
Master's in robotics engineering
Diploma in Robotics Engineering
     This is a diploma certificate program. As the importance of robotics is increasing there is a huge demand for robotics engineers. This course is the basic step to becoming a robotics engineer.
Eligibility
      The eligibility to pursue this course is completion of 10+2 exam from recognised college with physics, mathematics and chemistry as main subjects. Depending on the admission of the Institute percentage is important.
Duration
The time period to complete this course is 4years.
Important subjects
Numerical methods
Introduction to robotics
Rigid body velocity
Jacobian
Force control and haptics
Forward kinematics
Mechanical design
Bachelor's in Robotics Engineering Course
B.E/B.Tech in robotics engineering comes under bachelor's degree. This is an undergraduate program. The students should communicate their ideas effectively.
Eligibility
The eligibility to pursue this course is having 12th standard certificate from a recognized college. In some reputed colleges and universities separate entrance test is conducted and the seat is allotted to the candidate based on the merit list.
Duration
The duration to complete this graduate program is a period of 4 years.
Important subjects
Mechanical designs
Forward kinematics
Trajectory control
Inverse kinematics
Mobile Robots
Rigid body velocity
Master's in Robotics Engineering Course
      M.E/M.Tech in robotic engineering comes under master's degree in robotics engineering. This course makes the students for design positions which require skillful and imaginative thoughts to solve problems.
Eligibility
The eligibility to pursue this course is having bachelor's degree in the related discipline.
A good score in GATE (Gratitude aptitude test in engineering)
For some reputed colleges and universities an entrance exam is conducted.
Duration
        The time required to complete this post-graduation program is duration of 2years.
Important subjects
The course consists of theory and practical subjects
Theory subjects
Applied mathematics for engineers
Advanced solid mechanics
Robot programming
Mechatronics in manufacturing systems
Robot sensors
Industrial robots
Robot simulation
Robot vision
Robot economics
Manufacturing systems automations
Practical subjects
Automation lab
Robotics lab
Seminar
Project work
Career and Jobs
Job profiles
The job profiles of robotic engineers include robotics engineer, robot operator, robotics installation engineer, robotics programmer, robotics trainer, robotic welding engineer, senior robotics specialist, robotics tester, technical associate, lecturer, production engineer, maintenance engineers, analysts, supervisors, researcher, embedded application engineer, robotic system engineer, sales and marketing engineer.
Also See – Mining Engineering,  Scope of Mechanical engineering
Employment Areas
Colleges and universities
Robot designing companies
Automobile industry
Space exploration
Microchips manufacturing companies
Food packaging companies
Electronics and appliances industries
System design and analysis companies
Military
Medical Industries
Chemicals and pharmaceuticals
Mining and organisations
Manufacturing plants
Top Recruiters of Robotics Engineer
ISRO (Indian Space Research Organization)
Tata
HRSL (Hi-Tech Robotics Systems Limited)
Kulka Robotics
BHEL (Bharat Heavy Electricals Limited)
PARI (Precision Automation Robotics India Limited)
BARC (Bhabha Automatic Research center)
ABB
DiFACTO Robotics and Automation
DRDO (Defense Research and Development Organization)
Salary Packages
The salary of robotics engineer in India is around 3 to 4 lakhs per year. In USA the salary of robotics engineers start from $52,010 to $150,830 per year.
Best colleges of Robotics Engineering
University of Hyderabad
IIT Kanpur
Bharat University, Chennai
Mahatma Gandhi Institute of Technology, Hyderabad
Dalal Global Institute of Technology, Haryana
Radhakrishnan Institute of Technology, Rajasthan
Amity University, Noida
Kalam Institute of Technology, Orissa
Valivalam Desikar Polytechnic College, TamilNadu