General Tips for a preparation of the GATE Exams: This article contains helpful pointers and takes a preparation guide to plan your studying schedule for GATE Exam. Preparing GATE Exam according to previous year question papers requires good strategy to crack the GATE. Let us see some GATE Exam Preparation Guide, Tips from here.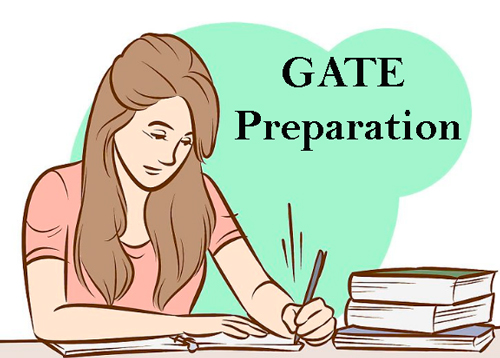 What is GATE?
Graduate Aptitude Test in Engineering (GATE) is a common entrance test which is helpful mainly for graduates to pursue their post-graduation. The main objective of GATE is to test the comprehensive skills of a graduate in the engineering sciences. GATE is conducted under seven Indian Institutes of Technology on behalf of GATE National Co-ordination Board. The scores of GATE are useful not only for pursuing post-graduation, but also for attain employment opportunities in government undertaking companies and others for the purpose of recruiting the engineers at entry level. Every year approximately 10 – 15 lakhs students approach for this exam.
GATE Exam Pattern
The exam will be held in the online mode (Computer Based Test).
The questions in the GATE Exam will be MCQs and Numerical questions.
The answers to the Numerical questions are to be calculated by using the online virtual calculator.
There is a negative mark of 0.33 marks for 1 mark questions and 0.66 marks for 2 marks questions.
No negative marking for numerical questions.
Click Here for GATE Exam Dates
GATE Preparation Tips
Usually in every competitive exam, the trainers coach up with various tips which are important to follow during the preparation of exams for attaining good score. In the same way, for GATE preparation, the trainers or the coaches trains with various tips to solve the questions keeping in mind the time allocation of exam. Let's us go through what kind of tips necessary for preparation of GATE.
Firstly, you should have a clear idea about the concepts and their weightage in your question paper.
Next you should find whether there is any negative marking.
There will be 2/3 of negative marking for 2 marks questions and 1/3 negative marks for 1 mark questions.
You should remember all formulae and problem solving techniques which are taught in your training classes.
Time Management is compulsory. Shouldn't take more time for solving a problem.
Use left thumb rule in rough work for solving problems.
Should go through all model papers and practice them thoroughly. More practice helps you to score well. A candidate should practice at least 5 model papers a day by keeping time limit.
There may be different methods to answer a question. We should be able solve the questions logically but concentrating on it.
Regular practice helps you to think wise and logically.
The most important thing you should implement even in exam is that you should first attempt the questions in which you knew very well.
Leave all books for two days and relax. Should be positive and keep thinking of your goal.
Avoid bad thoughts which will leads you to loose concentration and low performance.
Should recollect all concepts, formulae, solving techniques before going to examinations.
GATE Exam Reference Books
There are a lot of books which are used to get a good score in GATE exam. The books are different for different engineering branches.
For Electronics Engineering
Network analysis by Van Valken Burg
Digital design by M.Morris Mano
Antenna and wave propagation by K.D.Prasad
Automatic control systems by B.C.Kuo
Power systems by V.K. Mehta
Microprocessors and its applications by Goankar
For Computer Science and IT
Calculus by A.Maron
Computer network by Tennenbaum
Database systems by Navathe, korth
Programming languages by Pratt and zelkewitz
OS concepts by Galvin
Computer hardware by morris mano
For Mechanical Engineering
Strength of materials by B.C.Punamia
Operations research by Kanti swarup
Matrices by AR Vashistha
Numerical methods by SS.SAsthry
For Civil Engineering
Strengths of materials and unsolved problems by L Singer
C.C. design by AK Jain
Hydrology by K.Subramanya
Linear algebra by Erwin kreyszig
For Electrical Engineering
Microprocessors for programming examples by B.Ram
Power systems by A. Hussain
Electrical circuits by Chakrabarthy
Signal and system by Willsky