BBA is a bachelor's degree in business administration. It is a course which can be done by the students after completion of their class 12. BBA is gaining popularity in India.
Most of the students are much likely to do this course rather than doing other traditional degrees.
B.B.A Course duration will be 3 years.
BBA students will graduate with skills of practical knowledge that will help them to raise their standards which will help them at their work place. They will educate dealing with business environments; work in cohesive teams and to think up effective solutions to real time problems.
BBA Full Form – Bachelor of Business Administration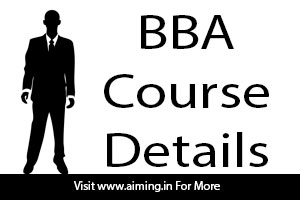 Information About BBA Course Details
Here in this post you can find most of the useful information about BBA course. You can see details like BBA course Fees, Top BBA colleges, Exam information, Application procedure etc in this post. Save this post as "About BBA course details pdf" for easy future reference.
| | |
| --- | --- |
| Course | BBA |
| Full Form | Bachelors of Business Administration |
| Eligibility | 10+2 or equivalent |
| Duration | 3 years |
| Fees | 1 Lakh to 2.5 Lakhs |
| Course Type | Regular / Distance |
| BBA Graduates salary | 10k to 15k INR |
| Advanced courses | MBA, MCA etc |
Eligibility
Minimum eligibility for BBA is 10+2. Students who pass class 12 / HSC exams are eligible for doing BBA course. But some institutes may demand minimum percentage of 50% or 60% based on the university standards.
Students who appeared for HSC exam and waiting for their results are also eligible for appearing the BBA entrance tests. Most of the top 10 colleges demand higher percentage of their marks. Most of the colleges allow the individuals who are not nationalities, by the individual's valid passport and the student visa.
Admission & Application Procedure
The students who are interested in BBA course can apply when the notification is live.  The application can be obtained by both online and offline modes. Application forms can be downloaded or collected from the official websites of the institutes and the offices of the institutes which they want to join.
It is good to take a Xerox of the original form and fill it properly. Application form can be submitted to concerned authority after filling it. The student must pass the entrance exam to get admission in the program.
Exam Pattern
Usually, there is an objective exam for admission to BBA program. The questions cover subjects such as English language and reasoning test. There will be a quantitative and aptitude exam. A competitive test is carried out in order to select the students on performance basis. Duration of the entrance test will most probably be 2 hours.
Top 10 Colleges in India
See the list of some of the top bba colleges in India. This is a small list of colleges there are so many good bba colleges in India offering BBA course. Along with the best colleges there are many best universities for BBA in India.
Christ University – Bangalore
Alliance business Academy – Bangalore
Symbiosis Centre for Management – Maharashtra
Madras Christian College – Noida
Amity International Business School – Noida
Vellore Institute of Technology – Vellore
Lovely Professional University – Punjab
Mount Carmel College – Bangalore
Guru Nanak Dev University – Chennai
Ethiraj College for Women – Chennai
Syllabus and Structure
BBA Course Syllabus PDF's can be collected from the official websites of the desired university. If you want to see the BBA course subjects then go to the university website and try to find the pdf file containing the syllabus because BBA course syllabus and structure varies from university to university.
Fees
BBA course fee varies from institution to institution.
Job Opportunities
There are huge jobs after BBA. Scope after BBA is very high. A person after doing BBA degree can get jobs such as In Insurance, Marketing Industry, Financial Institutions, FMGC, Government jobs and Consumer Durable Industry etc. Graduates having BBA Degree can work in the following roles at various companies.
Operations Manager
Business Development Executive
Financial analyst
Human Resources Generalist
Process Analyst
Marketing Executive
Human Resources Manager
Also See
After completion of the course, students may move on to higher studies, earning degrees such as:
Master of Science in Computer Science (MScCS)
Master of Science in Information Technology (MSc-IT)
What are the subjects of BBA course?
Core Subjects of BBA are
Principles of Management.
Business Mathematics and Statistics.
Business Economics.
Introduction To Operations Research.
Financial And Management Accounting.
Production And Material Management.
Personnel Management And Industrial Relations.
Marketing Management. etc.
What is the BBA course?
The Bachelor of Business Administration (BBA or B.B.A.) is a bachelor's degree in commerce and business administration. … The BBA program usually includes general business courses and advanced courses for specific concentrations.
What is the salary of BBA in India?
BBA Finance and Accounts (CMA US integrated) average salary for CMA US qualified is RS. 3.5 lakh to 4 Lakh per Annum. BBA Entrepreneurship and Family Business average salary for fresher is in India ranges between INR 30,000 and 50,000 monthly.
Can I do BBA after 12th?
Yes, It is great to pursue a BBA after 12 class. BBA (Bachelor of Business Administration) is one of the most sought bachelor degree program after 12th. It includes complete knowledge of leadership and management. … Bachelor in Business Administration also gives you a platform for pursuing courses like MBA.
Can we do BBA without maths?
But don't worry, you can do BBA and MBA without Maths also. … In current scenario, students are doing BBA and MBA without maths. Just make sure you choose best subject during your specialization. There are various options like – Finance, Marketing, IT, International Marketing, PR, etc.
How long is BBA course?
The duration of Bachelor of Business Administration is 3-4 years, divided into several semesters. The course can be pursued either as a Full-Time Graduate Course or Part-Time Graduate Course i.e. through Correspondence or Distance Education depending upon one's choice. B.B.A. is often referred as B.B.A.
What is BBA course full form?
Bachelor of Business Administration