This is the article named Media Courses Details which provides the complete Information about the Course such as Requirements, Duration, Syllabus, Courses Types, Best Institutes, Career Prospectus, Jobs, Salary, etc. Read the complete article to get all the details.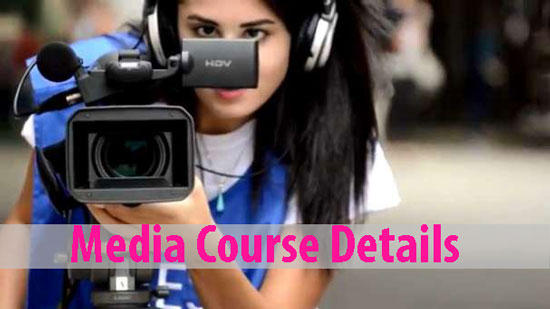 About Media Courses:
Media can be defined as the means of Communication.  It is used to deliver and store Information or data. It is involved with fields like the press, advertising, photography, cinema, broadcasting that is both radio and television and publishing. There are many Types of Media Courses. With these courses one can establish a Career in Media. This article is to provide the Complete Course Details. Go through it.
Media Courses List:
There are various types of courses such as Diploma Courses, Bachelors Courses, and Certifications etc.
Diploma Courses:
There are some types of Diploma Courses. The Duration of Diploma Courses is 2 years. The Eligibility is 10+2. They are:
Communication for Development
Journalism and Mass Communication
Public Relations and Corporate Communication
Advertising and Marketing
Film, Video, Digital Presentation etc
Bachelor of Mass Media:
The Duration of this Course is 3 years. This comes under Graduate level and the Eligibility is 10+2.
Syllabus:  
The Course Structure is 3 years is divided into each 2 semesters. The Subjects semester wise are listed here:
1st year               
Semester 1
Fundamentals of Mass Communication
Introduction to Computers
Landmarks to 20th Century World History
Introduction to Sociology
Economics
Semester2
Effective Communication Skills – II
Political Concepts and Indian Political Systems
Principles of Marketing
Introduction to Psychology
Principles of Management
Introduction to Literature in English
2nd year             
Semester 1
Introduction to Advertising
Introduction to Journalism
Introduction to Public Relations
Introduction to Media Studies
Introduction to Culture Studies
Introduction to Creative Writing
Semester 2
Mass Media Research
Organizational Behavior
Understanding Cinema
Radio and Television
Advance Computers
Print Production and Photography
3rd year              
Semester 1
Advertising in Contemporary Society
Copywriting
Advertising Design
Consumer Behavior
Media Planning and Buying
Brand Building
Semester 2
Advertising and Marketing Research
Legal Environment and Advertising Ethics
Financial Management for Marketing and Advertising
Agency Management
The Principal and Practice of Direct Marketing
Contemporary Issues
4th year              
Semester 1
Reporting
Editing
Feature and Opinion
Journalism and Public Opinion
Indian Regional Journalism
Niche and Magazine Journalism – I
Semester 2
Press Laws and Ethics
Broadcast Journalism
Niche Journalism – II
Internet and Issue in the Global Media
News Media Management
Contemporary Issues
Short Courses:
There are some Short Courses offered by various institutes. They are listed here:
Public Relations Diploma
Service Marketing and Social Media Short Course
Advertising Diploma
Politics, Culture and the Media in Southeast Asia, Certificate
Media, Space and the City: Methodological Approaches, Certificate
Courses Online:
Media courses can also be done through Online. There are various Online Courses. They are:
Graduate Certificate in Media Arts and Production
Public Relations and Media Skills Workshop
FdA in Media Production
Short Course in Media, Policy & Advocacy in Humanitarian Action
Advanced Training Course In Digital Editor
Video Games Course
Course Social Media Manager
Best Institutes:
Here is the list of Top 10 Media Training Institutes in Hyderabad
Hyderabad Academy of Radio & Television, Ameerpet
Jubilee Institute of Fashion Design, K.P.H.B. Colony
JC Tailoring Institute, Uppal
Frankfinn Institute of Air Hostess Training, Himayat Nagar
Hyderabad Advertising Institute, Secunderabad
WLCI School of Advertising and Graphic Design, Banjara Hills
Electronic Media School, Jubilee Hills
Prashanth Media School, S.R. Nagar
Dreams Media Solutions – Web Designing
AISFM(Annapurna International School of Film making
Career Prospectus:
The career after the Courses offers many Jobs with high Salary. One can work for Film Institutes, Start a Production, work as Journalism or work our print or digital media etc.
Stay connected with us for more and more updates.
Also Refer: Journalism and Mass Communication Course Details