Mass Communication: Mass Communication or Journalism Bachelor's Degree program allows students to learn the skills needed for careers in reporting, news analysis and public relations etc. Read the requirements of Mass Communication Project Topics, Course Curriculum and options after Degree. Here we are given the Mass Communication Course Details like Subjects, Syllabus, Colleges, Eligibility, Books List, Duration, Fee, and Career Options etc. so, scroll down the page for complete info of Bachelor Of Arts (Journalism & Mass Communication).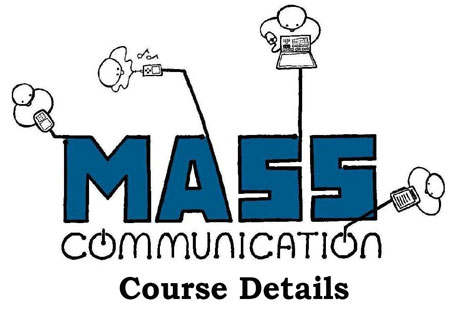 Mass Communication Definition
Mass communication is the combination of two words i.e. "Mass" & "Communication". The general meaning of communication means transferring information from one place to another. According to Dictionary Mass means "as a whole", or "in several".
Mass Communication Meaning is transmission of messages from a sender to receiver through various types of media like newspaper, television etc.
                                                                    (or)
It is a process of delivering information, ideas and attitudes to a sizable and diversified audience by the use of different forms of media
                                                                    (or)
According to Mehata "Mass communication is concerned with transmitting information thoughts, opinions entertainments etc. at a time to a large number of audience of different characteristics.
Mass Communication Course Details
If you want to know the Mass Communication Course Details please refer the below points. Here we provide the list of courses for mass communication.
B.Sc – Mass Communication
Diploma in Visual Communication
M.A. – Mass Communication
B.Sc – Mass Communication
PG Diploma in Mass Communication
Mass Communication Theories
Mass Communication Theories have changed dramatically since the early 1900s, and in the early 2000s provides some context for how views of the media changed. "The Evolution of Mass Communication Theory in the 20th Century," the Romanian Review of Journalism and Communication 6. For detailed theories please read the complete article.
Mass Communication Subjects
Subject included in Mass Communication are: Advertising and Cultural Consumption, Media Audiences, News Machine, Ethics and Media Culture, News and New Media, Visual Media and Mass Communication, Media and Politics
Download Mass Communication Syllabus pdf
https://drive.google.com/file/d/0By5qPgbHdghOLWx0cVBBVWx3QW8/view?usp=sharing
Top 10 Mass Communication Colleges in India
Symbiosis Institute of Media & Communication, Pune
Christ University, Bangalore
Lady Shri Ram College for Women, Delhi
Indraprastha College for Women, New Delhi
Amity School of Communication, Noida
Manipal Institute of Communications, Manipal
Delhi College of Arts & Commerce, New Delhi
C. College of Arts, Science and Commerce, Mumbai
Kamala Nehru College for Women, Delhi
Madras Christian College, Chennai
Mass Communication Books List
Theory and Research in Mass Communication: Contexts and Consequences by David K. Perry
A Cognitive Psychology of Mass Communication by Richard Jackson Harris
Historical Methods in Mass Communication by James D. Startt; William David Sloan
Introduction to Mass Communication by Stanley J. Baran
The Media of Mass Communication by John Vivian
Mass Communication in India (4th Edition) by Keval J. Kumar
Mass Communication Research Methods
Media of Mass Communication:
Print
Newspapers
Magazines
Books
Audio
Radio
Music/Sound Recording
Visual
Film
TV
Videogames
Digital
Internet
Mass Communication Eligibility:
Secondary (10+2) with 50% marks
Proficiency in English Communication
Course Duration:
Minimum: 10 months full time
Maximum: 3 years
Mass Communication Course Fee Details
Course Fee per Annum: 146,000
Course fee per Semester: 76, 000
Popular Careers Options:
Below is the list of Mass Communication Jobs/career opportunities in this field.
Journalist: Reporter & Sub Editor for Print, Broadcast and Online Media
TV Producer
News Anchor
Sound Editor
Radio Jockey
Copywriter
Media Planner
Brand Manager
Event Manager
Media Marketing Professional
Media Response Professional
Layout and Graphic Designer / Animator
Music Manager
Photo Journalist
Web Designer
Content Editor
PR Professional
Corporate Communication
DTP Publisher
Film Maker- Director, Producer, Editor,
Cinematographer
Script Writer
Mass Communication Salary
Industries offer packages ranging from 2.5 to 6.0 lakhs per annum
For more updates about courses please visit our website @ www.aiming.in. To Bookmark our site by pressing ctrl+d.