Journalism Course Details: We know very well most of the people searching for Journalism Course Details because the journalism field has been a top choice for all candidates.  As more number of media houses is being opened, there has been a rising demand of students holding either graduation degree or master degree.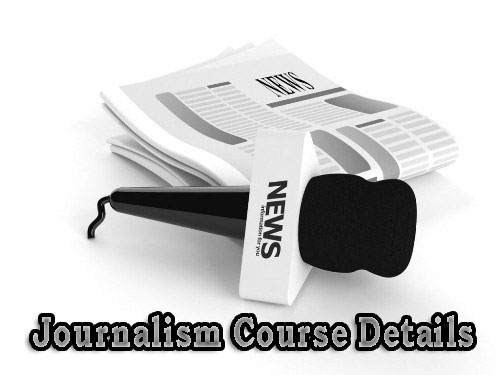 You may pursue the courses in journalism just follow the conditions apply for admission process. The course duration varies in different countries. Get the full details about Eligibility for Journalism Career, Top Colleges, Training Institutes, Fee Structure and also Syllabus learned in Journalism Course etc from here. Along with this info you can also find the Journalism Courses in India.
Here is a List of the Top Journalism Entrance Exams:
India Institute of Mass Communication (IIMC)
Jamia Milia Islamia University, Delhi
GGSIPU CET Exam
Delhi University (BMMMC)
MGM College, Aurangabad
FTII, Pune
AUCET
Pondicherry University
Aligarh Muslim University Entrance Exam
Banaras Hindu University (BHU)
About Journalism
Journalism is the activity of Gathering, Assessing, Creating, and Presenting News and Information. (or) Journalism is the work and distribution of reports on the interaction of events, facts, ideas, and people that are the "news of the day" and that inform society to at least some degree.
Journalistic media include: Newspaper, Television, Radio Stations, Internet (Websites), and Periodicals publishers
Journalism Courses in India are known by various names like B.J. (Bachelor of Journalism), B.J. (Hons) (Bachelor of Journalism (Honours)), B.C.J. (Bachelor of Communication and Journalism), B.M.M. (Bachelor of Mass Media), B.J.M.C. (Bachelor of Journalism and Mass Communication), B.A. – J.M.C (Bachelor of Arts in Journalism and Mass Communication), B.A.- Mass Communication (Bachelor of Arts in Mass Communication).
The large metropolitan centers offer great opportunities for journalists. Top metro areas include:
New York
Chicago
London
Atlanta
Washington, DC
Los Angeles
Eligibility for Journalism Career
To become a Journalist, candidate can complete a Bachelor's in mass communication or mass media or journalism after +2 (12th). After completion in a related graduation field, candidate may complete Master's in journalism or mass communication.
Journalism Course Details of Duration
Basically, there are primarily 3 types of courses in regard to journalism and correspondingly the duration of course varies
Bachelors/Graduate Degree course (BA hons in Mass communication and journalism) and duration is 3 years.
Diploma courses and duration is 1 year.
Certification courses and duration is 6 months to 1 year.
Also see

Photography Courses in Delhi University
Journalism Training
Get information about starting a career in journalism including courses from colleges, salary range, job opportunities, Journalism Training Online free and more. As it is evident, journalism is a highly responsible and interesting job. If you're in the market for a free journalism education, hundreds of Journalism Training materials are now at your disposal. Currently no courses open for application. Please visit our site again soon, as new courses are added regularly.
Institutes train reporters to cover general news, finance and business, governance and corruption, elections and parliaments, women and gender equality, climate change and the environment, health and sport. Also they provide skills training in television, print, online and multimedia journalism and social media, and run courses on ethics and editorial decision-making.
Journalism Course Institutes:
The Delhi University offers undergraduate degrees in Journalism and Mass Communication.
The Indian Institute of Mass Communication offers Postgraduate Diploma Program in Journalism in its campuses at New Delhi and Dhenkanal (Orissa).
Postgraduate Diploma Program in Journalism is also offered by the Asian College of Journalism in Chennai (Tamil Nadu).
Postgraduate Diploma Program in development communication is offered at the AJ. Kidwai Mass Communication Research Centre in Delhi.
The Symbiosis Institute of Mass Communication in Pune (Maharashtra) offers Postgraduate Diploma Program in Mass Communication and also in Communication Management.
Diploma Courses in Journalism and Mass Communication are available at the Xavier Institute of Communication in Mumbai (Maharashtra).
The Film and Television Institute of India at Pune offers Diploma and Certificate courses in all aspects of film and Television – Production.
The TV Today Media Institute in New Delhi offers a Postgraduate course in Television Reporting, Copy Writing and News Production.
Journalist Salary Details
Journalist salaries depend on multiple variables, including location, experience, education, news media and specialization
As per the Bureau of Labor Statistics, reporters and correspondents, which are broad terms that include journalists, made an average salary of $43,640. Those that worked for newspapers and periodicals made an average salary of $39,130, while those working in radio and television studios made $51,410.
| | |
| --- | --- |
| Career | Salary |
| Writers/Editors | $64,560 |
| Reporters | $44,030 |
| Photojournalists | $29,440 |
| News Anchor | $50,957 |
| Producer/Director-TV | $50,089 |
| News Producer | $35,185 |
| Public Relations Specialists | $51,280 |
| Advertising Managers | $108,580 |
| Social Media | $55,000 |
Journalism Course Fees Structure
The Fee Structure for Journalism Course varies up on institute to institute and course to course.
There are various courses one can pursue from various institutes such as Diploma in Journalism and Mass Communication, Diploma in Journalism, Diploma in Communication, Diploma in Journalism and Mass Media, Diploma in Journalism and Mass Diploma in Rural Journalism
Journalism and Public Relation, Bachelor of Journalism, Bachelor of Mass Communication and Journalism, Certificate in Journalism, Course in Sports Journalism
Fee Structure varies from Rs. 30,000 to 75,000/- respectively. It varies according to the duration of the course i.e. 1 or 2 years.
Fee structure is:
Production/Direction & TV Journalism Rs 72,000/-
Video Editing & Sound recording Rs 72,000/-
Camera & Lighting techniques Rs 72,000/-
TV Graphics & Animation Rs 57,000/-
2D Graphics & Animation Rs 57,000/-
Procedure of admission for Journalism
The procedure for admission in journalism is as follows:
Completion and submission of application form and supporting material;
Online Aptitude Test
Personal interview
Notification and acceptance of admission
Must Refer