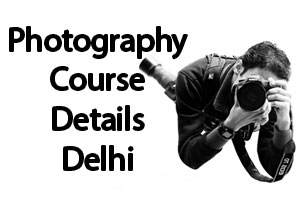 Photography Courses in Delhi: Photos are the most important part of our life. Photos are the only medium which will recall our past memories. Photos are not only the things which capture a situation or a scene; they also show us a story at a glance. Photos can be shared with our loved ones. There are many photography enthusiastic people in India and there are many Photography Courses all over India. Photography course will increase the photographic skill of an individual which contains interference with light to capture a perfect frame. We already published an article about graphic designing course and Today we are displaying an editorial about the Photography Courses in Delhi.
Short Term Photography Courses in Delhi
Short term photography Courses is suitable for the people who don't have time to class daily because of their job or other reasons. Short term photography courses usually have course duration of 2 months to 6 months.
Top Institutes Offering Photography Courses in Delhi are listed below
Indian Institute of Photography, Noida.
Bharatiya Vidya Bhavan, New Delhi.
RK Films and Media Academy, New Delhi.
Asian Academy of Film and Television, Noida.
Sri Aurobindo Institute Of Mass Communication.
Shaheed Jeet Singh Marg, Adhichini, New Delhi.
AJK Mass Communication Research Centre.
Masscomedia, Noida.
Jamia Millia Islamia University, New Delhi.
CRAFT, Siri Fort College, New Delhi.
Details of Short-term Photography course in Delhi
Still Photography,
Creative Writing,
Creative Graphic Design,
Painting and Sketching.
Delhi University Courses
Some of the courses listed below. in other post we provided information about DU Courses List.
Photography
Duration: 2 months
Total cost of this course: Rs 12,000/-
Program in Mass Communication
Duration: 6 months
Total cost of this course: Rs 30,000/-
TV Journalism, Anchoring &Broadcast Production
Duration: 3 months
Total cost of this course: Rs 20,000/-
Fee Structure of Courses in Delhi
Photography – Course Fee Rs 12,000/-
Program in Mass Communication – Course fee Rs 30,000/-
TV Journalism, Anchoring, and Broadcast Production – Course Fee Rs 20,000/-