Photography Course Details : Photography is an art of creating, capturing and recording memories, recording light or other electromagnetic radiation, either electronically by means of an image sensor. Creating wonders with camera is photography. It is one of the best emerging fields. Here is the article which helps the People who are interested in Doing Photography Courses to know the Photography Courses Details such as Courses Online, Fee, Salary, Eligibility, Career in Photography, Scope, Jobs, Salaries, Materials Free download etc.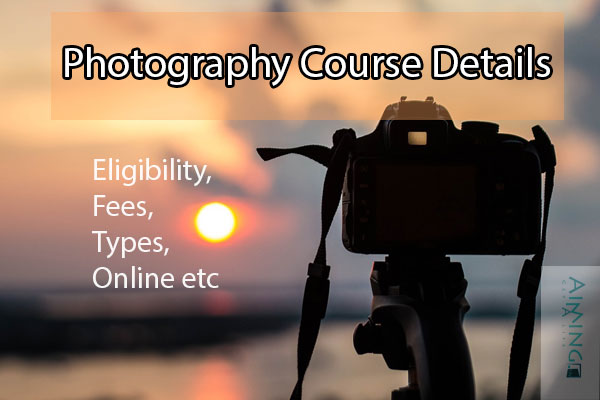 About Photography Course
Photography is one of the best career options that can be chosen by the people who had interest in Photography. Selecting this as a career option will give great opportunities in the world.  So the demand for Photography courses was increasing day to day.
Eligibility:  
For basic photography there is no need of Particular qualification. But in order to do Certification courses or Bachelor's Degree one need to have Minimum qualification i.e 10+2 or its equivalent Diploma.
Types of Photography Courses:
There are categories and types in Photography Courses They are :
Basic Photographic Courses,
Beginners,
Advanced Photographic Courses,
Land scape Photographic Courses,
Portrait Photographic Courses,
Travel Photographic Courses,
Fashion Photographic Courses,
Summer Photographic Courses,
Black and white Photographic Courses,
Wedding Photographic Courses,
Journalism Photographic Courses,
Part Time Photographic Courses etc.
Courses Online:
Learning Photography through Online is of the best option. This will be very mucjh helpful to those can't be able to go to the institute and learn.
There are many websites that provide Online Courses for Learning for Photography.
Through Online Courses we can learn at anywhere and at any of our flexible Time.
The charge per course is also less in Online when compared to Institutions.
These Online courses also provide Materials, day to day classes, Videos etc.
One can choose all the sections or can register for only those sections in which you want perfection.
These Online Courses are provided by various websites. Some websites provide Training for free. One needs to check the Experience and success rate of the site before Committing.
Fee Structure:
The fee structure varies. Go Through the Institute official website to get accurate details.
For the Certification with Duration of 6 Months They may Charge About 15000/- to 25000/-
For masters around 2 lakhs
MFA costs up to 57000/-
Also see: Delhi College of Photography and Graphic Designing Course Details.
Syllabus Details:
The syllabus is Different for various courses like Diploma, Certification, Masters, Bachelor's Degree etc. Go through the link for Certification Course Syllabus
https://drive.google.com/file/d/0B8tCdLLOobDoRFJqZEdid3h4dUE/view?usp=sharing
Job Scope and Salary
Those who have completed the Photography Course will Have best Career Opportunities and growth. Average earning would be around $40280.
Hope This article provide you all Photography Courses Details. Select the best type and learn and create wonders with Camera. Good Luck.
Courses in Delhi:  
Delhi The Capital of India is the center for many Courses and so there is a demand for Photography Courses in Delhi. Many people who are interested in photography Courses will prefer Delhi as the location to learn. Those people search for the Best and Top Institutes and Courses in Delhi. Have a look.
Professional Certificate in Professional Photography
Diploma in Fashion Photography
Postgraduate Diploma in Mass Communication (Journalism)
PGD in Still Photography & Photo Journalism
Certificate in Camera, Lighting and Photography (1 month)
Certificate Course in Fashion Photography
Diploma in Professional Photography
A (Hons.) in Media Production
Post Graduate Diploma in Photography
Certificate Program in Digital Photography
PG Diploma in Still Photography and Visual Communication
Top 5 Institutes in Delhi:
Every Student wants to do the course in Best institutes. So they search for Top Institutes. Here is the list of Top5 Institutes in Delhi for Photography Courses. These are listed based upon various reviews.
R K Films & Media Academy, Delhi
Delhi Photography Club
Editorial and Crime Scene Photography Course, Delhi
Indian School of Photography , Delhi
Delhi School Of Photography Pvt Ltd