About Logistics: Logistics is the part of Supply Chain Management, which deals with delivery of the goods and services from Supplier to Customer over a Broad range of industries. The Logistics is very narrow field. But there are people who search for Logistic Courses. Here is the article for them which provide information regarding Logistic Course Details such as Courses, Jobs, and Certification etc.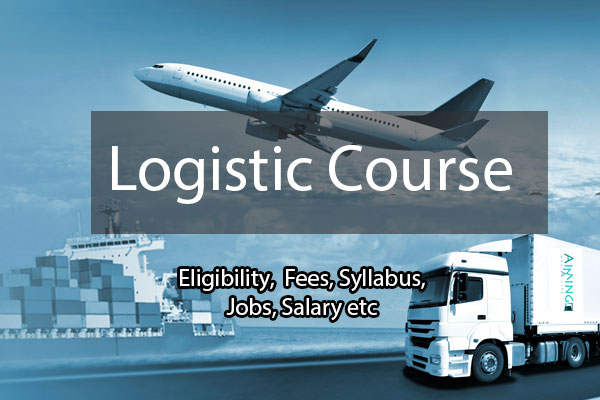 Logistics is related to Supply Chain Management. Logistics courses cover Topics such as product distribution, Supply chain, transportation management, inventory control, and customer service. Logistics Management includes effective and efficient flow of goods and services to meet the customer requirements.
The common Topics covered in Logistics are:
Supply chain strategies
Global transportation
Warehouse management
International logistics
Materials handling
List of Logistic Course Details:
There are various courses available at various levels in Logistic Courses. They are:
MBA in Logistics & Supply Chain Management
Diploma in Logistics
PG Diploma in Logistics and Supply Chain Management
Various Certifications
MBA in Logistics & Supply Chain Management:
Eligibility: Degree or Graduation
Duration: 2 years (2 months project and Internship)
PG Diploma in Logistics and Supply Chain Management
Eligibility: Any Degree
Duration: 1 year (2 months Internship)
 Various Courses:
Principles of Logistics
Inventory Management
Supply Chain and Logistics Strategy
International Logistics
Logistics and Systems Support Management
Fees Details for Logistic Courses:
The fee structure for B.SC in Logistics is around 39000/-
BBA Logistics: INR 35,000/-
To view the complete fee details of all the Courses with specializations go through
https://drive.google.com/file/d/0B8tCdLLOobDocVNqRHJaRzFzc1E/view?usp=sharing
Syllabus:
Here is the syllabus of MBA Logistics
1st  year
Principles of Management and Organizational Behavior
Managerial Economics
Accounting and Finance for Managers
Marketing Management
Human Resource Management
Quantitative Techniques for Management
Research Methods for Management
Corporate Communication
Operations Management
2nd Year
Logistics Management
Retail Store and Visual Merchandising
Quality Management and Quality Techniques
Retail Marketing and CRM
Logistics and Supply Chain Management
Export Trade and Documentation
International Marketing
Business Environment and Ethics
Strategic Management
Here are subjects of Diploma in Logistic Course
Principles of Management
Marketing Management
Logistics and Supply Chain Management
Transportation, Containerization and Distribution Management
Operations Management
Best Institutes for Logistic Courses:
The top 5 institutes list was provided here.
Niya Institute Of Logistics Management, Bangalore
Indian Institute Of Logistics, Chennai
Slmt Logistics Management Courses Kochi
Indian Institute Of Logistics, Kerala
Indian Institute Of Logistics, Kochi
Career as Logistics:
Logistics is a relatively narrow field, and job growth is lower than the average for all occupations. They are responsible for coordinating the storage, transportation and delivery of goods.
Job Prospects:
The various Job roles offered for those who completed Logistics courses were Logistics Manager, Distribution Manager etc. Their responsibilities include
Manage Stock Levels, Delivery Times And Transport Costs;
Manage Staff Resources According To Changing Needs;
Gaining New Contracts, Analyzing Logistical Problems And Producing New Solutions
Evaluate Performance And Quality And To Plan Improvements; Etc.
Salaries:
Initially the pay ranges from 20,000/-. This may increase based on the skills and experience.
This is the article about Logistic Course Details. Hope this provided all the information.
Stay connected with us for Regular Updates.
All the Best….!!!!!!!!!!!!!!!!!