As we all know, many career options exist for photographers. Because with the boom in advertising, media and the fashion industry, photography has emerged as a worthwhile and exciting career option to many of Indians. Actually, Photography is a vast field. It has many areas of specializations within it.
Here we updated some of the specializations available in Photography Courses: Fashion Photography, Fashion and People Photography, Product Photography, Business & Industrial Photography, Nature and Landscape Photography, Wildlife Photography, Sports Photography, Event Photography, Fine Art Photography and Automobile Photography. Read the complete article to know about Career in Photography, Course Details, Career Option, Jobs, Salary, etc.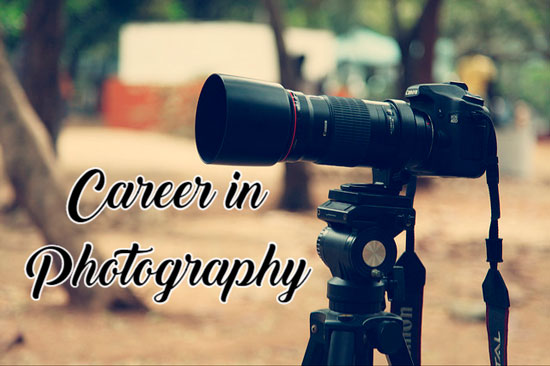 Complete Photography Course Details
Candidates those who are passionate about Photography courses can check the below tabular form for complete information about Photography Course.
List of Courses
Eligibility
Duration
Bachelor's Degree courses

BA Photography
BA Visual Arts and Photography
BFA Photography
B.Sc. Photography and Video Visual Production
B.Sc. in Photography and Cinematography

10+2 passed (any stream- Science, Commerce or Arts) from a recognized board
3 years
Diploma courses

Diploma in Digital Photography
PG Diploma in Photography
Diploma in Fashion Photography
Diploma in Professional Photojournalism
Diploma in Photography and Cinematography
Diploma in Advertising and Commercial Photography
Diploma in Photography and Digital Imaging
Diploma in Digital Cinematography

10+2 passed (any stream- Science, Commerce or Arts) from a recognized board
Generally, it is around 1-3 years. Shorter duration Diploma courses are available too (6months)
Certificate courses

Certificate in Digital Photography
Certificate in Fashion and People Photography
Certificate in Commercial Photography
Certificate in Photography and Image Editing

10+2 passed (any stream- Science, Commerce or Arts) from a recognized board.
3 to 6 months
Career in Photography & Job Prospects
Based on specialization, a photographer might be done any of the many roles, like
Press Photographers/photojournalists: Photojournalists supply pictures to the national and global press. And many photographers specialize into shoot a good news picture.
Feature Photographers: Feature photography basically involves describing a story through pictures and hence requires a thorough knowledge of the subject.
Commercial photography
Click photographs for firms dealing with merchandise, exteriors, and interiors, machinery and fashions to be used in advertising and selling
Food photography
Click pictures either in a studio with an attached kitchen or in hotels for exclusive shots
Portrait and Wedding Photographers: Click pictures of individuals or small groups, handling subjects like pets, children, families, weddings, functions, and activities of sports and social clubs.
Advertising Photographers: They are associated with the photographic departments of advertising agencies, photographic studios.
Fashion Photographers: They work in the studio as well as on locations
Scientific Photographer: They work with news reporters or work as freelancers on independent assignments on the environment, wild life, and other allied fields.
Freelance Photographer: They can do freelancing in any of the photography fields.
Employment Opportunities
Photographers work with:
Magazine and newspaper publishers
With commercial photographers
In their own studio
Press & publishing houses
Food product industries
With food stylists
Ad agencies
Industries, medical institutes
World organizations
As freelancers
Recruiting Companies
Click India
Best Indian Sites
Freelance India
Photographers Direct
Vijushah
Sanjay Marathe
Salary Structure
Photography as a field has no particular or fixed career and salary structure. So, now here we update the approximate salary figures. Beginnings can be made at Rs. 15,000 which may grow over a period of time. One can start as an assistant to senior photographers in which you would be paid 35k to 60k.