This is the article Wild Life Photography Courses which provides the complete details about Wild life Photography such as Requirements, Duration, Fees, Syllabus, Types of Courses, Best Institutes, Career and Scope etc. Read the article completely to get all the details.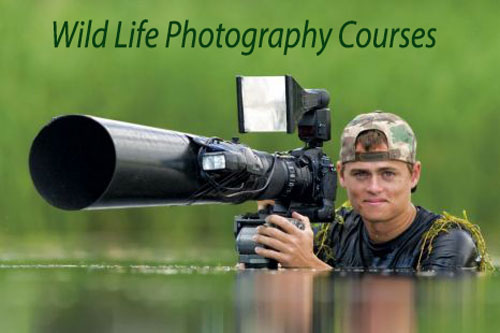 About Wild Life Photography:
It is the most Challenging form of Photography.   Wiki defines Wild Life Photography as Wildlife photography is a genre of photography concerned with documenting various forms of wildlife in their natural habitat.
Wild Life photographers generally need good field craft skills. These can be acquired be doing proper Course. Here is the article to provide you all the details.
Wild Life Photography Courses List:
Wildlife photography deals with taking photographs of wildlife, or non-domesticated animals. Here the focus of the Photographer is on nature and wild creatures. As compared to other Types of photography Wild Life Photography is more Challenging.
Wildlife photographers shoot photographs of animals and plant life in its most natural and habitual form.  This requires proper Training. These can be acquired by doing the Courses
There are various Types and Levels of photography courses that are offered by various institutes. They are:
Basic
Advanced
Foundation
Wildlife Photography
Candid Wedding Photography
Fashion Photography
The Academic programs in Wild Life Photography Includes:
PG Diploma in Professional Photography
Diploma in Professional Photojournalism
Short duration workshops
Other photography Courses include BFA Photography MFA Photography, Bridge Course (Photography), MFA Photography (PTPG)
Eligibility Criteria:
The educational Requirement to do the Course is Bachelors degree in photography or photojournalism or Diploma/ Certificate Course in Nature and wild life photography OR Wildlife and Travel photography.
Personal Skills required are one should have great Technical Skills.  Photographer also required to have a lot of patience and ability to wait for the perfect moment to capture an image.
Types of Courses:
There are various levels of Wild Life Photography Courses. They are:
Certificate Courses
Bachelors Degree Courses
Masters Degree Courses
Certificate Courses:
There are many types of certificate Programs offered by various Institutes.
The duration of these Courses is 2 years. Various certification Courses are:
Certificate Course in Advanced Photography
Post Graduate Diploma in Advanced Wildlife Management
Certificate Course in Wildlife Management
Certificate Course in Nature and Wildlife Photography
Certificate Course in Wildlife and Travel Photography
Certificate Course in Basic Photography
Certificate Course in Commercial Photography
Certificate Course in Digital Photography
Certificate Course in Photography
Diploma in Photography
Diploma in Professional Photography
The Concepts and contents that are covered in Certificate Courses are:
DSLR CAMERA AND ACCESSORIES
FUNDAMENTAL OF PHOTOGRAPHY
EXPOSURE AND METERING IN DSLR CAMERA
FOCUS AND DEPTH OF FIELD
IMAGE QUALITY AND HISTOGRAMS
WHITE BALANCE AND PICTURE STYLE
IMAGE EDITING
BEHAVIOR OF WILD ANIMALS
UNDERSTANDING  WILDLIFE PHOTOGRAPHY
Fee structure:  
The Fees differs for each course but on an average it would be around 2 lakhs,
Top 10 Photography Colleges in India are listed here. This will be helpful for those who are in search for Best Institutes. These are listed based upon various Reviews.
The Light and Life Academy (LLA), Ooty
Mass communication Research Centre, Jamia Millia Islamia, New Delhi
Osmania University, Hyderabad
Asian Academy of Film and Television (AAFT), Noida
J. Kidwai Mass Communication Research Center, Delhi
Sir JJ School of Applied Art, Mumbai
Jawaharlal Nehru Architecture and Fine Arts University, Hyderabad
The Indian Institute of Digital Art and Animation, Kolkata
Sri Aurobindo Centre for Arts & Communication (SACAC), New Delhi
College Of Art, University of Delhi, New Delhi
Career Prospectus:  
After the completion of Course one can be able to create magic with his camera. One can also work for any organization or Channel which works in Wild Life.
Wildlife photographers produce images of animals or plants in their natural environments.
Wild Life Photographers are mostly self Employed or can work as A Free Lancer.
Annual wage of all photographers was $40,280 per year
Stay Connected with us for more and more updates.
Click Here for Detailed Photography Courses info