This is the article named Hardware and Networking Course Details which is to provide the complete course details such as Requirements, Certifications, Jobs, and Salary etc.  Read the article completely to get all the Information.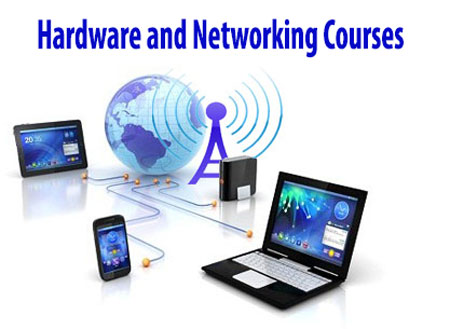 About Hardware and Networking Courses:
Hardware and Networking can be defined as a Branch which is the Study of hardware parts of the computer and networking system.   It provides the knowledge on peripherals parts of the computer. The Networking course study helps the candidates to gain knowledge on the framework of different layers of computer communication. There are many courses in Hardware and Networking. Go through the article for more details.
Courses List:  
There are various types of courses in Hardware and Networking. The Courses are at various levels and with different Eligibility Criteria. Here is the list of Courses.
Diploma Courses
Bachelors Courses
Masters Courses
Diploma Courses:  
In Diploma Courses, there are various Types of Courses.  All these Courses are Courses after 10th. That is the eligibility for these courses is Class 12th. The Duration of This Course is 1 year. They are
Diploma in Computer Hardware Maintenance
Advanced Diploma in Computer Hardware Maintenance and Networking
Diploma in computer Hardware and Networking
Diploma in Computer Networking Technology (DCNT).
Diploma in computer Hardware and Networking:
Here in this section we are providing the list of Top 5 colleges for Diploma in computer Hardware and Networking.
S.S. College of Management & TechnologyJaipur, Rajasthan
Bosco Institute of Information Technology, Vellore District, Tamil Nadu
M.J. University, Meghalaya
Haryana Medical, Hisar
International Council for Management Studies, R.A.Puram, Chennai
Syllabus:
The topics that are covered as A Syllabus of Diploma in Computer Networking and Hardware are:
First Semester

Fundamentals of Computer Hardware
Networking Essentials & Protocols
Network Operating System Administration
Development of Generic Skills
Digital Electronics

Second Semester

Computer Hardware & Troubleshooting
Network Operating System Infrastructure
Remote Network Administration
Emerging Technologies & ED
Career Prospectus:  
The Career after the completion of Diploma in Networking and Hardware offers Job Roles like:
Junior Engineer
Design Assistant
Senior Technical Assistant in Research and development
Quality Controller
Hardware Tester
Shop floor manger
Assembly supervisor (in manufacturing and production)
Installation Engineer
Salary Details:
After the Course initially the pay will be around Rs. 1.5 – 2 Lakhs per a year and this may rise based on experience.
Bachelors Courses:
Till now we have learnt about the diploma level courses, Now let us move to the Bachelors Courses. These are the Courses after 12th. The types of Courses in This Bachelors Degree are:
BCA in Hardware & Networking
Sc in Hardware & Networking
The Duration of these Courses is 4 years.
Masters Courses:
The courses that are done after the Bachelors degree are called as Masters Courses. These are the Courses with the Eligibility of Bachelors degree. The duration of these Courses is 2 years.
The types of courses that come under Masters Course are:
Tech in Network Engineering
Postgraduate Diploma in Hardware & Networking
Sc in Hardware and Networking
Various Short term and Certification Courses:  
Apart from the Academic Courses, there are some Short Term courses which offer certification.
Certificate course in PC Hardware & Networking
Certificate Course in Network Administration
Certificate Course in repair & Maintenance of Medical Electronics
Certificate Course in Embedded System Design using 8051 Microcontroller
Certificate Course in Mobile Repair and Maintenance
Certificate course in Embedded System Design using 8051 & ARM/Cortex Microcontroller
Certificate Course in VLSI Design
Career:  
As there is huge increase of using computers, laptops, mobiles, desktops and internet in private and government organizations the requirement of hardware and networking professional's increases.
Huge opportunities with many job offers will be available for those who have completed the course.
Networking Job roles:  
The various Types of Job Roles offered after the Networking are:
System administrator
Network Engineer
Network administrator
IT administrator
Security Database development and administration
Technical Support
Stay connected with us for more and more updates.