DCA Course Details: DCA full form is Diploma in Computer Applications. The persons who are good at maths and interested in computer technology can go on to Diploma in Computer Application. This course gives the overlay of computer applications. There is demand for skilled person for handling Computer Applications.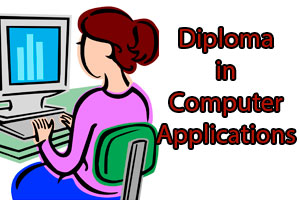 Diploma in Computer Application Eligibility
The eligibility for diploma in computer application course is 10+2. It is the diploma course which can be done after completing the intermediate. It can be varied from 6 months to 1 year. There is no minimum limit of percentage in 10+2 for pursuing DCA Course.
DCA Course Details from IGNOU
There are many institutions which are offering this course with IGNOU certification.  One can find the IGNOU certified institutes on the official website.
Diploma in Computer Application (DCA) Syllabus
DCA Course Syllabus for 1 year varies from college to college. But now we are displaying the commonly followed topics.
Internet Basics
Basics Computer Skills
PC Troubleshooting
PC Assembly
MS Office Applications
E-Business
ERP Basics
Diploma in Computer Application Course Material
DCA course material varies with institution. So, we cannot display the course material for all the institutions all over India. The materials can be downloaded from the respective institution's official websites.
DCA Course Fee
The fee structure varies with universities, so you can know the fee structure from the institutional official website.