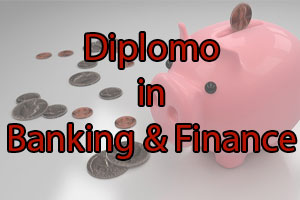 Diploma in Banking and Finance Scope: There is a growing demand for qualified candidates for the banking and finance sector in the account of expansion of business and large scale retirement of personnel. Banking and finance field will require professionally qualified candidates endowed with banking and finance knowledge together with technology-familiarity, customer-orientation and their application skills who can be assigned to different jobs with minimal training intervention at the bank level.
Diploma in Banking and Finance Jobs
The course will give knowledge in the areas of modern banking environment so that they will be familiar with the counters at the bank from the beginning of their career. It is expected that successful candidates of this course will have a competitive skill and will be expected by banks and financial sectors.
Diploma in Banking and Finance Eligibility
Any candidate who is a graduate irrespective of their stream of education, including Arts and science backgrounds from any Govt recognized University. Final year students are also eligible.
Entrance exam:
The examination will be conducted twice a year. Applications Forms and Syllabus is displayed on the website of the respective Institute. Enrolment Application Form/ are available from any branch of the Axis Bank Ltd. Please note that Only Numbered Forms available at Axis Bank are to be used for making payment by CASH at any of the branch of Axis Bank Ltd.
Registration:
Registration for diploma in banking and finance will be in two steps.
Step 1: Candidates should submit their Enrollment Application Form against a payment of Fee of 3200 rs upon which they will be given the course prospectus and Examination.
Step 2: Candidates who are going to appear for the entrance examination should submit their Examination Form on or before the due date against payment of Examination Fee of 1800 rs.This fee is only for a single attempt.
Exam Details:
Exam duration is 2hrs (120 minutes). In the allotted time you will be attending 120 questions (approx). Negative marking is applicable. For detailed understanding of how this negative marking works please refer below example.
For e.g., if u chose a wrong option for a question having 4 options, 1/8th of your marks will be deducted as negative marking.
Pass: A Minimum of 50% or more and aggregate with 45% or more in individual (single attempt).
Candidates who are taking the exam second time will not be awarded by either First class or Distinction titles.
Candidates who qualified will be ranked in order of merit. Candidates have to pass all the 3 papers in a single attempt to qualify and get merit. Candidates who are re-appearing for the exam should re-write all the papers.
Type of Examination:
Examination will be conducted in Off-line mode ONLY.