Generally Construction Management Course provide practical training for you to acquire a unique combination of construction and project management skills in required field. Below we have listed the topics covered, Institutes, Syllabus, Eligibility, Fees, Jobs in India, Salary, Career, placements details, etc. See the complete details want to study Construction Management Program.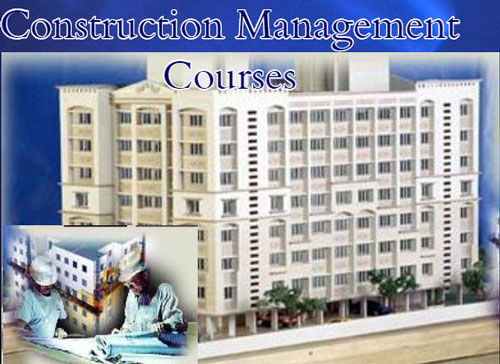 About Construction Management Course:
Construction Management Course teach students about hiring and managing decisions in the construction business environment. The course mainly focuses on the planning, execution and management of construction projects. Also it give you the skills and knowledge to plan and run building projects.
Students will learn about construction material and green building methods through use of readings, 3-D models, hands on laboratory exercises, and site visits, etc.
Construction Management Courses List
Below we have listed the various Construction Management Courses which you can learn and build your career as Construction Mangmt.
Construction Materials Course
Construction Safety Course
Electrical and Mechanical Systems Course
Bids and Estimations Course
Specs and Construction Drawing Course
Project Management and Planning Course
Topics covered in Construction Management Course include:
Materials and equipment, Building codes, Project cost estimation and control, Residential and commercial building, Construction project software, Project planning and scheduling processes, Blueprints and Safety procedures.
Eligibility Criteria:
Advance Diploma in construction management eligibility is XII with Physics, Chemistry and Mathematics or equivalent qualification with minimum 55% marks. Some colleges/institutes conduct the entrance exams to get admissions in this course.
Duration of Construction Management Course:
Construction management programs may be set up at 2year and 4year colleges, and in addition to associate's and bachelor's degrees students can also pursue a certificate or master's degree.
Construction Manager Job Prospects
Job offers for qualified construction managers are expected to be good. Explicitly, those with a bachelor's degree in construction science, construction management, or civil engineering, attached with construction experience.
Duties of Construction Managers
Prepare cost estimates, budgets, and work timetables
Interpret and explain contracts and technical information to other professionals
Select subcontractors and schedule and coordinate their activities
Respond to work delays, emergencies, and other problems
Comply with legal requirements, building and safety codes, and other regulations
Report work progress and budget matters to clients
Collaborate with architects, engineers, and other construction specialists
Salary Details
A Construction Manager earns an average salary of Rs 848,898 per year. Skills and Experience in Project Management will be associated with high pay for this job.
Also See