This is the article named as Management Course Details which provides the complete Course Information such as Eligibility, Duration, Fee Structure, Various Courses, Syllabus, Courses after 12th, Career, Salary, Short Courses, Top Institutes, and Job Roles etc. Read the complete article to get all the information.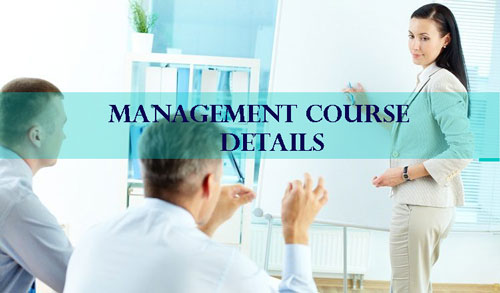 About Management Course Details:
Management can be defined as a function of coordinating the people's efforts to achieve the goal as per the company policy by planning, leading, organizing, and controlling. Management jobs are also called as White color Jobs with Attitude and professionalism. Many Students wish to do Management Courses and So they wish to know the Course Details. So here is the article to provide all the details. Go through it to know the details.
Courses List:
There are many Types of Courses in the field of Management. Various Courses have various Requirements and Eligibilities. Here is the list of various Courses.
UG Degree Courses
PG Degree Courses
Management Programs
Short Courses.
Diploma Courses:
This is a 2 years Diploma Programs named as DBA. There are some other Diploma Programs after 12th They are:
Diploma in Marketing and Advertising
Diploma in Event Management
Diploma in Travel and Tourism Management
Diploma in Retail Management
Diploma in Hospitality and Tourism Management
Diploma in Fashion Marketing and Merchandising
Diploma in Organization Management
Diploma in Hotel Management
UG Courses:
These Courses can also be termed as Under Graduate Courses. The Eligibility for these courses is 12th and hence these Courses are called as Courses After 12th. The Duration for these Courses is 3 years. The list of UG Programs is
BBA:
This can be expanded as Bachelor of Business Administration. We have also listed some BBA Hons Programs here:
Banking and Insurance
International Business
Aviation Management
Healthcare Management
Event Management
Tourism and Travel Management
BBM
BFT
SC Management
BBA+DBA (specialization)
BBA+MBA: The Duration of this Integrated Course is 5 years
BCA+E- MBA
BA (management)
Com (management)
H.H.M
H.M
PG Courses:
These are the Post Graduate Programs with eligibility Bachelors Degree. The Duration of these Courses is 2 years. Various PG Courses are
MBA
PGP
EPGP
PGDM
PGDBA
PGP
Com
PGDBM
Apart from the academic Courses there are some Management programs. They are listed here:
Engineering
Arts & Humanities
Education
Entrepreneurship
Food & Hotel management
Forest
Health Care Management and Hospital Administration
Hospitality and Tourism
Law
Life Sciences
Media and Communication
Material management
Business management
International Business management
Property management
Marketing management
Pharmaceutical
Short Courses:  
There are some short Term Courses which can be done . They are:
Course – Project Management (by Project Management Institute)
Professional – Professional Certificates – Chicago
Business And Management
Fashion Retail Maths
Business Program
Banking and Finance
Operations Management
General Management
Administrative Management
Marketing Management
Managing Innovations and Creating Innovative Business Models
International Business
HR Management
Retail management
Supply chain with operations etc.
Career Prospectus:
The Career for the candidates who have completed Management Courses will have bright career with many Job offers. Some of the recruiters are;
Ashok Leyland Ltd.
Schindler India Pvt. Ltd.
Kalpataru Ltd.
CRISIL Global Research & Analytics
Drshti Strategic Research Services Pvt. Ltd
Capital IQ.
Federal Bank.
Fractal Analytics Ltd.
GENPACT
ICICI Securities
Ikya Human Capital Solutions Pvt. Ltd.
Integreon
Kama Schechter Jewellery Pvt. Ltd.
Randstad India Ltd.
Rane Group.
HCL Info systems Ltd
99 Acres
Salary:  
The initial package in India is around 2 lakhs per annum and this is unlimited based on the skills. Various Skills will acquire are Human skills, Financial account, Business law, statistics & communication, Business environment & mathematics, Industrial law, Computer application
This is all about Management Course Details. Stay connected with us for more and more fresh updates.