Event Management Course Details: You know approximately 104 Event Management courses in India. See Event Management Course Details, fees, duration, eligibility, syllabus and its admission process from here. This course enables the students to manage events, presentations, catering, and venue management and there are lots of career options are available in marketing and promotion sector.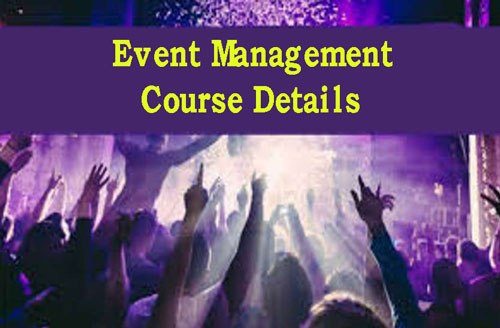 So those who want to make Career in Event Management collect the relevant data through online. After completion of this course candidate can earn well remuneration from Rs. 4 Lakh to Rs. 5 Lakh per annum. The Limited number of seats is available for these courses and the preference of Admission shall be granted to the early applicants. Interested ones please check the Event Management Institutes Admission Process and Eligibility.
Major Courses
Diploma in Event Management
Post Graduate Diploma in Event Management
Post Graduate Diploma in Event Management & PR.
Career in Event Management
The short meaning of Event Management is the process of designing, producing and managing events. But according to Google, Event Management is Event management is the application of project management to the creation and development of large scale events such as festivals, conferences, ceremonies, formal parties, concerts, or conventions. It involves studying the brand, identifying the target audience, devising the event concept, and coordinating the technical aspects.
As we all know event and occasions are an integral part of every human life. Birthday celebrations, social gatherings, engagements and weddings are events we celebrate at the personal life. The Professional Life events are school events, College Events, followed by university level festivals such as annual day functions, sports day celebrations, annual general meetings, exhibitions, etc. Other events such as fashion shows, cultural programs, talent hunt shows, promotional campaigns, religious gatherings and so on….
Categories of Events:
Social Events
Wedding Management
Birthday Parties
Anniversaries
Social Gathering
Educational Events
Education Fairs
College Events
Annual Sports
Corporate Events
Seminars
Training Programs
Award Functions
Exhibition & Fairs
Property Exhibitions
Electronic Fairs
Job Fairs
Entertainment Events
Movie Promotions
Celebrity Nights
Music Video Release
Fashion Shows
Beauty Contest
Stage Shows
Marketing & Promotions
Ad Campaigns
Product Launches
Road Shows
Qualities of the Successful Event Manager:
Some of the basic qualities important for every event manager those are
Excellent time management
Resourcefulness
Good Communication
Passion
Strong will, but a level head
Attention to detail
Ability to creatively solve problems
Event Management Course Eligibility
For Diploma Course
Candidate is required to pass class 12th from any stream.
For PG Diploma Course:
Candidate is required to pass Bachelor's degree in any stream.
Duration of Course:
The duration of the course is 2 years after Bachelor's Degree in any stream from a recognized University or Board.
Top Event Management Colleges
If you are interested in event management course, than the following are the top most colleges for event management courses. So please check the Top Event Management Course Colleges Details as below:
National Institute of Event Management
Amity Institute of Event Management, New Delhi
Indian Institute of Event Management, Mumbai
Event Management Development Institute, IES Management College, Mumbai
International Center for Event Marketing, New Delhi
Indian Institute of Management, D-3, Defence Colony, New Delhi
Event Management Course Details of Fees
Fees for Event Management Courses vary from college to college. Generally it is around 1 lakhs to 2 lakhs.
A Post-Graduate Diploma in Advertising, Media and Events (PGDAME) from the National Institute of Event Management (NIEM), Mumbai, fee around Rs.1,25,000 approximately, whereas the Post-Graduate Diploma in Event Management (PGDEM) fee up to Rs.55,000 and the fees for a Diploma in Event Management (DEM) is around Rs.40,000/- only.
Payment options
Payment in full before commencement of the course
Payment by monthly installments during the course
Salary details:
The pay scale in this industry varies according to your role and responsibility. As a fresher in this industry, you can easily earn in the range of Rs.10,000/- to Rs.15,000/- per month. The remuneration goes up with your experience and area of expertise.
After completing diploma in Event Management & PG Diploma in Event Management one can able to open their own Event Management companies and can earn lakhs of money per month.
Top Companies List:
Cineyug Entertainment
Cox and Kings
DNA Networks Pvt Ltd.
E-Factor
Fountainhead
Percept D Mark
Sercon
Sita Conferences
Tafcon Group
TCI Consultancy Services and 'e' Events
Wizcraft International Entertainment Pvt Ltd.
360 Degrees
Top notch media and production houses
Interested candidates please refer: Event Management Course Syllabus
https://drive.google.com/file/d/0By5qPgbHdghOb0g4eUhWdWpHOE0/view?usp=sharing