This is the article named Multimedia Course Details which provides the complete information like Requirements, Course, Duration, Fee Structure, Syllabus, Best Institutes in Hyderabad, Career Prospectus, Jobs, and Salary etc. Read the complete article to get all the details.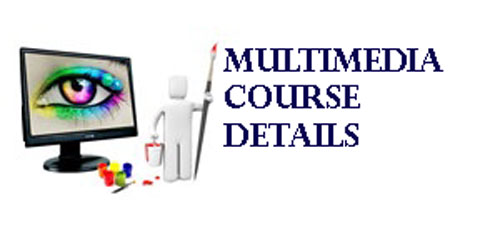 About Multimedia Course:
Multimedia is the field that which uses a combination of different content forms such as text, audio, images, animations, video and interactive content. Multimedia can be recorded and played, displayed, interacted with or accessed by information content processing devices, such as computerized and electronic devices. This is as per wiki.
The information in Multimedia can be represented digitally. Multimedia presentations may be viewed by person on stage, projected, transmitted, or played locally with a media player.
Multimedia Courses List:  
There are many courses offered in Multimedia. They are at various levels. They are:
Undergraduate Courses
Post Graduate Courses
Certification Courses Etc
The Skills required to do these Courses are listed here:
Good observational skills
Creativity
Computer and Software skills
Teamwork skills
Communication skills
Patience and Concentration
Drawing / sketching skills
Ability to get into character
Undergraduate Courses:
These Courses can also be termed as Bachelors Courses. These courses are offered along with the combination of Animation. Here is the list:
Eligibility:
The Eligibility Criteria for these courses is 10+2 from any Stream Science, Arts, and commerce.
Duration:
The Duration of this Bachelors Courses is 3 years
BA in Animation & Multimedia
Bachelor of Fine Arts in Animation, Graphics and Web Design
BA in Animation and CG Arts
BA in Digital Filmmaking and Animation
Sc. in Animation & Multimedia:
Duration: 3 years , If distance it takes 5 years
Best Institutes for B.Sc Animation.
| | | |
| --- | --- | --- |
| S. No | Name of the Institute | City |
| 1 | Birla Institute of Technology | Noida |
| 2 | Vellore Institute of Technology | Chennai |
| 3 | Vogue Institute of Fashion Technology | Bangalore |
| 4 | Arena Animation | Bangalore |
| 5 | Westford Institute of Film Technology | Kerala |
Diploma Courses:
The Eligibility for the Diploma Courses is 10+2. The Duration for the Diploma Courses is 1 year.
Post Graduate Courses:
These Courses are called as Masters Courses or PG Courses. The Eligibility for these Courses is Bachelors degree and its duration is 2 years. Various Specializations are:
Texturing
Game Design (Computer and Mobile)
Graphic Design
Visual Effects
Modelling
3D Animation
Illustration
Specific Software
Certificate Courses:
Apart from the Academic Courses there are some Certificate Courses offered.
Duration:
The Duration of this Certificate Courses is 3- 6 months.
Eligibility:
The requirement for this course is 10th
Here is the list.
Certificate in VFX
Certificate in 2D Animation
Certificate in 3D Animation
Certificate in Editing, Mixing and Post Production Works
Certificate in CG Arts
Multimedia Design Program:
This can be shortly termed as MDP.Various media applications such as Print, Moving & Interactive media will be taught in This Course.
Eligibility:
The Educational requirement to do this course is 10+2
Duration:
Duration of the course is 1 year
Syllabus:
The Course Structure is designed in the form of Modules.
Modules
Fundamentals of Computer, multimedia & Internet
Illustrator
CorelDraw
Photoshop
Sound Forge
Adobe Premier Pro
Adobe Flash Professional
Action Script
Multimedia Design Portfolio
Different Software's are taught in this Course. They are listed here:
Windows XP
Adobe Illustrator CS3
Sound Forge 9
Adobe Flash Professional
Adobe Photoshop CS3 Extended
Adobe PageMaker & Quark Express
Adobe Premier Pro
Action Script
Other Courses:
Other than those we have discussed above there are some other Courses and Certifications. They are:
Multimedia Design Course
Diploma in Website Multimedia
Professional in Multimedia Course
Multimedia & Animation Courses
Diploma in Multimedia
BARC India Media Workstation BMW Online Certification
Best Institutes in Hyderabad:
Prism Multimedia
Institute Of Multimedia Arts & Graphic Effects
Smart Multimedia Training Dilsukhnagar Hyderabad
Pixxel Arts
IMAGE CREATIVE EDUCATION
Career Prospectus:
After the completion of the course the Career opportunities start as it the best emerging field.
Various Jobs profiles are:
Director
Modeller
Compositor
Editor
Production Designer
Script writer
Free lancer
They can also work as flash developers, network engineers, publishers, graphic artists, sound experts, animators, authors/content providers, project managers and picture researchers.
Stay connected with us for more and more updates.
Also See Dot Net Course Details, Computer Courses after 12th