Information About Arts Course: These Courses also called as Fine Arts. It is the combination of both theoretical and practical way. This includes painting, Sculpture, Photography etc. Here is the article which provides you the complete Arts Courses Details such as Fees, Eligibility, Courses List, and Courses After 12th, Syllabus etc. Go through the article.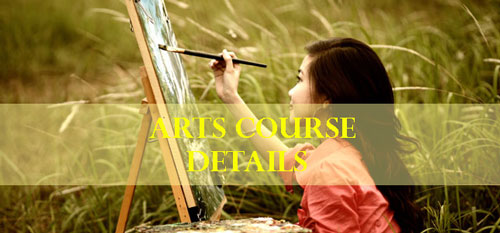 About Fine Arts Course
Fine Arts or Courses in Arts include Painting, Sculpture, Photography, Video Editing, Design, Print Making, conceptual art etc. These can be learned from various courses. There are many courses some can be done after12th and some with just 10th. After successful completion one can get many job offers, even government sector provides various job positions or you can do some professional courses like Photography course, Music related courses etc. Arts courses or groups can be classified mainly into 4 categories, These categories are again classified into various sub-branches and courses. they are:
History Degrees
Political history
History of social classes
Colonial and postcolonial studies
Transnational studies and world history
Archeology degrees
Greek and Roman civilization
Medieval Archaeology
Andean Archaeology
Eligibility
The eligibility criteria for doing these art courses depend upon The course you have selected. For Graduation level, the eligibility is 10+2 or its equivalent. For PG the eligibility is Bachelor's Degree.
Courses List
There are various courses that are available in Arts and Humanity. Here is the list of various available courses.
A ( Defense, Education, Economy, painting, English Literature, Vocal Arts, Languages etc.)
Creative Writing
Graphic Design (Click Here to get Information about Graphic designing courses)
Photography Basics
Music production
Courses Online
These above-mentioned courses are available Online also. This is best to do online courses so as to reduce the Time, Fees etc. The online sites also provide free materials. They also provide Videos demonstrations etc.
Arts Courses after 12th
There are some Arts courses that can be done after 12th Here is the list of few such courses:
A. B.A. stands for Bachelor of Arts.
F.A. B.F.A. stands for Bachelor of Fine Arts.
B.A
Retail and Fashion Merchandise.
B.A Fine Arts
Eligibility: 10+2
Duration: 3 years
Level: Graduation
Top 5 Institutes for Arts in India
Academy of Pastry Arts – INDIA, Haryana
Xavier's College-Autonomous, Mumbai
IIFA, UP
Srishti Institute of Art, Design, And Technology (N5 Campus), Bangalore
Srishti School of Art Design and Technology
Other Institutions Offering Arts Related Courses are
Jobs
there are various job opportunities after completion of course BA arts  They are:
Academic Research Editor
Graphic designer
Art designer
Flash animator
Art lesson officer
Faculty
This is the complete article about Arts Courses Details. Some more updates will be provided very soon.
Stay connected and Bookmark our site.
All the best…!!!!!!