Fashion Photography Courses: This is the section of Photography which is dedicated to posturize Clothing and Fashion. There is demand for this course and people search for the details. So here is the article Fashion Photography Course Details which provides Eligibility, Fees, Jobs, and Career etc.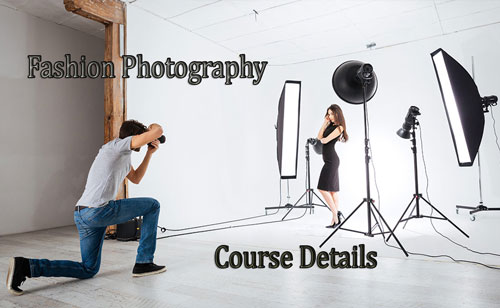 Information about Fashion Photography Course:
Fashion Photography is also part of Photography but it is completely for Fashion and Clothing. It is mainly used for Advertisements and For Fashion Magazines.
Anyone can take the pictures these days. But it requires some special Talent and Ability to create wonders with your pictures. This will be done by doing proper courses. There is Numerous Courses Available in Fashion Photography. Candidates may have many doubts running in their minds. Don't worry we are here to provide answers to all your questions and Doubts. Just go through the article below.
List of FP Courses:
This can be expanded as Fashion Photography Course. There are many courses related to Fashion photography. Here we are providing the list, go through it and select one from them according to your interest.
Initially we are providing the list of various short Courses
Design for Fashion Publishing
Duration: 10 weeks
Duration: 2 weeks
Course in Fashion Illustration
Duration: 4 weeks
Fashion Styling & Shooting
Duration: 2 weeks
Short Course – Fashion Photography
Duration: 1 Month
These short Courses can also be Useful for the Beginners.
Apart from these short courses Interested Candidates can also do Diploma in Fashion Photography.
Eligibility Criteria:
Candidate must have passed 10+2 from any recognized board.
Duration: 3 Months
Syllabus: Below is the Syllabus for Diploma in Fashion Photography.
Introduction To Photography
What Is Fashion
Camera & Types Of Cameras
Different Light Sources And Comparative Study
Aperture – Shutter Speed Relations
Over And Under Exposures
Processing Of Black & White Films
The Colour Spectrum
Understanding The Human Body
Introduction To Studio Lights And Effects
Make – Up
Different Lightings in The Studio And Effects Of Lighting With Specific Purpose.
Studio Photography
Strategies
Display Of The Work
Opportunities
Fee Structure:
The Fee structure Differs but the average Estimate for 1 year Full time Diploma was 4 Lakhs.
Top 10 Fashion Photography Colleges in India:
Here are the To 10 Colleges for Fashion Photography Course in India.
The Light and Life Academy (LLA), Ooty
Mass communication Research Centre, Jamia Millia Islamia, New Delhi
Osmania University, Hyderabad
Asian Academy of Film and Television (AAFT), Noida
J. Kidwai Mass Communication Research Center, Delhi
Sir JJ School of Applied Art, Mumbai
Jawaharlal Nehru Architecture and Fine Arts University, Hyderabad
The Indian Institute of Digital Art and Animation, Kolkata
Sri Aurobindo Centre for Arts & Communication (SACAC), New Delhi
College Of Art, University of Delhi, New Delhi
Fashion Photography Courses in Bangalore:
We are providing the Top 5 Colleges in Bangalore for Fashion Photography which offers Top Courses
GlamFlame – Photography and Brand Communication
G16Studios E-commerce photography, product photography, fashion photography, Modelling portfolio
Bouncing Bulb – Photography Services, Training & Tours
JD Institute of Fashion Technology Yelahanka, Bangalore
Darter Photography
Jobs/Careers:
The career will be excellent with great Job opportunities with high salaries. The Salary would be more than 3 lakhs per annum.
This is the complete article about Fashion Photography Courses Details. Hope You Got all the required info.
All the best for creating wonders in Fashion world.