This is the article named as Administration Courses Details which provides the complete Information about the Course such as Various Courses, Requirements, Eligibility Criteria, Duration, Fee Structure, Best Institutes, Career, Jobs and Salary etc. Read the complete article to know all the details.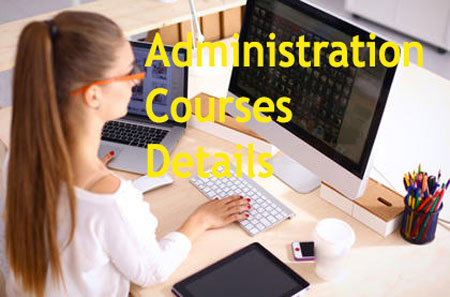 About Administration Courses:
The process or activity of running a Business, Organization is called as Administration.  It requires many skills to be an Administrator. Those skills can be acquired by doing appropriate Courses. There are many Courses in Administration. This is the article to provide the Courses Details.
Administration Courses List:
There are many types of Courses in Administration. They are:
Bachelors Courses: BBA
Certification Courses
Short Courses
The Concepts that are covered in Administrative Courses are:
Functions and formulas, Macros, Business assets, financial statements, Case studies
Diploma Courses:
These are the Courses with the Eligibility of 10th. The Duration of these Courses is 2 years
Diploma in Office Administration
Administration Diploma
Diploma in Office Administration & Reception
Office Admin Diploma
Diploma in Business Administration (QCF)
Business Administration Diploma
Level 3 Professional Administration Diploma
All the above listed Courses are also available to do in Online so these will also be in the Category Online Courses.
Also see List of Diploma Courses after 10th & after 12th
Certification Courses:
Certification is very much important after the completion of Administration Courses. They are listed here:
Certificate IV in Business Administration
Certificate III in Business Administration
Certificate III in Business Administration Legal
Certificate IV in Business Administration & Leadership management
Certificate IV in Business Administration (Finance)
Dual Qualification: Certificate IV in Business Administration and Certificate IV in Leadership and Management
Best Courses:
Other than the above Courses there are some Best Courses. We have listed here:
Motivational Methods and Techniques Workshop
Course – Quality Management – Lean Six Sigma
Course in Management and Reduction Costs in Transport and Logistics
Short Course in Humanitarian Operations: Environmental Health & Logistics
Human Resource Management – Advanced Professional Development [Level HE7] part-time
Course in Office Administration – Fundamentals of Accounting (IBS)
Short Courses:
There are some Short Courses in Admin
Level 4 Diploma in Business and Administrative Management, Short Course The Duration of this course is 9 Months
Level 6 Diploma in Business and Administrative Management, Short Course
Other Courses are:
There are some other courses in Administrative Courses. We have listed the Courses here:
Principles of Excel Course
Office Administration Course
Principles of Accounting Course
Administrative Procedures Course
Healthcare Financial Management Course
Research Methods in Healthcare Administration Course
Courses Online:
These Courses offer a Bright Career with many Job offers. Online Courses are beneficial such that they can reduce the time and Cost of doing the course. There are many types of Online Courses. These Courses can be in Online. Some Courses are offered for free.  Here is the list of the Courses.
Accounting
Marketing Principles
Business Ethics
Information Systems
Management
Syllabus:
Here for a sample we are providing the syllabus of BBA. Few Subjects semester wise are listed.
1st year
Semester 1: Business Organization , Business Maths ,Principles of Economics , Book-Keeping & Basic Accounting, Business Laws,  Fundamentals of Business Management , Business Ethics
Semester 2:  Business Environment, Business Communication, Indian Economy, Principles of Accounting, Organizational Behavior, Business Statistics, Presentation & Viva Voce
Syllabus of Business mathematics:
Unit I Matrix: Introduction, Square Matrix, Row Matrix, Column Matrix, Diagonal Matrix, Identity Matrix, Addition, Subtraction & Multiplication of Matrix, Use of Matrix in Business Mathematical Induction.
Unit II Inverse of Matrix, Rank of Matrix, Solution to a system of equation by the adjoint matrix methods & Guassian Elimination Method.
Unit III Percentage, Ratio and Proportion, Average, Mathematical Series-Arithmetic, Geometric & Harmonic, Simple Interest & Compound Interest.
Unit IV Set theory- Notation of Sets, Singleton Set, Finite Set, Infinite Set, Equal Set Null Set, Subset, Proper Subset, Universal Set, Union of Sets, Inter-section of Sets, Use of set theory in business, Permutation & Combination.
Unit V Concept of Differentiation and Integration, Maxima and Minima in Differentiation, Application of Differentiation & Integration in Business (No proof of theorems. Etc.,)
Top 5 Institutes: 
Here is the list of Top 5 Institutes in Hyderabad to do the course.
Future Point Technologies
Hadoop Training in Hyderabad
SQL School Training Institute
DBA school
Mist Pvt Ltd,
Stay connected with us for more and more updates.
Also Refer: Business Administration Course Details