The Bachelor of Business Administration is the Full Form of BBA or B.B.A. is a bachelor's degree in Commerce and business administration. The Course aims at developing a student's intellectual ability, executive personality and managerial skills through an appropriate mingle of business and general education.
Here is the Information About BBA Course which including Duration, Eligibility Criteria, Admission Criteria, Fees Structure, Syllabus PDF, Requirements, Benefits, Job Opportunities, Salary, etc.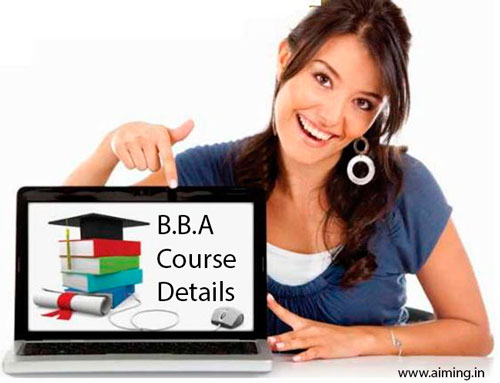 About BBA Course
The Bachelor of Business Administration (B.B.A) is a very popular Undergraduate Degree in India. The degree is awarded for a program in Business Administration. The BBA programme is ideal for students of the Commerce stream to create a career in their field of study. While commerce students are expected to benefit the most from the Bachelor of Business Administration Course, students of other streams such as Arts and Science could also choose to pursue an education in business management.
Advance Course in B.B.A
Eligibility Criteria
Student must have passed the 10 + 2 (in any stream) from a reputed education board. The admission is mostly carried out on merit basis. The marks needed in the +2 are at least 55%.
Duration of BBA Course
The duration of BBA course is for three years and six semesters. However, for students who are applying through correspondence BBA Course the duration of the course in minimum three years and maximum five years. The three-year course has a 6 semester and each semester lasts for 6 months (generally).
BBA Entrance Exams in India
AIMA UGAT
GGSIPU CET
GAT UGM
Symbiosis Entrance Test
Subjects that come under the course structure of BBA are:
Principles of management
Business mathematics and statistics
Business Economics
Introduction to operational research
Financial and management accounting
Business laws
Business data processing
Marketing management
Production and material management
Personnel management and industrial relations
Note: The Structure of BBA Course May Vary Institute to Institute.
Job Details
BBA graduates can look forward to jobs in the following industries.
Banking
Consultancy
Finance
FMCG and Consumer Durable companies
IT companies
Advertising agencies
If you want more information…..click here.
What Next After BBA
This is another common question I received from the regular visitors. Most of them asked me about What to do after BBA. I will try to answer this question. After BBA if you don't have a job offer in hand you just go for some course to do, I strongly suggest you apply for MBA, or SAP Certification Course wherever possible.